HyTruck - Hydrogen Truck Austria
Project Description
Project HyTruck focuses on heavy-duty fuel cell electric vehicles for road freight transport and applied research for their technological advancement.
The Main Goals
develop, build, calibrate, and validate a heavy-duty fuel cell powertrain;
fulfill requirements regarding power, efficiency, reliability, and lifetime;
develop new and innovative control strategies to improve performance.
Within the project, TU Wien investigated using predictive driving information in supervisory control strategies to assess potential improvements in hydrogen consumption and components life.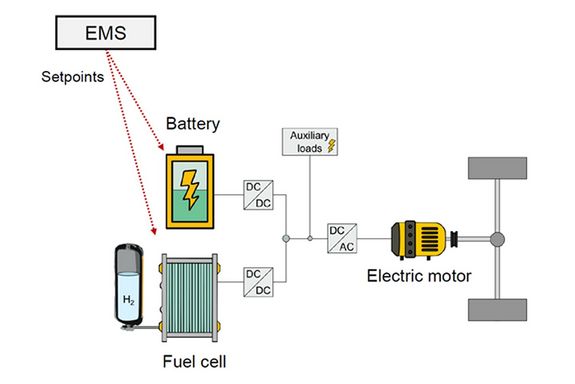 Supervisory control is critical in heavy-duty fuel cell vehicles because it highly affects their operating costs and the lifespan of powertrain components. In particular, the energy management system operates the power-split of the electric load demand between the fuel cell and battery systems with the targets of low hydrogen consumption, limited fuel cell degradation, and suitable battery state-of-charge (SoC) control to avoid accelerated degradation.
Video Presentation
Interested in more information? Watch our project video on this exciting topic!
The presentation offers a general overview of the topic, challenges, and methods developed within the project. The results show that predictive energy management strategies determine substantial benefits for hydrogen consumption and SoC control, especially for vehicles driving in mountain routes.
Publications
Duration
January 2019 - March 2022
More Projects
Contact