European University Alliance: European Universities Linking Society and Technology (EULIST)
Linking science and society - this is the challenge TU Wien wants to take up together with eight strong partner universities in Europe. The alliance "EULIST - European Universities Linking Society and Technology" aims to make Europe tangible and experienceable for all university members and students.

We want to cooperate with our EULIST partners in study, research and administration in order to realize the vision of the European University. Strong partners and close networks ensure our future viability in international competition.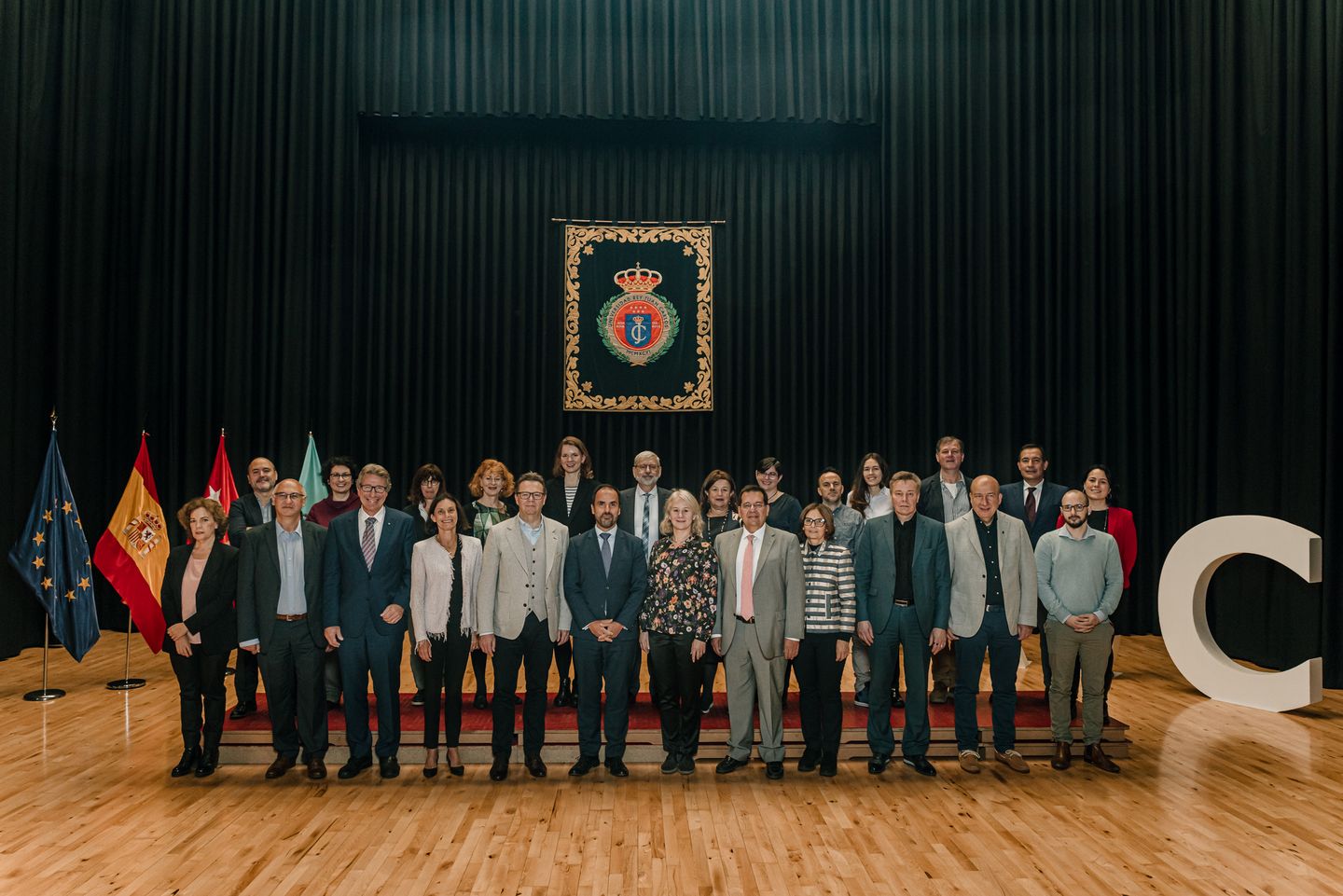 © URJC
First EULiST General Assembly held in Madrid in October
The European university network EULiST (European Universities Linking Society and Technology), coordinated by Leibniz Universität Hannover (LUH), met in Madrid from October 19 to 21, 2022. Invited by the Spanish network partner, the Universidad Rey Juan Carlos, the EULiST Presidents' Board, Management Board and Coordination Office met in Móstoles near Madrid for the General Assembly to define the goals and priorities for a renewed application for "European University" status. Currently, a team is working on the preparation of a proposal for the European University Initiative of the European Commission. The deadline is January 31.
The aim is to improve on the previous proposal, which scored well with 81 points (out of a possible 100) from the European Commission, and thus successfully obtain the "European University" label.
French engineering school is tenth partner
Another important item on the agenda was the expansion of the alliance to now ten partners: Following unanimous approval, France's leading institute for technology, the Institut Mines-Télécom (IMT), joins the alliance. Already in May, a high-ranking delegation of the IMT visited LUH to prepare the accession. In the presence of representatives of all universities in the EULiST alliance, Odile Gauthier, Director General of the IMT, and LUH President Volker Epping, Senior Chairperson of the EULiST Presidents' Board, signed the accession document.
The IMT is a group of eight French engineering and management graduate schools focusing on Digital Sovereignty, Industry 5.0, Energy/Circular Economy and Health/Wellbeing. The eight schools of the research-intense IMT are home to more than 13,000 students, 1,400 doctoral and post-doctoral researchers, and over 1,100 researchers. The IMT has long-standing strategic partnerships with several EULiST members. Among others, the National Technological University of Athens (NTUA) has several double degrees with the IMT.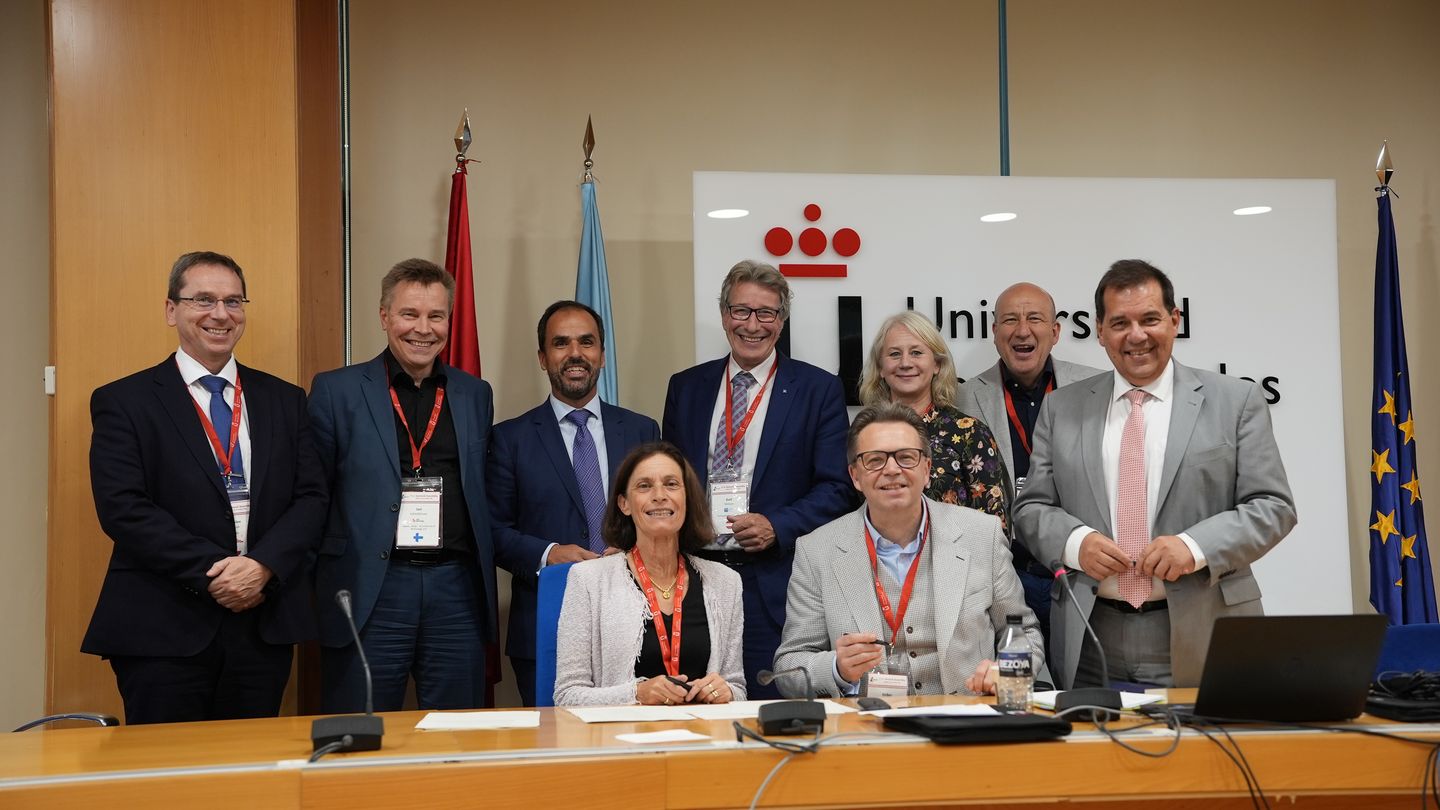 © URJC
Goals
The overall goals of EULIST are:
To educate multilingual, socially responsible European citizens who build and strengthen bridges between science and society.
Build an analog and virtual European inter-university EULIST campus with a strong culture of diversity, inclusion, and sustainability
Develop innovative, flexible and interactive teaching formats and curricula with close and sustained integration of cutting-edge research
Establishment of cross-border teams of students, scientists and regional stakeholders that develop sustainable solutions to current societal challenges in transnational, cross-disciplinary and cross-sector constellations
Establishing a collaborative knowledge and transfer network between the participating regions as science locations to promote knowledge-based research, innovation and evidence-based policy making.
Initial thematic synergies and focus areas have already been identified under the following four United Nations Sustainable Development Goals:
SDG 4 - Quality Education
SDG 7 - Affordable and clean energy
SDG 9 - Industry, innovation and infrastructure
SDG 11- Sustainable cities and communities
SDG 13 - Climate Action
However, these by no means exclude cooperation and joint activities in other thematic areas.
Work Packages
Work Packages were established in five fields of action for the development of joint activities and projects. Members of all partner universities are involved and network in the work packages.
| | | | |
| --- | --- | --- | --- |
| Lead | Co-Lead | Work Package & Task | Description |
| LUH, Peter Elspaß | LUT, Janne Hokkanen | Sustainable Governance and Management | A governance structure for the efficient and sustainable management of the Alliance to monitor and ensure a transparent, targeted, and timely fulfilment of tasks as well as a streamlined communication strategy within the Alliance. |
| JU/Jönköping University Foundation, Lisa Wikberg | BUT, Mariana Tesařová | Student Engagement | Ensuring active student participation and engagement in the governing bodies of the Alliance via the Student Board. |
| NTUA, Katerina Adam | URJC, Alfredo García Fernández | External Revenue | Strategy and joint action plan to integrate European, national, and local funding sources, securing the sustainability of the Alliance through additional funding. |
| IMT, Antoinette Humeau | UNIVAQ, Elena De Santis | Quality Assessment | EULiST quality actions and monitoring, serving steady improvement and renewal to strengthen and enhance high-quality education, research and engagement with society. |
| LUT, Kati Koikkalainen | STU, Maroš Finka | Strategy for SDGs | Sustainable development practices aligned across the Alliance to issue, promote, and monitor EULiST sustainable policies and to contribute to reaching SDGs across Europe and beyond. |
| TUW, Brigitte Ratzer | LUH, Sarah Peters | Inclusion and Diversity | A supportive learning and working culture and HR policy that promote equal career chances and opportunities for people of diverse genders and backgrounds and on-campus well-being, including efforts to increase the number of women and achieve gender balance in STEM degrees. |
| | | | |
| --- | --- | --- | --- |
| Lead | Co-Lead | Work Package & Task | Description |
| NTUA, Efi Dimopoulou | BUT, Zbyněk Křivka | Digital Campus Infrastructure | Link the EULiST community via a user-friendly point of entry and key digital infrastructure for education, research and outreach, providing an integrated learning management system, a system for student enrolment, flow of information on EULiST activities as well as access to the EULiST Knowledge-hub and the Academic Support Centre. |
| LUH/TIB, Sören Auer | UNIVAQ, Anna Tozzi | Knowledge-Hub: Open Data | A digital hub containing an inventory of open science data, policies and resources to provide access to and exchange of knowledge and data generated by EULiST Members and to support local stakeholders in using the results of research and innovation, allowing for a full-lifecycle research data management. |
| LUH/TIB, Sören Auer | TUW, Beate Guba | Knowledge Hub: Library | A unique digital information hub as well as a single point of entry where EULiST members maintain, align, pool, share, upgrade, and upscale their own library and knowldge based systems, fostering Open Science and uniting open-access collections, data facilities and services within one digital platform. |
| BUT, David Bečkovský | STU, Peter Morgenstein | Sustainable Campus Initiative | A common model and physical sustainability demonstrators (accessible to all via a digital platform) for measuring and learning about the carbon footprint on each of the EULiST campuses to identify best practices that can be disseminated within and beyond the Alliance. |
| JU/Jönköping University Foundation, Andreas Torén | IMT, Tinatin Kakabadze | Academic Support Centre | Facilitate collaboration and sharing of best practice, initiatives and resources among staff tasked with supporting students and academics, including support services for language, student and staff mobility, including for students and staff with disabilities or from disadvantaged backgrounds, as well as the sharing of information related to crisis management on EULiST campuses. |
| | | | |
| --- | --- | --- | --- |
| Lead | Co-Lead | Work Package & Task | Description |
| TUW, Kurt Matyas | LUT, Maija Kuiri | Flexible Educational Activities | Flexible and interactive teaching and learning formats, micro-credentials (1-5 CP) and micro-degree programmes (10-30 CP), joint modules in the EULiST course catalogue, as well as Joint Degrees that allow students at all levels, including life-long learners, to incorporate EULiST into their studies and curricula paths and promote the development of students' transdisciplinary projects. |
| UNIVAQ, Alessandra Continenza | LUH, Julia Gillen | Innovative Teaching and Learning Methodologies | Challenge-based education, international collaboration and transdisciplinarity, to jointly create knowledge across STEM and SSH disciplines at the service of societal development. |
| STU, Ivan Kotuliak | NTUA, Ioanna Roussaki | Artificial Intelligence Tools | Personalised, advanced support for education, research and innovation at European level, building selected predictive learning analytics models and exploring Natural Language Processing (NLP) techniques to enhance inclusiveness and externalisation in educational processes. |
| JU/School of Engineering, Stefan Brolin | IMT, Catherine Faverau | Life-Long Learning Practices | A EULiST Citizen Science Office (EULiST CSO) as well as open-door junior and senior university events to reach out to non-traditional learners and interact in learning processes with the general public, in order to a) widen the recruitment base for students enrolling in EULiST courses and programmes, b) better embed the University in its territory, while promoting the values of inclusiveness, democracy, freedom and mutual cultural understanding. |
| BUT, Martin Očko | URJC, María Isabel Martínez Moreno | Recognition Framework | Digitise and facilitate the admission, recognition and credit transfer across and beyond the Alliance to increase the mobility of students, researchers and staff, including EULiST AGORA educational activities so as to enable students to formulate the EULiST component of their curricula. |
| | | | |
| --- | --- | --- | --- |
| Lead | Co-Lead | Work Package & Task | Description |
| NTUA, Sotirios Karellas | LUT, Petri Ajo | Joint Research and Innovation Strategy | An R&I strategy, focusing on SDGs and the support of local and Europe-wide transdiciplinary research-based innovation processes (incl. EULiST Early-Career Researchers Centre and training in practical work-life skills relevant to industry and other sectors). |
| URJC, Santiago Gómez Ruiz | TUW, Barbara Sanchez Solis | Synergies and R&I Infrastructure | High-quality, transdisciplinary research, education, and training by providing and supporting equal, effective, and quality-driven access to R&I infrastructures (incl. tools, data, platforms or labs) across the Alliance. |
| UNIVAQ, Maria Benedetta Mattei | JU/Jönköping International Business School, Lucia Naldi | Early-Career Researchers Centre | A virtual Early-Career Researchers Centre offering support structures that address the needs of both pre- and post-docs and facilitate transdisciplinary research. |
| IMT, Marc Delage | STU, Lucia Rybanská | Research to Business Scheme | Setting-up a framework to support and identify any research results that can be valorised with a focus on start-up creation (entrepreneurship and innovation cross-level training programmes for students and researchers, best-practice sharing within EULiST and with Associated Partners, industries, local innovation support bodies, constitution and sharing of business experts, first IP discussions with HEIs, etc.). The main objective of this task is to bring to light valorisation and start-up ideas to feed into Task 5.2. |
| | | | |
| --- | --- | --- | --- |
| Lead | Co-Lead | Work Package & Task | Description |
| LUT, Sari Lindblom | JU/School of Health and Welfare, Nerrolyn Ramstrand | European Interaction and Outreach Strategy | Make EULiST's voice heard in Europe and on the local and regional level via a joint interaction strategy, including the establishment of a EULiST Brussels Office. "Make Science Matter" by providing science-based policy advice for decision-makers and the wider public and by manifesting science-based knowledge co-creation as a widely learned, adopted, and institutionalised practice in EULiST Members to rebuild the trust of society in technology and science. |
| STU, Martin Klaučo | IMT, Paul-Guilhem Meunier | Innovation Hubs and Joint Living Labs in EULiST Regions | Establish permanent bonds and effective cooperation structures, incl. Open and Living Labs, with society and Regional Associated Partners, thereby enhancing HEIs' roles as knowledge hubs and strategic allies to their local and regional societies in solving critical problems for the promotion of sustainable and responsible science and social innovation, inclusiveness, cooperation and outreach. Includes spin-offs, start-ups and knowledge transfer. |
| URJC, Pablo Tomás Salvadores Alonso | NTUA, Antonia Lampropoulou | EULiST Beyond Europe | Use a Quadruple Helix (4Helix4 Framework Structure) to support and foster joint research, technology transfer and education activities on global challenges relevant to EULiST's Vision and Mission. This includes widening cooperation beyond Europe (including Global South), promoting common European values and working within different European and global cultures, in different languages, and across borders, sectors and academic disciplines in order to tackle grand challenges through a science-based knowledge Co-Creation Culture. |
| TUW, Paolo Budroni | BUT, Pavel Krečmer | Science Communication Training | Train scientists and students in science communication to build trust in science, focusing on Open Science and European values, across the whole spectrum of the societal context. |
| URJC, Juan Manuel García Camús | UNIVAQ, Simone Gozzano | External Communication and Dissemination | Develop and streamline external communication strategies (incl. EULiST identity, EULiST keywords and concepts) to disseminate the narrative of EULiST to the general public, beneficiaries and other European University alliances. |
Backgrounds
2020, Leibniz Universität has initiated the alliance "EULIST - European Universities Linking Society and Technology" with seven leading universities. EULIST brings together partners with complementary strengths in the technical subjects and the humanities and social sciences. Its goal is to develop new sustainable solutions for the major societal challenges of today and tomorrow through joint, integrative approaches in the social, natural and technical sciences. To achieve this goal, coordinated educational offers as well as an inter-university university campus are to be developed, which will network teachers, learners and researchers and promote mobility.
The alliance is currently being established. In different working groups, points of contact are identified and ideas exchanged in order to establish innovative, cross-disciplinary fields of action. Suggestions are welcome!
DESIGN WITH US!