Duties of the data protection officer
The data protection officer must perform the following duties:
Informing and advising the Rector's Office and employees of TU Wien on data protection law
Monitoring the legal data protection regulations and the strategies within the university for protecting personal data
Raising awareness among and training employees who process data
Providing accompanying advice and monitoring the data protection impact assessment
Working together with the data protection authorities, e.g. as a point of contact for the data protection authorities for matters relating to processing data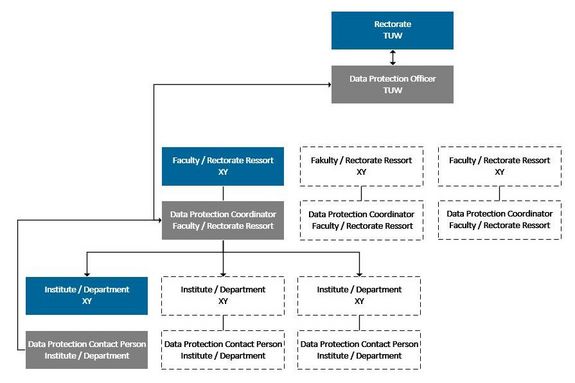 The highest authority in the data protection organization is the Rectorate. The data protection officer is directly subordinated to the Rectorate , and reports to the Rectorate member responsible. In each faculty and in every Vizerektorat a data protection coordinator who exchanges with the data protection officer is compulsory. In central divisions data protection contact persons are compulsory. The appointment of data protection contact persons for institutes is at the discretion of the dean. Data protection contact persons are first contact persons in the assigned institute / department for data protection issues.