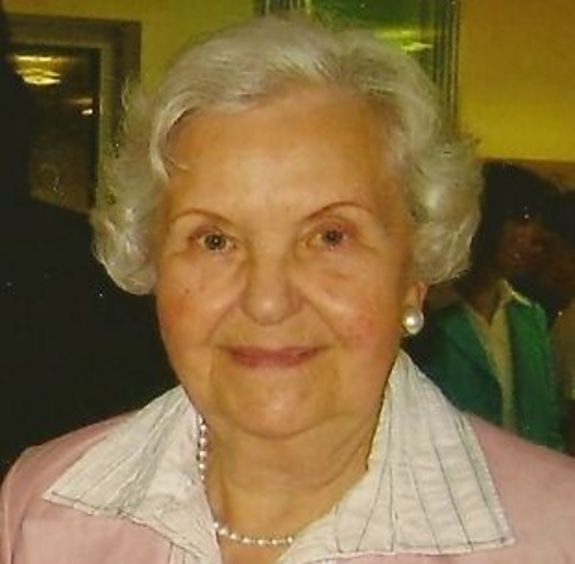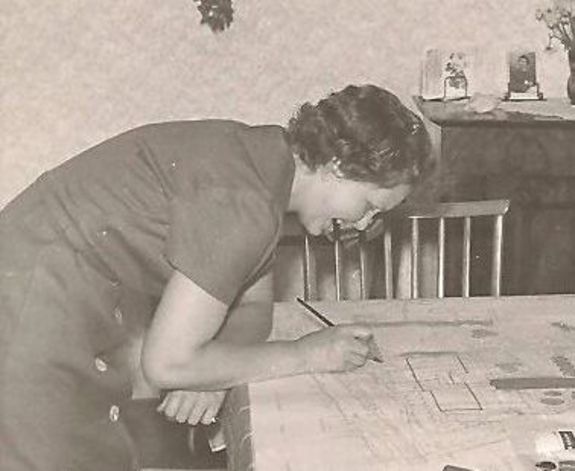 I returned to Vienna from labour service in autumn 1945 and began to study architecture in October. As I had been to secondary school during the war and had no Matura (high school leaving exam), I had to re-sit exams in mathematics and descriptive geometry. The college of technology offered three-month courses for that.
Our high school really had only 7 grades, the 8th grade took only a month, and then we had a leaving certificate and no Matura. Between weeks at school, we were assigned to large families or the cannery at Inzersdorf. Our Matura exams would have taken place in spring 1945, but by then we had already been in labour service for six months. Everybody was part of the war effort. The boys had already been with the homeland flak (anti aircraft unit) from the 6th grade.
I was in the non-degree student programme until I had passed these two courses. After that, I was a regular student. I basically didn't lose any time; I got credits for the courses, and they took place during the first term. All in all, I studied from 1945 to 1951. By 1949, I had finished all lectures. From 1949 to 1951, I was already fully employed in my profession. During that year, I went to those programmes and exams that I still had to do. I was at the architect's office from 8 am to 5 pm. In the mornings I studied, and at night I made drawings for university. In summer 1951, I passed my diploma. For the First State Exam, you had to submit all individual reports. The Second State Exam took one week in which you had to create a design, followed by an oral examination on several subjects.
I studied architecture. We were about 20 per cent girls. Later, many returnees came back from the war. Everybody's ambition was to finish quickly in order to make up for lost time.
We still queued at the Rector's office to pay our tuition fee (140 ATS per term). This sounds really antediluvian in today's terms, in the computer age. Then there were the large red study records, in which you had to get the professor's certification at the beginning and at the end of lectures and exercise courses.
We sat in the lecture halls in coats and mittens because there was no heating. All lectures were full to burst. The faculty of architecture still did not have a top floor, that came much later.
I was always interested in art history, I would have liked to study that very much. But during and after the war, this was rather a labour of love. My parents left me free to decide for myself. I was able to choose my studies and chose architecture. It was the right profession for me.
The courses at the Vienna College of Technology were well presented. Colleagues helped a lot; especially in descriptive geometry, you cannot learn that in three months. At school, it was not part of the curriculum, and it wasn't an elective course, either. At the Radetzky Realgymnasium, we had only one English teacher for ten classes!
I still remember professors Ginhart (Art history) Lehmann, Holey, Theurer, Boltenstern, Engelhart, Kupsky, Pfann (garden and interior design). Professor Boltenstern directed the reconstruction of the bombed State Opera House, professor Engelhart the one of the Burgtheater, professor Holey (our dean) the one of St. Stephen's Cathedral.
We had exercise courses and lectures. With the tasks from the exercise courses, you had to go to the assistant professors and have them correct them. Once, during a lecture, a professor examined me on the prices of different articles. But who can know this, when you have no professional experience. Then he asked me: "Do you play the pools?" – I said, "No." And he: "But you guessed everything right." On leaving university, you have little knowledge of practical things, after all.
There was only one professor and few assistant professors who did not want women at the university. I remember one girl who obviously was out to catch a man, nothing more. But our male colleagues had other interests. This girl, I think, was only there for two terms and vanished afterwards. Amongst my colleagues, everybody's ambition was to finish their studies themselves, but they were all friendly. I couldn't say that our male colleagues discriminated against us as women. But there was not a single female professor. There was one female assistant professor, in Architectural Art 2. The lecture was held by professor Holey, the Cathedral's master builder, and he had the only female assistant.
At that time, there were no books or lecture notes. Everything was banned and had to be rebuilt. We went to all the lectures. Some professors spoke and made drawings at the same time, so we shared taking notes. We were a group of three girls and three boys, calling ourselves "the learning machine". We copied the lecture notes at the place of one of the boys, his girl friend had a typewriter. Whoever got the 5th carbon copy got the short straw, because you weren't able to read a lot any more. But we took turns with the 5th carbon. That was how we supported each other.
I really have to say that I am sure demands weren't as high then as today. A lot has changed during the interval, a lot of new things have appeared, just think of the diversity of building materials. Today, you wouldn't be able to study without a computer. The first lectures began with the Egyptians, Greeks and Romans. We took Architectural Art 1, 2 and 3. That's not read any more. Even then, professor Theuer who held this lecture was an old gentleman. He had been with the digs at Ephesus. Today, there are again digs in Egypt, which are directed by a young Austrian female archaeologist.
It was not hard to find work at that time. I was employed in an architect's office from 1949 to 1982. Today, that is extremely rare. My boss was later a professor of structural engineering at the HTL (higher secondary school of technology) at Mödling. At those times, the office was in the hands of Ms engineer Marchhart. We were mainly in reconstruction and housing estate construction, but later we also did individual residential construction. Today, you call this Emmental architecture. But you need to consider the times. Money was a premium. Before the war, the female architect Schütte-Lihotzky was well known. But the "Frankfurt kitchen" was designed for the conditions at the time. Seen in this light, the Gemeindebauten, social housing estates built between WW 1 and WW 2, were ground-breaking. People from many countries came to Vienna to look at these buildings. Of course, from today's point of view they are modest, but at the time, even an inside toilet and bathroom were something special. We still had Gemeindebauten type A, B and C. A was, so to speak, a single apartment: living room, kitchen, box room, toilet, bathroom and hall. Then there were 2 and 2.5 room apartments. We did a Gemeindebau in Mauerbachstraße. There you had so-called hall apartments without dividing walls. People were able to plan their dividing walls themselves.
The high-rise in Ottakring is also by our office. The S45 (Viennese local train line) passes right next to it, it is just beside the church. During planning, the municipality allowed, as a first, for the kitchen windows to have a square design. It's laughable today, but then that was new. The parapet was raised in order to create a practical work surface.
The composition of the bureaucracy of reconstruction was interesting. For public tenders, we used the so-called green W7. The W7 was an extensive document for all professionals. Everything had to be filled in in six copies and first went to the examining engineer, then to the municipality and then to the Ministry of Reconstruction. There, unfortunately, prices were cut. So it was difficult to build well with the means we had. The demand was to fit as many apartments as possible into a ground-plan. We also made 1:50 furnishing plans. When people afterwards said at the handover that they were happy and able to furnish the apartment well, that was a nice endorsement. Often they had waited for their apartment for years.
Once a week there was a meeting at the construction site, we had to keep the construction books and enter everything there. Once, a foreman called at the office and said: "I would like to speak to the lady engineer who handles everything." We still drew plans with a pencil and expanded them on the table. The construction supervision was my boss's job, construction agreement negotiations were my responsibility. Often I was the only woman there. That didn't bother the other participants nor myself. It was accepted as a matter of course.
In 1982, the computer age began, and as no successor for the office was found, we retired together at the end of 1982.
You get a feeling for the form of a building and its environment from the College of Technology. The modern glass architecture doesn't always inspire me much. Maybe you tend to think in more practical terms as a woman. Because I ask myself: "How do you clean that?" It always looks dirty. In my mind, you should be able to discern a building's function from the outside. Professor Erich Boltenstern is my model in this, he held the lecture on residential building. A few years ago, there was an exhibition, "Moderately Modern" (http://www.eiblmayr.at/kuratierung/moderat-modern.htm) To give an example, he built the Ringturm, the restaurant on Kahlenberg and many other buildings. Professor Boltenstern had a feel for what he built, despite the lack of resources.
The building for the Alpine Club section Edelweiß in Walfischgasse is another one from our office. We had to consider the protected ensemble and take care to preserve the existing parts of the façade. We united the ground floor and the intermediate floor. And there were conversions in the first and second cellar, the courtyard, and the first floor. The opening was in 1982.
After my daughter Nicole was born, my boss gave me the opportunity to work part-time. So I was able to continue working.
I never wanted to be self-employed, I don't think it would have suited me. But I did enjoy my job a lot. Today, it is much more difficult to get commissions.
I think you do well what you like to do.