Shaping the future together with science and skill
For Austrians, TU Wien is undoubtedly a national guiding principle and landmark, decisively contributing to the identity of Austria as a research and education location through its excellence, internationality, diversity and presence in the urban space.
With highly committed companies, private individuals, foundations and our graduates, we have reliable and valuable partners as enablers at our side, who financially promote and support us in our research and teaching.
Foundations and cornerstones for future generations
Our mission
is to sustainably anchor research as a progressive and innovative feat of strength with broad public commitment. Recognizing and solving upcoming and future challenges and problems are the driving force for TU researchers. Climate change and digitalization, mobility and artificial intelligence are some of the research questions to which TU Wien is dedicated and to which the public is constantly informed about research results. In this way, TU Wien makes an important contribution to society.
We build strong, valuable and long-term relationships with our national and international partners for the benefit of TU Wien and to secure the international competitiveness and innovative strength of Austria as a research location.
Our motto
"Technology for people" is thus both a claim and an attitude for the entire TU Wien and therefore becomes a daily practice, a daily motivation and inspiration.
Our vision
Together with you, we create the foundations and cornerstones for future generations in research, teaching and innovation.
We research and develop to create a real sustainable value or benefit for people.
Diverse funding for independent research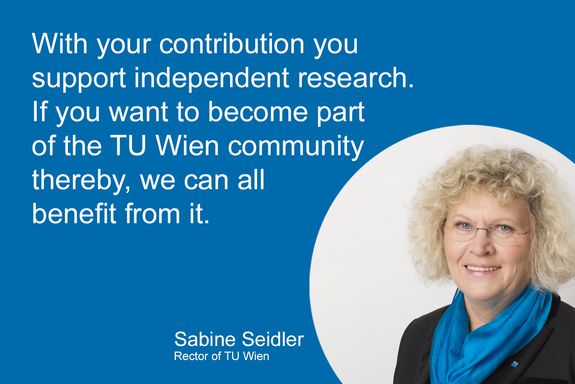 TU Wien understands temporal, spatial and technical resources for good research as a direct prerequisite for high-quality and research-led teaching.
Despite extensive state funding, the need for financial resources is growing in order to be able to ensure the current internationally recognized standard of research and teaching at the TU Wien.
In order to live up to our claim of personal autonomy in research and teaching of all scholars at TU Wien, we are committed every day to providing the necessary resources and financial provisions in the long term and sustainably.
Let's talk!
TU Wien
Karlsplatz 13/E011-02
1040 Vienna