Evaluation of performance
Lack of objectivity

Countless studies show that objective assessment is a myth. The most famous work on the topic to date is the Wenneras & Wold 1997 study published by Nature, entitled "Nepotism and Sexism in Peer Review". The authors demonstrate that women must perform significantly better than their male colleagues in order to receive research funding.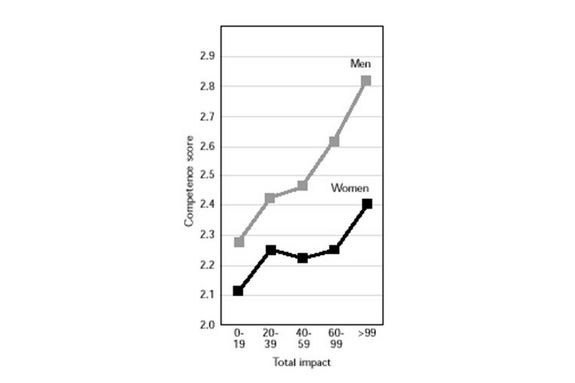 • Total impact: addition of the impact factors of all published journal articles
• Competence score: actual evaluation during selection
Factors found (according to the study mentioned)

• Acquaintance with jury members
• Gender
• Scientific productivity

Summary: there are gender-related biases with regard to the evaluation of research performance and research proposals.
Source: Nepotism and Sexism in Peer Review, Christine Wenneras, Agnes Wold, NATURE, Vol 387, pp. 341-343, May 22, 1997

Gender bias

A study carried out by Yale University entitled "Science faculty's subtle gender biases favour male students", attracted attention in 2012 and investigated how gender bias among scientific personnel manifests itself in the evaluation of and interaction with students.
In a large-scale experiment on six American universities, the following thesis was tested: "Are male students evaluated more positively than female students with regard to the competence attributed to them, their suitability for scientific cooperation, in terms of payment offered for scientific cooperation and the willingness to act as mentor for these students".
The findings of the study show that both male and female scientists view female students as less competent and less deserving of support, offer them lower starting salaries and provide them with less support in their careers. Figure from study: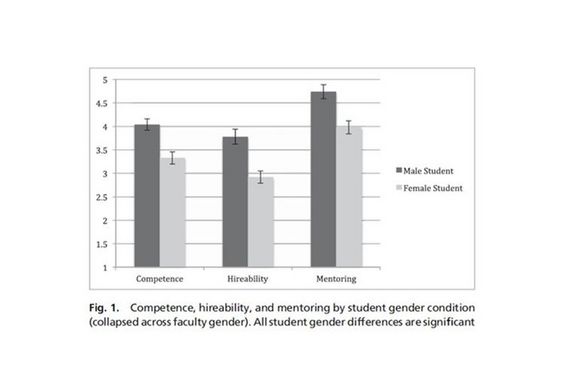 Source: Science faculty's subtle gender biases favor male students, opens a file in a new window, Corinne A. Moss-Racusin, John F. Dovidio, Victoria L. Brescoll, Mark J. Graham, Jo Handelsman, PNAS, Vol. 109, No. 41, 16474-16479, October 9, 2012

Discrepancies in the application process

Many more experiments tackle the issue of evaluating the performance of men and women differently. An example of this is a study by Paludi and Bauer called "Goldberg Revisited: What's in an Author's Name", which shows the influence of gender on the evaluation of mathematical publications. The findings at a glance: When authorship is attributed to a man, the paper is evaluated significantly better than if it had been submitted by a woman. These various evaluations show men and women equally.
Source: Goldberg Revisited: What's in an Author's Name, opens a file in a new window, Michele A. Paludi, William D. Bauer, Sex Roles: A Journal of Research, Vol. 9, No. 3, pp. 387-390, 1983

Leaky pipeline

At TU Wien, the "leaky pipeline" i.e. the strong decrease in the number of women further along the scientific career ladder was examined as part of a research project commissioned in 2011 by the Rectorate.
The project findings show, among other things, a considerable bias in selecting personnel. If women and men apply for an advertised scientific position at TU Wien, it is clear from experiments that (potential) male and female decision-makers assess men and women according to gender-specific stereotypes. It also found that women's CVs are judged significantly more harshly when their gender is visible on their application. The opposite effect occurs for men.
Further publications on the project are available at: http://www.imw.tuwien.ac.at/aw/project_overview/leaky_pipeline/., opens an external URL in a new window

Anti-discrimination measures

The commentary of the neurobiologist Ben A. Barres, also published by Nature, argues that an important step towards eliminating discrimination is recognising it and actively working against it. As a measure to combat the ongoing discrimination of women, he suggests selecting future managers according to other criteria to ensure higher diversity among researchers, to have a wider variety of role models and above all to address the discrimination that is taking place. Selection processes should also be both fairer and more transparent. Finally, the next generation of female scientists should be given more self-confidence when embarking on their career path.
Source: Does gender matter?, opens a file in a new window Ben A. Barres, NATURE, Vol. 442, pp. 113-136, July 13, 2006