Bachelor's Programme Chemical and Process Engineering
Programme Code

UE 033 273 - Bachelor's Programme Chemical and Process Engineering

Duration of Programme

Credits

Language

Degree

Bachelor of Science (BSc)

Chemical and Process Engineering

Info folder (German)
Programme contents
Chemical and Process Engineering is an interdisciplinary engineering science with emphasis on the fundamentals and applications of technical chemistry and mechanical engineering. As a result, a broad range of study in both of these disciplines is provided so that students gain a solid foundation in both fields. Furthermore, interdisciplinary partnerships with other subject areas are encouraged so that knowledge of practical requirements (e.g. management, legal aspects) can be broadened. The fundamentals are taught in the bachelor's programme; more in-depth knowledge can be pursued in the Process Engineering master's course, in a related master's course or directly in the working world.
Presentation of the degree programme at BeSt digital 2021: Process engineering - environmentally friendly and sustainable systems in production, opens an external URL in a new window.
Examination Subjects and Modules of the Bachelor's Programme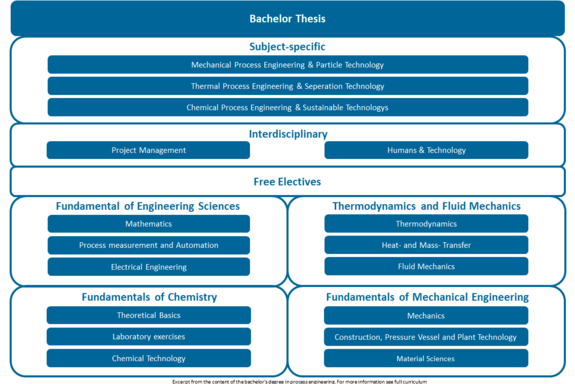 The content and qualifications of the Bachelor's Programme in Chemical and Process Engineering are conveyed through modules. The completion of modules takes place in the form of single or several content-related courses. Thematically similar modules are grouped into examination subjects. The Bachelor's Programme in Chemical and Process Engineering consists of the following examination subjects:
Fundamental of Engineering Sciences (Mathematics, Process Measurement and Automation, Electrical Engineering)
Fundamentals of Mechanical Engineering (Mechanics, Construction, Pressure Vessel and Plant Technology, Material Sciences)
Thermodynamics and Fluid Mechanics (Thermodynamics, Heat- and Mass- transfer, Fluid Mechanics)
Fundamentals of Chemistry (Theoretical Basics, Laboratory Practice, Chemical Technologies)
Process Engineering (Mechanical Process Engineering & Particle Technology, Thermal Process Engineering & Seperation Technology, Chemical Process Engineering & Sustainable Technology)
Free Electives and Transferable Skills (Project Management, Humans & Technology)
Bachelor Thesis
Some sample contents for each examination subject are given here in brackets. You can find more information in the curriculum.
Programme-PRe-Phase
The Programme-PRe-Phase serves to discuss the choice of Bachelor's Programme and it is not a selection method. It is divided into two parts, which must be completed online before the admission:
Online survey on the choice of Programme: It serves the purpose of self-assessment, reflection on the choice of Bachelor's Programme as well as for deepening the requirements and general conditions of the Programme.
Feedback on the level of knowledge: This is intended to test the necessary basic mathematical knowledge. It serves to determine the current level of knowledge.
Further information about the programme
Chemical and Process Engineering can be studied by anyone who fulfils the formal entry requirements and is interested in technical problems and how they are handled in laboratory facilities and/or industrial plants working in the areas of chemical process technology, environmental technology or energy technology.
Due to the low number of students, the course offers an intimate learning environment with intensive support. Waiting times for laboratory space are unheard of. In the latter part of the course, most students get involved in research work in an area of interest. The laboratories and pilot plant are well equipped with test and demonstration equipment. An application-oriented project is normally undertaken as part of the bachelor's thesis.
Because of the solid and interdisciplinary nature of the course, there is no typical career path for someone with a degree in Chemical and Process Engineering, as graduates can be employed in a broad range of fields. Graduates are frequently employed in the following areas:
Research and development
Process development
Plant engineering (planning, design and project implementation)
Operation and production
Power and environmental engineering
Application engineering, technical acquisition
Project and plant management
Safety engineering/accident prevention, environmental protection and waste management
Repairs and maintenance of chemical engineering systems
TU Wien offers a Master's Programmes in Chemical and Process Engineering (E066 473), which is directly based on the Bachelor's Programme in Process Engineering. There is also the option of taking a related master's programme at TU Wien or at other universities in and out of Austria.
Chemical and Process Engineering is an interdisciplinary course and is jointly offered by the Faculty of Technical Chemistry and Faculty of Mechanical and Industrial Engineering.
Vice Dean of Academic Affairs
Questions about the Programme?
Self Assessment Test