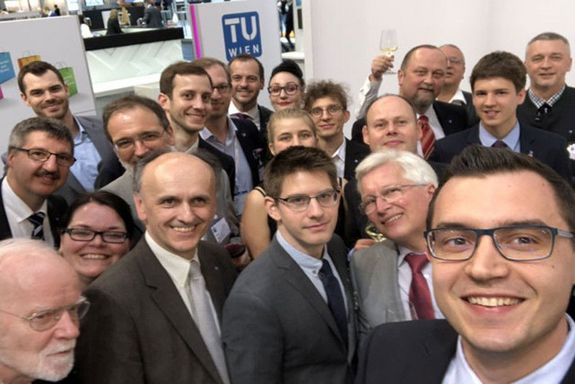 TU Wien's Research Marketing offers researchers at TU Wien advice and support in positioning their research results internationally in the fields of industry, companies and applications.
How to find the right market
An unusual and efficient way is to be present at industrial fairs. With a multitude of media and communication options relating to the trade fair, which are accessible well beyond the duration of the trade fair, they offer a wide range of points of contact for interested parties.
Since 2011, the research marketing department of TU Wien has been providing several faculties and institutes with joint appearances at important industrial trade fairs abroad. The target group is in particular foreign companies. They are to be won as new cooperation partners for TU Wien.
A special highlight is the Hanover Fair in April each year. It is considered the world's largest and most important industrial fair, where between 200,000 and 230,000 trade visitors from a wide variety of industries look for innovations for their field of activity. The TU Wien was also present with joint appearances at SIAE (aviation), Analytica and Biotechnica or Labvolution (chemistry, pharmacy, biotechnology, process and laboratory technology) or SPS IPC Drives (automation and electrical drives).
Along with the TU Wien
Selected research groups present exhibits at trade fairs, which are often specially created for this purpose. During the preparation, the research marketing team works out the advantages of the know-how to be presented together with the researchers and develops core messages for the target groups. This enables targeted press work, the use of various trade fair media, the creation of exhibit flyers and the design of a joint TU presence.
At the so-called "trade fair workshop" of research marketing, the researchers prepare for a specific trade fair appearance. All of these are steps that differ significantly from the usual wealth of experience of scientists and enable a successful trade fair presence.
Today there are a large number of important trade fairs aimed at industry, commerce, trade, interest groups, international organizations and, in some cases, also public administration and politicians. These so-called "industrial fairs" require that good content is polished to a high gloss. A successful presence requires a certain amount of effort, a great deal of commitment and a lot of energy. In addition to content, there is also financial support from research marketing.
Researchers who want to exhibit at trade fairs abroad for which no joint stand is planned can also receive advice and financial support from research marketing.
In selected cases, research marketing is also helpful in maintaining contacts, further developing cooperation ideas or in determining prices for cooperation projects or products. Sometimes a translation aid is required for the formulation of a project, which ensures a common understanding between the need for necessary research funding for the research group on the one hand and the company need for know-how or services on the other - or also for a mutually attractive modularization of the project scope. Targeted work with industry media and industry magazines in the trailer to a trade fair can also be useful.
These or similar steps can also be helpful in the course of other efforts to find "your market". In the case of special concerns, support from research marketing is also possible regardless of your own trade fair participation.
The most interesting experiences after more than a dozen joint stands at major international trade fairs and a series of consultations for individual appearances are:
A good trade fair appearance can leave far more lasting impressions on visitors in a short time than a detailed specialist article or conference contribution. The joint effect of sensual "understanding" of an attractive exhibit, explanatory expertise and inspiring questions from stand supervisors as well as a meaningful exhibit flyer brings sensual perceptions and long after-effects.
In the atmosphere of curiosity and intensive communication that prevails at an important trade fair, company people are far more open and ready for more intensive discussions than in the course of other events - because they are in a mode that is rare: fully focused on the goal To find something new that will advance your company.
Very potent prospects from all over the world from industries and applications that one had never thought of before come into intensive discussions with the TU Wien.
It is not uncommon for researchers to receive important impulses for new development steps or for new research in new fields of application at a trade fair.
The trade fairs at which the TU Wien is present with joint stands are an ideal place to become visible on the market and to present it internationally. On the occasion of a trade fair, the TU Wien appears in company and industrial magazines, which would otherwise only be possible with expensive advertisements.
Several exhibits attract far more interested parties than the sum of individually exhibited exhibits. There is also a good chance that visitors - especially from larger companies - will discover a second or third particularly "hot" TU exhibit for themselves.
The results of applied research can be ideally conveyed using a functional prototype as an exhibit. But results from basic research can also be used at a very early stage - e.g. through an attractive principle model - be communicated to various user industries worldwide.
"We went to the fair with a novel concept for commercial thermochemical energy storage without having a prototype. We came back with over 40 contacts and seven possible cooperation partners in very different fields of application, none of which we had known before. These companies came from Europe, through India to Japan."
Priv.-Doz. Peter Weinberger, Institute for Applied Synthetic Chemistry

"We spoke to the first interested party about specific feasibility studies in the month after the trade fair, then signed an NDA and the project contract was formulated just four months after the trade fair."
Prof. Andreas Werner, Institute of Energy Systems and Thermodynamics

"By taking part in the trade fair, I have saved myself 10 company visits, including flights and their preparation - apart from the fact that it is uncertain whether I would have had appointments with these decision-makers and their experts in the foreseeable future."
Prof. Stefan Biffl, Institute of Information Systems Engineering

"In addition to the entire trade fair organization, two initiatives by Peter Heimerl were important to me: Before the trade fair, to get back the exclusive rights of use to our research results in advance, which had already been given to project partners some time ago as part of an EU project - thanks to his commitment succeeded. And his support in getting an editorial article in a large German industry magazine - which has led to several inquiries and subsequently to a very interesting new field of application."
Priv.-Doz. Dr. Ferdinand Bammer, Institute of Production Engineering and Photonic Technologies

"With these joint stands it is possible to win new clients and to polish the international image of TU Wien. These stands are attractions and innovation hotspots for industry. They signal: 'TU Wien is an R&D partner of first choice for industry worldwide'. I have known several trade fairs as an exhibitor for many years and can say: These TU presentations under the direction of Peter Heimerl are excellent calling cards for TU Wien."
Prof. Manfred Schrödl, Institute of Energy Systems and Electrical Drives
Contact
rema@tuwien.ac.at, opens in new window
Peter Heimerl, Head Research Marketing
T +43 1 58801 406110
M +43 664 605 883 320
peter.heimerl@tuwien.ac.at
Peter Schwabl, Assistant Research Marketing
T +43 1 58801 406111, M +43 664 605 882 111
peter.schwabl@tuwien.ac.at
Information for companies
If you are a cooperation partner, customer or sponsor of the TU Wien and can imagine a joint presence at an important industrial fair, we would be happy to think about it with you. Several joint appearances have already taken place - either as part of a TU joint stand or as part of a company stand.
Do you have suggestions or questions?
Please contact Peter Heimerl
T +43 1 58801 406110 | ReMa@tuwien.ac.at