Catalyst Design and Reaction Engineering
This page is in development.
We are a research group established in 2021 at TU Wien working on the intersection of the fields of catalysis and chemical engineering. Our research focuses on the development of novel catalytic materials and reactors for the sustainable production of chemicals. Our main objective is to generate new strategies in thermal catalysis, encompassing the catalyst nanostructure, the reaction conditions and reactor design, to overcome the current limitations of implementation of sustainable processes.
In a circular economy, reactors and catalysts must be capable to adapt to changing feedstock and reaction conditions while keeping optimal activity and selectivity to key products. We investigate the properties and performance of multifunctional catalysts based on the combination of metal oxides, acid zeolites and metal ions hosted in zeolites.
Activity and selectivity of the materials in relationship with the relevant steps of catalytic mechanisms are evaluated by catalytic tests at lab-scale reactors and temperature-programmed surface reactions. In situ and operando spectroscopies allow monitoring the dynamics of active surfaces and their response to changing chemical potentials.
News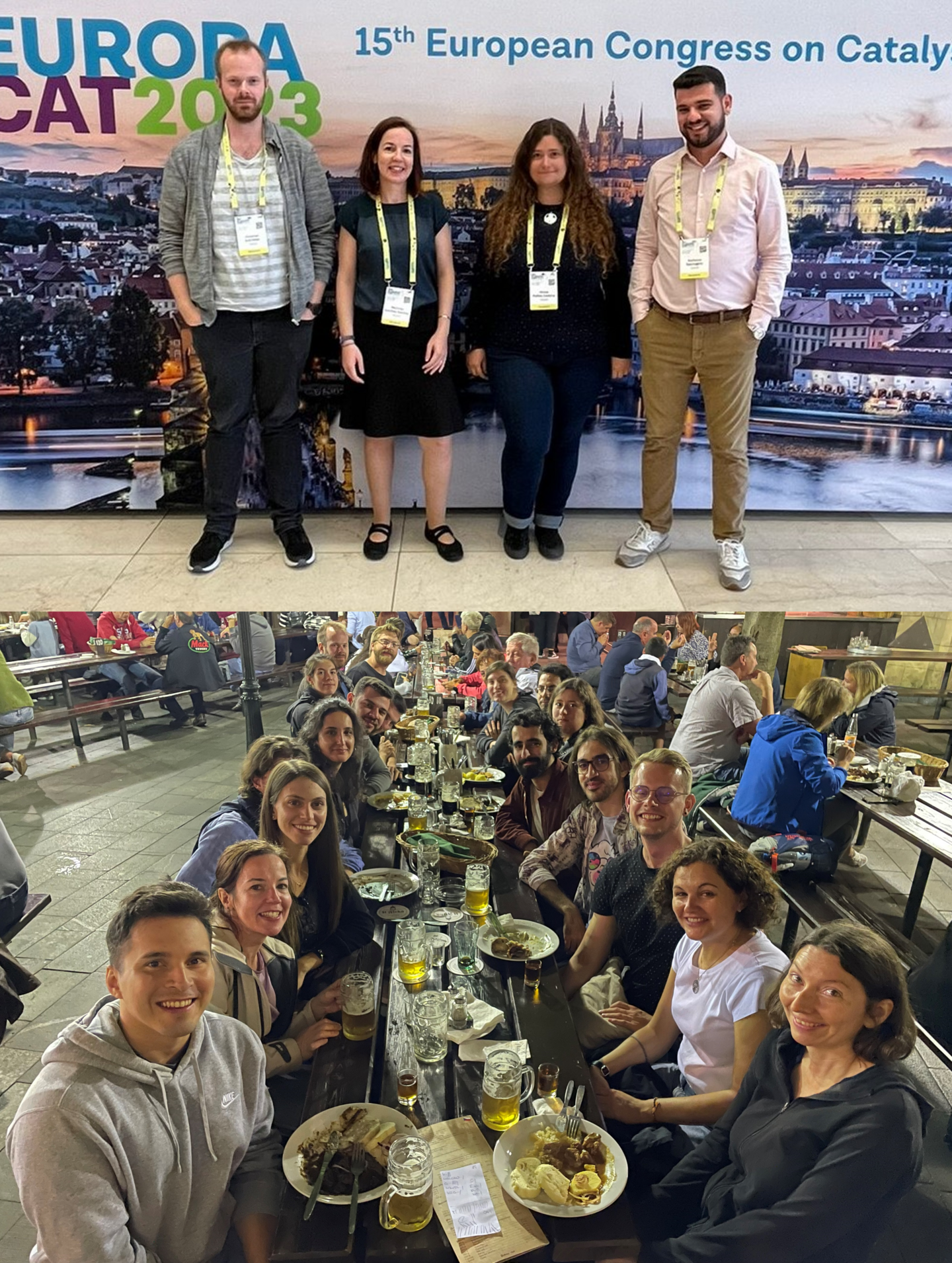 © MSS
+++ 11.09.2023: Our group at Europacat 2023 in Prague +++
Maricruz Sanchez-Sanchez, opens an external URL in a new window, Mireia, Stelios, and Christian, had the opportunity to attend to the XVth Europacat conference in Prague. This bi-yearly conference unites researchers working with catalysis around Europe and the world, presenting their newest research in catalyst design and characterization, CO2 valorization, biomass utilization, electrocatalysis, and many more. Mireia Palma Cazorla, opens an external URL in a new window, Stylianos Spyroglou, opens an external URL in a new window, and Christian Schröder, opens an external URL in a new window all presented posters of their work on Monday's poster session, which resulted in many discussions and new impulses for future investigations.
In total, there were more than 1800 participants, within them a good representation of TU Wien current and formerly affiliated researchers: the TUCAS group led by Christoph Rameshan, opens an external URL in a new window (now Montanuniversität Leoben), Karin Foettinger, opens an external URL in a new window's Technical Catalysis group, the ClusCAT Lab nanocluster catalysis research group, opens an external URL in a new window by Noelia Barrabés Rabanal, opens an external URL in a new window, and Irina Delidovich, opens an external URL in a new window's group. It was also great to enjoy some time together, seeing sights like the castle or the Charles bridge, and enjoying Prague via its beverages and food. In the end, it was a wonderful trip for all of us, and we are looking forward to the next Europacat in Trondheim in 2025. Na zdravi!
© MSS
+++ 7.8.2023: New Article published in JACS +++
Happy to see this work published in the Journal of the American Chemical Society, opens an external URL in a new window, it has been a long journey! In collaboration with the groups of Evgeny Pidko, opens an external URL in a new window and Johannes Lercher, opens an external URL in a new window, we studied the structure of nanoscopic copper oxide clusters, hosted in zeolites, that are able to selectively convert methane into methanol. We obtained a quantitative description of the types of active metal-oxo clusters hosted in the microporous channels of highly active Cu-mordenite (CuMOR) materials. Theoretical assessment of the most stable structures, together with spectroscopic characterization, allowed the description at molecular level of two types of active clusters present in CuMOR materials, namely a monometallic Cu-oxo and a bimetallic Cu-(Al)-oxo cluster formed via reaction of exchanged Cu with extraframework Al.
This work shows how important is, for the activity of metal exchanged zeolite catalysts, the competition between different metal-oxo cationic structures, stoichiometries and locations within the framework. It also sheds light on the importance of reacting defects and extraframework Al species in zeolites. The results here will aid the synthesis of novel zeolite-based catalysts hosting metal-oxo ensembles with exceptional catalytic properties.
© Mojca Opresnik/FEZA
+++ 26.7.2023: Christian awarded the Best PhD Prize by the Federation of European Zeolite Associations +++
Our post-doc Christian, opens an external URL in a new window was given the prestigious "Best PhD Prize" at the 9th Conference of the Federation of European Zeolite Associations (FEZA) held in Portorož, Slovenia, from 3rd to 6th of July. The award is granted every three years for excellent publications, opens an external URL in a new window arising from PhD projects in the field of zeolite and porous material sciences, which Christian has written during and after his PhD stay at the University of Münster, Germany, under supervision of Hubert Koller, opens an external URL in a new window and Michael Hansen, opens an external URL in a new window. His work involves the investigation of catalytic sites in zeolites, specifically Brønsted acid sites and silanol defects, by using solid-state NMR techniques to uncover internal hydrogen bond interactions and therefore important structural and catalytic properties. As per custom at FEZA conferences, Christian was invited to give the very last talk about his research. He also contributed a well-received poster contribution from research of our group: The combination of metal oxides and zeolites to create tandem bifunctional catalysts for CO2/CO hydrogenation reactions to olefins. Congratulations!
News at the FEZA homepage, opens an external URL in a new window
Group Leader E166-03-1

© MSS