Bachelor's Programme Mechanical Engineering
Programme Code

UE 033 245 – Bachelor's Programme Mechanical Engineering

Duration of Programme

Credits

Language

Degree

Bachelor of Science (BSc)

Curriculum

Info folder (German)
Programme contents
The Bachelor´s Programme imparts sound mathematical, engineering and scientific knowledge, which forms the basis for understanding the interrelationships relevant in mechanical engineering.
Examination Subjects and Modules of the Bachelor's Programme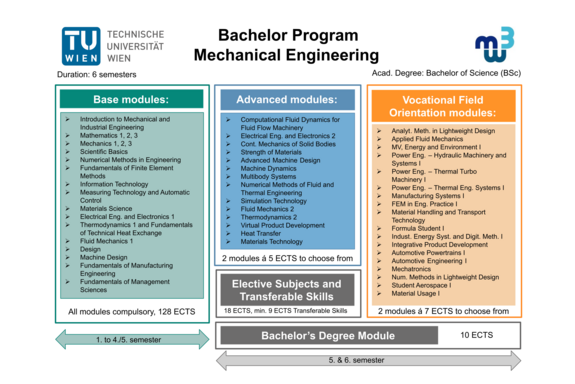 The Bachelor's Programme in Mechanical Engineering teaches the relevant programme content in several modules.
In the first to fourth semesters you will complete the compulsory base modules. The other modules are expected to be completed in the fifth and sixth semesters. Of course, you are free to organise your studies yourself and not to adhere to the semester recommendation.
You must choose two modules from the advanced modules and two from the vocational field orientation modules. In addition, you must complete courses from the elective subjects and the transferable skills. Finally, you must write a scientific paper, the Bachelor's thesis. You complete this degree programme with the academic degree Bachelor of Science.
Information on the individual courses can be found in the TISS at https://tiss.tuwien.ac.at, opens an external URL in a new window.

Programme-PRe-Phase
There are enough study places and therefore no admission procedure. The VoR-Phase of the Bachelor's programme consists of online tests on mathematical and mechanical engineering topics.
Further information about the programme
An interest in technical-scientific systems and processes as well as a certain affinity for mathematical methods and analytical procedures are ideal prerequisites for studying mechanical engineering. The engineering sciences have always been a source of innovation for solving the major challenges facing society. The Faculty of Mechanical Engineering and Management Sciences takes this into account with its focus areas:
Energy, Mobility, Transport and Environment
Materials, Production and Management
Human-Centered Design, Health and Medicine
Digital Engineering Innovation

in research and research-led teaching.
The facilities of the Faculty of Mechanical and Industrial Engineering is equipped with modern and forward-looking study places and laboratory equipment. The Bachelor´s Programme is not overcrowded; there are sufficient free places for all lectures, exercises, laboratories and seminars. The facilities of the Faculty of Mechanical and Industrial Engineering is particularly keen to interest women in studying mechanical engineering and to support them during their studies.
The career prospects are excellent. A shortage of mechanical engineering graduates is predicted for the coming years. The job profiles are diverse and range from working as an engineer in the field of industrial research and development, scientific employee at universities or non-university research institutions, operating engineer in companies, safety engineer in power plants, test engineer or designer in the automotive industry, employee in an engineering office, self-employed civil engineer, head of in-house further education in a large company, teacher at a vocational high school to self-employed entrepreneur. The broad basic education of the mechanical engineering degree remains relevant for many years and enables students to familiarise themselves with new problems and develop solutions.
Successfully completing the Bachelor's Programme Mechanical Engineering (E 033 245) enables the student to continue studying directly with the master's courses in Mechanical Engineering (E 066 445) or Material Sciences (E 066 434). For other courses, students' suitability will be assessed by the respective responsible body.
Dean of Academic Affairs
Paul Heinz Mayrhofer
Univ.Prof. Dipl.-Ing. Dr.mont.
Vice Dean of Academic Affairs
Michael Filzmoser
Associate Prof. Mag.rer.soc.oec.
More Information and Contact
Self Assessment Test