Bachelor's Programme Mechanical Engineering
Programme Code

UE 033 245 – Bachelor's Programme Mechanical Engineering

Duration of Programme

Credits

Language

Degree

Bachelor of Science (BSc)

Curriculum
Programme contents
The Bachelor's Programme Mechanical Engineering deals with the design, development and production of machines and systems. You will learn how to bring together mechanics, electronics, materials science and computer science to develop complex systems. Topics include design theory, thermodynamics, fluid mechanics, control engineering and manufacturing technology.
The programme is practice-oriented, which means that students also gain hands-on experience through laboratory and project work. Graduates can work in various fields such as mechanical engineering, the automotive industry or energy technology.
Programme-PRe-Phase
There is no Admission Procedure for the Bachelor's Programme Mechanical Engineering. Instead, you must familiarize yourself with the contents of the programme in the so-called Programme Preparation and Reflexion Phase before the admission.
After an online self-assessment, you will receive feedback on your level of knowledge in mathematics.
You can find all information about the Programme-PRe-Phase in the Bachelor's Programme Mechanical Engineering on the page of the same name.
Further information about the programme
The Bachelor's Programme in Mechanical Engineering requires an interest in engineering and mathematics. Programming or technical drawing skills are not required.
During your programme you will learn everything you will need later in mechanical engineering. However, good mathematical skills are an advantage: A large part of the work of mechanical engineers is to be able to describe and analyze problems. You will not only develop new things, but also improve existing ones.
So it is important to be willing to learn a lot and not to give up if an attempt to solve a problem fails.
The contents of the Programme are divided into different modules. A module consists of individual courses or courses with related content. You must complete these in order to complete the module. Thematically similar modules are combined into examination subjects. These examination subjects appear on the degree certificate with the overall grade achieved upon completion of the programme.
The scope of courses and modules is expressed in ECTS points. One ECTS point represents 25 hours of work.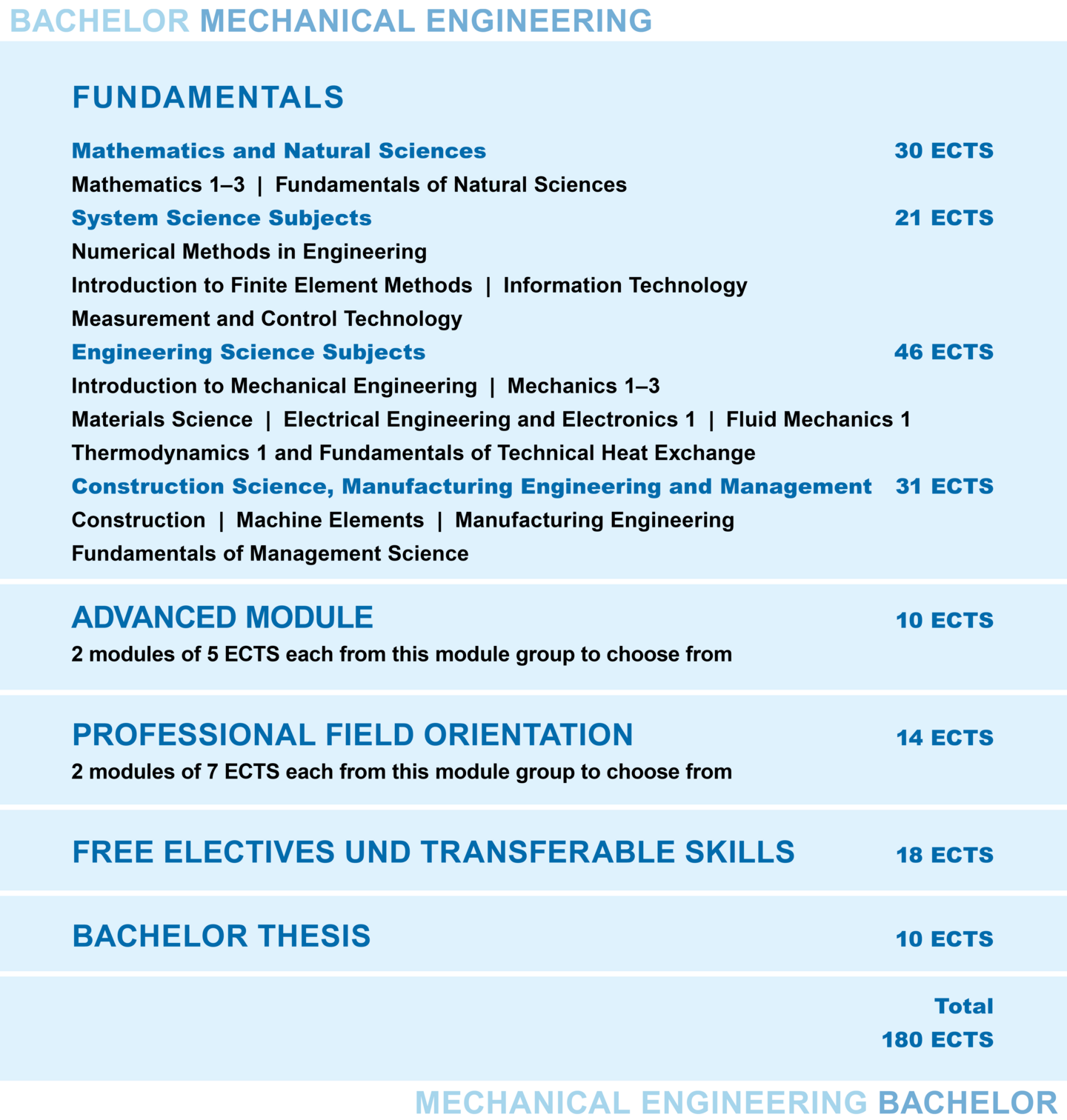 The Bachelor's Programme Mechanical Engineering is composed of the following examination subjects and modules.
The mandatory foundation modules are:
Mathematics and Natural Sciences: Mathematics 1 to 3, Fundamentals of Natural Sciences
System Science Subjects: Numerical Methods in Engineering, Introduction to Finite Element Methods, Information Technology and Measurement and Control Technology
Engineering Science Subjects: Introduction to Mechanical Engineering, Mechanics 1 to 3, Materials Science, Electrical Engineering and Electronics 1, Fluid Mechanics 1, Thermodynamics 1 and Fundamentals of Technical Heat Exchange
Design Science, Manufacturing Engineering and Management: Design, Machine Elements, Manufacturing Engineering and Fundamentals of Management Science
From the module group of advanced modules you have to complete two modules of 5 ECTS each and from the module group of professional field orientation you have to complete two modules of 7 ECTS each from a catalog of courses.
In addition, you must complete 18 ECTS from a catalog of Free Electives and Transferable Skills.
Finally, you have to write your Bachelor's thesis.
More detailed information can be found in the curriculum in TISS, opens an external URL in a new window.
The programme emphasizes a broad education, focusing on innovations to solve major challenges such as energy, mobility and the environment.
The Faculty of Mechanical and Industrial Engineering has focus areas in research and teaching, such as energy, mobility, transportation and environment, materials, production and management, human-centered design, health and medicine, and digital engineering innovation.
In the advanced modules and the professional field orientation, you can specifically address current topics and deepen your interests in one of the Master's Programmes.
The job profiles are diverse and range from working as an engineer in the field of industrial research and development, a scientific employee at universities or research institutions, an operating engineer in companies, a safety engineer in power plants, a test engineer or designer in the automotive industry, an employee in an engineering office, a self-employed civil engineer, the head of in-house training in a large company, a teacher at a vocational high school to an independent entrepreneur.
The broad basic education of the mechanical engineering program remains relevant for many years and enables students to familiarize themselves with new problems and develop solutions.
TU Wien offers its students the opportunity to spend a semester abroad. The International Office can help and support you with the organization.
Internships are not mandatory. However, they help to better understand and consolidate what has been learned and support career orientation.
In the Bachelor's Programme Mechanical Engineering you will spend most of your time at the main location of the Faculty of Mechanical and Industrial Engineering at Getreidemarkt.
The programme is supervised by the following institutes:
Institute of Energy Systems and Thermodynamics
Institute of Engineering Design and Product Development
Institute of Materials Science and Technology
Institute of Production Engineering and Photonic Technologies
Institute of Powertrains and Automotive Technology
Institute of Lightweight Design and Structural Biomechanics
Institute of Fluid Mechanics and Heat Transfer
Institute of Mechanics and Mechatronics
Institute of Management Science
At TU Wien, you can choose one of the following Master's Programmes for specialization after completing your Bachelor's Programme Mechanical Engineering: