Bachelor's Programme Environmental Engineering
Programme Code

UE 033 266 - Environmental Engineering

Duration of Programme

Credits

Language

Degree

Bachelor of Science (BSc)

Curriculum

Info folder (German)
Programme contents
Environmental Engineering is a field of activity of great present and future social importance.
The Environmental Engineering programme offers an interdisciplinary education with a technical and scientific orientation. Engineers are educated to have solution competence on the level of environmental engineering issues (e.g. planning of an exhaust air purification system for a power plant) as well as the ability to recognize, analyze and solve complex problems in the area of conflict between man, environment and technology (e.g. development of a national climate protection strategy). The programme includes mathematical and scientific subjects such as mathematics, chemistry, physics and biology/ecology as well as engineering subjects such as mechanics, process engineering, geoinformation, programming and modeling. The curriculum is supplemented by basic training in cross-cutting subjects such as law and economics.
Examination Subjects and Modules of the Bachelor's Programme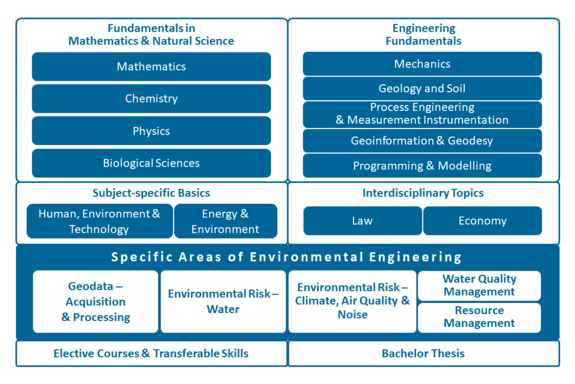 The bachelor's programme comprises the following seven examination subjects: fundamentals in mathematics and natural science, engineering fundamentals, subject-specific basics, interdisciplinary topics, specific areas of environmental engineering, elective courses and transferable skills and finally the bachelor thesis.
The examination subject fundamentals in mathematics and natural science includes the modules mathematics, chemistry, physics and biological sciences.
The examination subject engineering fundamentals comprises mechanics, geology and soil, process engineering and measurement instrumentation, geoinformation and geodesy as well as programming and modelling.
The interdisciplinary topics include the two modules law and economy.
The subject-specific basics include the two modules human, environment and technology as well as energy and environment while.
The specific areas of environmental engineering comprise the modules environmental data management, environmental risk – water, environmental risk – climate, air quality and noise, water quality and resource management.
Finally, there is elective courses and transferable skills as well as the bachelor thesis with their correspondent modules.
Programme-PRe-Phase
The programme preparation and reflection phase for environmental engineering includes an online survey on the choice of the programme and the AKMATH online test, which provides feedback on your knowledge in mathematics. Due to the novelty of the programme, an informational meeting with a team of teachers and students is also offered on a voluntary basis. This provides the opportunity to point out the special features of the programme and to clarify open questions. It serves as an examination of the choice of study and does not limit the number of study places, but must be completed online before admission.
You can find further information on the site Programme-PRe-Phase Environmental Engineering.
Further information about the programme
This programme addresses all those who are interested in a technical/scientific, interdisciplinary education and who see social responsibility as key to ensuring that humans can co-exist harmoniously with the environment in the future.
Due to the interdisciplinary orientation of the study program, individual lectures are jointly attended by students from other disciplines (e.g. civil engineering, technical chemistry, geodesy and geoinformation). Innovative teaching methods of distance learning are therefore used in some of the basic lectures. The cooperation with other fields of study is an important part of the study and requires a high degree of self-organisation from the students. The departments involved have good technical and personnel resources and offer ideal conditions for a future-oriented education.
The interdisciplinary education in Environmental Engineering qualifies graduates to develop environmental agendas and assume responsibility for sustainable use of resources in both public and private sectors.
Job opportunities arise in the areas of water quality, resource management, air monitoring, climate protection, environmental geoinformation and environment engineering. Graduates will be prepared to take on responsiblity in leading positions both nationally and internationally.
Graduates may find positions in the industry and business sector, consulting firms and planning companies, but can also work as project developers or at supply and disposal companies, operators of energy and water infrastructure sites, environmental testing centres, financial service providers and insurance companies, many departments as well as research establishments.
As of the winter semester 2021/22 we will offer a Master's programme in Environmental Engineering. This programme will offer students the possibiliy to consolidate their knowledge and skills, and choose from a number of specialisations. The Master's programme will last for 4 semesters (120 ECTS) and graduates will be awarded the degree of "Diplom-Ingenieur" (Dipl. Ing. or DI), broadly equivalent to Master of Engineering.