Markus Ganahl, Hirschmann Automotive GmbH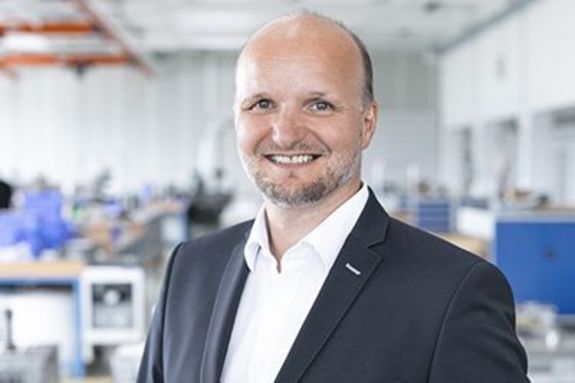 Ing. Mag.(FH) Markus Ganahl, MBA has been Chief Operating Officer (COO) of Hirschmann Automotive GmbH, opens an external URL in a new window since June 2018. In today's Alumni Portrait he explains how the Professional MBA Automotive Industry helped him to change from food industry to the automotive industry and how he deals with challenges.

You were appointed Chief Operating Officer (COO) of Hirschmann Automotive GmbH in June 2018. What was the reason behind the decision to expand the management team to include a COO position?
In the last few years, the company has seen excellent further developments and has grown exponentially. In order to sustain this growth and see it continue at a steady rate, the Supervisory Board took the innovative decision to extend the Executive Board. In restructuring the Executive Board, the company has created three clearly defined areas of responsibility at the highest management level, which is now in keeping with the increased size of the company.
What has been the greatest success in your career to date?
The areas of production, technology and logistics at Hirschmann Automotive's global production locations have greatly expanded in the last few years under my management. This excellent performance led to my promotion to the Executive Board of the internationally sought-after automotive supplier.
How did the Professional MBA Automotive Industry help you achieve your career goals? What has been the greatest benefit for you?
In the program, I was able to develop my expertise, particularly in lean management and Industry 4.0. This really helped me define and implement strategic programs that aimed to achieve excellent business results.
What has been the biggest challenge you have faced on your career path?
I have already experienced many testing situations in my career. There has always been a successful outcome to them because I have tackled problems with lots of hard work, passion, a goal-oriented attitude, and very intensive teamwork. I am convinced that we get stronger and more experienced each time we overcome a problem.
How did the qualifications you gained during the MBA program help you overcome these challenges?
After a successful career in the food industry, I changed jobs and started a new opportunity in the automotive industry. Having specific expertise and a deep understanding about the automotive challenges, networks, structures, processes, technologies, systems, standards, regulations, etc., is core to be successful in this global, dynamic, and demanding industry. The program helped me to rapidly build up this industry-specific know-how in parallel with learning on the job.
In your opinion, what are the defining personality traits of a successful manager?
I think it is really important that all employees have the chance to contribute their experience and expertise. I also firmly believe that all employees could – and should – work on their continual further development. Depending on the situation at hand, I apply the suitable management style (directing, coaching, supporting, or delegating). This is always based on open and honest communication.
What topics that will affect us in the future should managers definitely be looking into?
Globalization, technological and material innovations, digitalization, automation, artificial intelligence, and sustainability.
How do you keep a good balance between your professional and private life?
My family is very important to me, so I spend as much time as possible with my wife and children. To release tension, I really enjoy exercising. I am also a very passionate sports car driver.
Which famous person would you like to meet? Why?
I am a big fan of Niki Lauda. The racing legend was not just hugely successful in the sports world, but also in his business pursuits – even though fate dealt him a cruel hand on many occasions. Despite this, he never gave up, but kept growing – also at a personal level.
What is your connection to the Continuing Education Center of TU Wien nowadays? Are you still in contact with your fellow students or lecturers?
During my time at the CEC, I got to know a lot of new people in my line of work – some of whom I now count among my friends. We still keep in contact and will meet up in Vienna in two months for a reunion.
What personal or professional goals have you set yourself for the next 10 years?
As COO, I would like to make an active and direct impact on Hirschmann Automotive's further development as a dynamically growing and profitable company. In addition, I would like to work on making Hirschmann Automotive Group an even stronger multinational company, together with my colleagues on the Executive Board.