Karolina Cegir, Energy Community Secretariat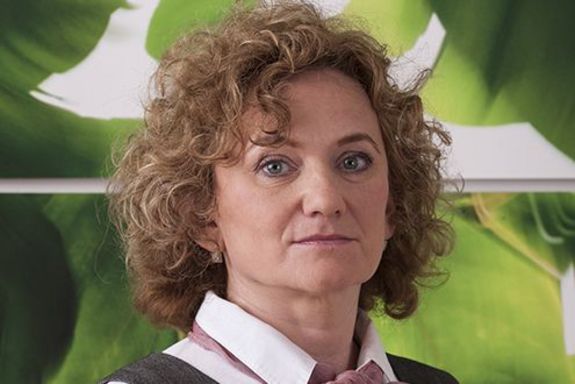 Karolina Cegir is Alumna of the MSc Renewable Energy Systems and Gas Expert at the Energy Community Secretariat., opens an external URL in a new window The mission of this international organization, which is not so well known in public, is to create an integrated and sustainable pan-European energy market. In today's Alumni Portrait Karolina Cegir explains the philosophical dimension of her MSc program and tells us about a project she would like to realize.
You are Gas Expert at the Energy Community. What makes it special to work for an international organization?
I like to work with and meet different people, from different countries, different sectors, and different backgrounds. An international organization, such as the Energy Community Secretariat, is the perfect "melting pot", acting as a bridge between stakeholders, sharing and increasing their knowledge of the energy sectors at large as well as my own.
What has been your biggest professional success so far?
I can name a few projects that I consider as a significant success, like the certification of the companys' quality system and the project of transmission system operator unbundling as well as a comprehensive package of secondary legislation developed in a very tight timeframe. Nevertheless, what I really consider as my biggest professional success is the trust that different parties that I work with place in my objectivity and professionalism.
How did the completion of the MSc Renewable Energy Systems (formerly "Renewable Energy in Central & Eastern Europe") contribute to achieving your career goals? From what did you benefit most?
My life motto was and still is continuous learning. The Master's Programme at TU Wien Continuing Education Center opened a completely new chapter for me, the area of renewable energy. I do not have in mind only the technologies to bring energy from renewable sources to deployment, what I consider even more important is the philosophical dimension – a new way of thinking: how to keep the earth with its limited resources and the ever increasing energy demand in balance. It helps even when it comes to natural gas, a non-renewable source of energy, which I deal with in my everyday work.
And what has been the biggest challenge in your professional life so far?
The big challenge is always how to overcome the opposing interests of people working on the same project and to achieve the required level of ambition in the outcome.
How did the qualifications acquired during your MSc program support you in dealing with these challenges?
The MSc program helps me to have a general picture in mind, always as a baseline, before stepping into a particular policy, interest, technology, resources, or demand and development aspects.
According to your opinion, what makes a good leader?
A good leader has a vision, the ability to listen, the willingness to understand and has sufficient self-criticism to recognize and self-confidence to admit mistakes and the courage to take timely decisions.
To which future-related topics should managers definitely pay attention?
The world and the energy world in particular are becoming more and more interdisciplinary. Thus, future managers will have to be able to lead companies, regardless of their field of activity, more as multiple, cross-sectoral projects, then to follow classical organizational structures.
How do you manage to keep your work life and private life in balance?
Well-defined, absolute priorities (on a weekly, monthly basis and on a daily basis when possible) are the starting point. Good planning helps a lot, but only when it is combined with flexibility. I travel a lot due to work, but I use each opportunity to combine a business trip with a private stay and explore the places that I would rarely see otherwise.
Which person would you like to meet? Why?
There are many persons who I truly admire that I would really like to meet, but they have already passed away, like Marie Curie, Albert Einstein and Nikola Tesla. Or Alexander the Great, Michelangelo, Ernest Hemingway, Che Guevara and Leonard Cohen. I do not have modern day heroes, I am afraid. However, it would be interesting to meet Angela Merkel and uncover the personal characteristics that kept her so long in this position.
What kind of connection to TU Wien Continuing Education Center do you have today? Are you still in touch with fellow students or lecturers?
I follow CEC news regularly and like to pass by the TU Wien, thinking of it as my university. I am in touch with a few fellow students and lecturers, but I have to admit that those meetings or e-mails are rarer and rarer unfortunately.
Which (professional and/or private) goals do you want to achieve within the next ten years?
I would like to develop a project, or at least be a part of one, which would combine the various aspects of my knowledge with my beliefs. This would be a plant producing biogas from municipal waste in a smaller city and thus making heating and public transport more sustainable, or re-positioning the existing natural gas network towards transmission of hydrogen and/or renewable methane.