Karl Sagmeister, Schneider Electric Austria Ges.m.b.H.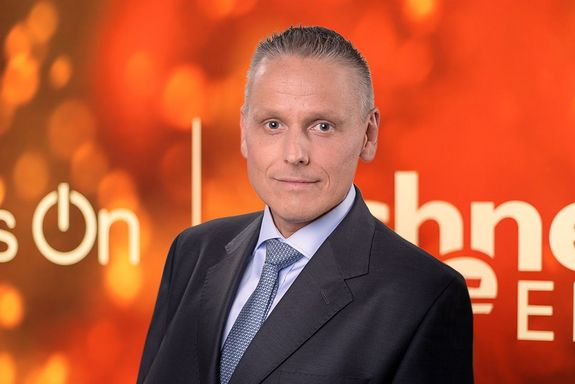 Ing. Karl Sagmeister, MBA is a graduate of the General Management MBA and has been Country General Manager of Schneider Electric Austria Ges.m.b.H, opens an external URL in a new window. since 2017. The company is a leader in the digital transformation of energy management and automation and offers intelligent solutions for private households, building technology, data centers as well as for infrastructure providers and industry. In the current Alumni Portrait, Karl Sagmeister explains why Schneider Electric was well prepared for the corona-related challenges and why there are no conflicts between his professional and private life.

At Schneider Electric, the importance of the topic home office has already been recognized some time ago. To what extent was this an advantage in meeting the challenges posed by the corona pandemic?
We have implemented home office at Schneider Electric for several years now. Our "Workplace of the Future"-initiative enables digital collaboration and supports the digital transformation. All our employees are well equipped with hard- and software, our processes are fully digitalized. In our daily work we have been using tablets, smartphones, VPN, virtual conferencing and team meetings naturally – both, internally but also with external partners and customers. This has only been intensified compared to beginning of the year. Our cooperation and document management is fully cloud based and therefore access is possible for everyone at any time from every place. Our own cyber security department and our certification according to ISO27.001 warrant for best in class security standards whilst working from home offices.
Our recent relocation project with our Vienna headquarters enables us, to fully enroll new ways of working by providing room-in-room concepts from very informal to formal surroundings while being spacious enough to maintain the so called "social distancing" when face to face meetings are needed to solve specific tasks within a team.
What has been your biggest professional success so far?
My biggest successes are connected with customers and I have a lot of positive memories linked with large orders I was able to win together with my different teams. The biggest personal success though was the promotion to Country General Manager with Schneider Electric. This extremely interesting and challenging position with a true global market leader is my career-highlight so far.
How did the completion of the General Management MBA contribute to achieving your career goals? From what did you benefit most?
My practical experience was the perfect base for the General Management MBA and enabled me to profit most from the numerous concepts and options to tackle business challenges I got exposed throughout the program. Intercultural cooperation and the opportunity to study at universities abroad were a remarkable experience for me, while the scientific approach has already served me well in different occasions since I concluded the MBA.

And what has been the biggest challenge in your professional life so far?
The current situation linked to COVID-19 is for me the biggest challenge so far. There has not been any comparable situation that opened completely new opportunities, even in very mature and stable market situations. Experience does not count too much, it is more about leading teams with courage and entrepreneurship to tackle all opportunities coming up.
How did the qualifications acquired during your MBA program support you in dealing with these challenges?
The last months required agile methods, the ability to challenge the status quo and develop new business models more than ever before. It have been exactly these topics we have been working a lot with, both, in theory but also practically in the course of our MBA program (e.g. during a field trip to San Francisco or a specific module at Stanford University).
According to your opinion, what makes a good leader?
A good leader should be enthused on his tasks – both, people but also specialist challenges should be fun rather than sources of frustration. Self-esteem, the ability and willingness for self-reflection and the readiness to learn every day are other important aspects. Staying down-to-earth and living up to and by doing so building a company-adequate culture seems to be very relevant. And finally it is finding the right balance between support and delegation but also between current and future business that makes a good leader.
To which future-related topics should managers definitely pay attention?
It seems to be somewhat hackneyed but from my point of view, it is extremely important to consider digitalization – in all aspects of our lives, privately but also business related. Digitalization drives big changes and it is vitally important not to lose track of these developments. Of course, there are also several branch-specific global trends with relevance for different businesses. In the case of Schneider Electric, some of these megatrends to keep an eye on are the changing world of energy, new alternative ways to produce energy and of course urbanization and e-mobility.
How do you manage to keep your work life and private life in balance?
Finding the right work-life-balance is a very dynamic process. Getting more experienced (or simply older?) it is much easier for me to be myself in different situations so that I can be the same person, both, privately but also in business. Being authentic becomes much easier and doesn't need a lot of energy anymore. This reduces a lot the feeling of pressure and burden. Of course, I consciously use my resources and energy and the freedom my position and the culture of Schneider Electric provide me, opens a lot of opportunities to be productive, independent from time or place. Additionally, my family is extremely supportive so that I can hardly remember a single situation where I had to ultimately decide between professional or private constraints.
Which person would you like to meet? Why?
I am fascinated by Sir Ernest Shackelton, a British polar researcher. His ability to solve impossible situations together with his team (e.g. during his Endurance expedition) are impressive. I would have loved to hear directly from him, how much of his actions he has conducted consciously versus acting intuitively.
What kind of connection to TU Wien Continuing Education Center do you have today? Are you still in touch with fellow students or lecturers?
I try to keep in touch with the CEC regularly and whenever possible to contribute in different ways. Either passively by being a regular reader of the newsletter or actively by participating in one of the numerous interesting events. I occasionally meet lecturers and I admit having asked them once or twice for advice or their opinion on different challenges I had to meet. Of course, I still have contact with some of my fellow students, especially with those, who have similar business or personal interests.
Which (professional and/or private) goals do you want to achieve within the next ten years?
Being an Austrian and living in Austria makes me feel extremely privileged. There is hardly a second place in the world where people can live in such a great and safe environment and with such a high material standard. Therefore, I have no material targets in mind that motivate me. The most important personal target is to stay healthy and continue to enjoy the life in a way I was able to up to now. Of course, I want to keep on developing myself as a professional and giving back to the society, foremost it is about shifting a little bit more from tactical to strategical tasks, but I have no concrete career target I am chasing. My life motto: "Make the difference without being irreplaceable" maybe explains quite well, what drives me and how I see my mission.