Dr. Eugen Otto, OTTO Immobilien GmbH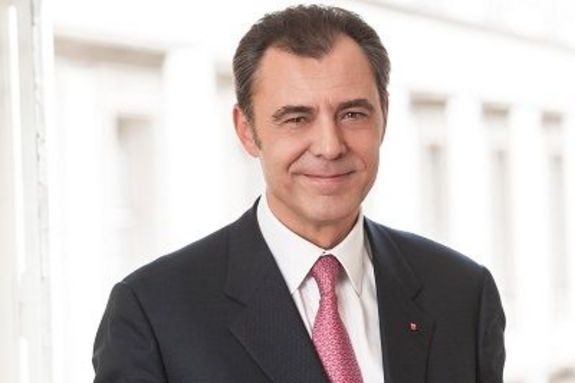 Dr. Eugen Otto, MRICS is sole proprietor and Managing Director of the OTTO Immobilien Group, opens an external URL in a new window, which is presumably Austria's biggest independent, owner-managed real estate company. Since 2001, he has also been president of the Austrian chapter of the International Real Estate Federation FIABCI. Besides that Dr. Eugen Otto is an alumnus of the very first class of the university course Real Estate Management. In today's alumni portrait, he provides us insight into his successful career path, talks about his leadership style and tells us why he would like to meet Cristiano Ronaldo.

Recently you received two prestigious decorations from the Republic of Austria ("Goldenes Verdienstzeichen") and the City of Vienna ("Silbernes Ehrenzeichen"). What do these awards mean to you?
It was a great pleasure to receive these awards. They show me that my professional initiative is well recognized and that I am on the right path. Of course, I am also proud to receive this recognition from my favorite city.
What has been your biggest professional success so far?
To run a family business on a steady and sound growth path, a business where quality is a high priority and our employees enjoy their work – and where I also work with enthusiasm and passion every single day.
How did the completion of the university course Real Estate Management contribute to achieving your career goals? From what did you benefit most?
The program showed me the broad scope and opportunities of my profession. In retrospect, what I liked best was how the questions and topics raised by the students were addressed. In this context, I particularly appreciated the flexible approach during the first year of the program.
And what has been the biggest challenge in your professional life so far?
The most difficult moments are always those where confidence is lost and conflicts emerge, especially when the situation is not promptly and adequately addressed. We all make mistakes, but it is crucial how we handle them. Professionalism is the decisive factor in such situations.
How did the qualifications acquired during your university course support you in dealing with these challenges?
It was primarily the technical, and less the organizational contents which have been useful in my daily work. On top of it, joint practice and study have helped me to build up friendship and a personal network which is still vibrant today – 30 years later.
According to your opinion, what makes a good leader?
Good leadership is characterized by a high degree of professionalism and empathy, the joy of dealing with people, and persistence in pursuing one's goals. A good leader should succeed in attracting, retaining and developing the best talents and professionals in the field who also have their heart in the right place - ideally if they even outperform their leader.
To which future-related topics should managers definitely pay attention?
Managers should develop their clients' needs and examine their services from the customer perspective. In this process, also examples of excellence and innovation from other fields should be integrated.
How do you manage to keep your work life and private life in balance?
Balance is not a static condition; movements in both directions are natural. No matter whether it regards the family or the job: the joy of doing things together always recharges my batteries.
Which person would you like to meet? Why?
I would like to spend an afternoon with Cristiano Ronaldo so he could teach my son and me some tricks in soccer.
What kind of connection to TU Wien Continuing Education Center do you have today? Are you still in touch with fellow students or lecturers?
The Continuing Education Center of TU Wien is an experienced university spearhead offering its graduates an excellent foundation in every respect. I still have regular get-togethers with about a dozen colleagues from my time at TU and I enjoy the exchange with them. I have even become close friends with some of them.
Which (professional and/or private) goals do you want to achieve within the next ten years?
To make further contributions to the professionalization and the implementation of useful and important innovations in my company and our industry.