Carmen Dilch, GO ASSET Development GmbH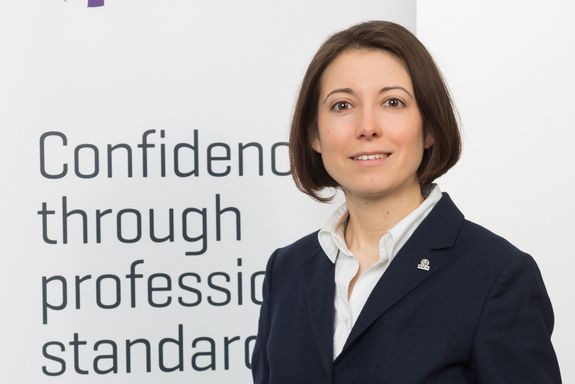 DI (FH) Carmen Dilch, MSc. MRICS is the authorized representative of GO ASSET Development GmbH, a real estate developer specializing in retail and logistics real estate. The graduate of the MSc Real Estate Investment & Valuation has written several books and teaches at the CEC as well as various Universities of Applied Sciences. From 2013 to 2016, she was CEO of ImmoABS (real estate graduates of TU Wien), currently she is deputy CEO of RICS (Royal Institution of Chartered Surveyors) Austria. Carmen Dilch has already received several prestigious awards, including the Caesar 2017 in the Small Diamond category – the highest award given by the real estate industry in Austria. In today's Alumni Portrait, she reveals to us the motivation for her extraordinary commitment and with what seemingly simple means she manages to keep her work and private life in balance.

In addition to your impressive career, you teach at universities as well as universities of applied sciences and you are resp. were on the board of RICS Austria and ImmoABS. What is your incentive for this extra commitment?
At the beginning, my motivation was to be better able to move in the real estate industry through my volunteer work, thereby building up a network. I was lucky because great mentors accompanied me on my own path. You cannot go anywhere alone; everyone needs the support, but also the trust of others. This is also the motivation of my teaching. I would like to pass on this gift that I have received, and I now assist other people in gaining their empowerment to take on social responsibility in professional activities, and actively guide them in the construction and real estate industries through the opening of my own network.
What has been your biggest professional success so far?
I consider it a professional success to do an activity that inspires me every day anew. Personally, I was very pleased to receive an award for my recent professional achievements by the real estate industry with the Caesar in the Small Diamond category in 2017.
How did the completion of the MSc Real Estate Investment & Valuation contribute to achieving your career goals? From what did you benefit most?
The postgraduate study was my entry into the real estate industry and thus the foundation for my further journey. I benefited a lot from my fellow students by learning from and with each other.
And what has been the biggest challenge in your professional life so far?
As a project developer, I constantly encounter one challenge after another.
How did the qualifications acquired during your MSc program support you in dealing with these challenges?
Project development is for me the "premier class" of the real estate industry: economic, technical and legal understanding paired with profound market knowledge and creativity are the prerequisites of every successful project. The content-related interdisciplinarity of the MSc program has shown me the necessary view beyond the technical side of the field.
According to your opinion, what makes a good leader?
For me, high-performing leaders have the talent to make other people willingly follow them because of their vision, integrity, fairness, and openness, but also their assertiveness and sense of humor. Above all, it is important that they communicate their vision, pursue it with a burning ambition and push it to the point of completion.
To which future-related topics should managers definitely pay attention?
With the leadership in a VUCA world and the self-image of the next generations.
How do you manage to keep your work life and private life in balance?
By taking time deliberately – be it for the job or the private life.
Which person would you like to meet? Why?
Mostly they are unexpected encounters that lead to exciting discussions and food for thought.
What kind of connection to TU Wien Continuing Education Center do you have today? Are you still in touch with fellow students or lecturers?
I am connected to the CEC of TU Wien by a "partnership" lasting for many years. In addition to my teaching duties, I am responsible for the accredited universities in the RICS Austria board – including the CEC of TU Wien. In particular, the annual jointly organized Real Estate Field Trips (including Milan, Brussels, Kazakhstan, and Moscow) are a great enrichment for me. I am constantly in contact with many of my fellow students as well as lecturers – whether as friends, as club colleagues at ImmoABS or RICS, as a business partners or market companions.
Which (professional and/or private) goals do you want to achieve within the next ten years?
My goal is to continue to focus on those issues that I can use to make a difference, that challenge me and make it fun.