Master's Programme Mechanical Engineering - Management
Programme Code

UE 066 482 - Master's Programme Mechanical Engineering - Management

Duration of Programme

Credits

Language

Degree

Diplom-Ingenieur_in (Dipl.-Ing.)
Master of Science (MSc)

Curriculum
Course content
The course is multidisciplinary and has a modular structure which allows for a high degree of flexibility. The master's thesis accounts for 30 ECTS (i.e. one semester) and the remaining ECTS credits are optional modules, which can be arranged as students wish, as long as certain rules are observed, to form a more in-depth and specialised degree programme. Overall, the master's programme Business Engineering specialising in Mechanical Engineering offers seven modules for more in-depth study:
Organisation & Strategic Management
Entrepreneurship and Innovation
Logistics Management
Industrial Engineering
Quality Management
Financial Management
Risk Management
These modules are supplemented by additional optional modules in Mechanical Engineering. It is thus possible to enhance the basic knowledge obtained in the Bachelor's Programme with specific education in a field of interest to the student, and thus to acquire a suitable profile for a particular specialisation.
Entry requirements
The Master's Programme Mechanical Engineering - Management follows on directly from the bachelor's programme Mechanical Engineering - Management at TU Wien. Graduates of the bachelor's programme Mechanical Engineering - Management are therefore admitted to this Master's Programme without restriction. Graduates in other subjects are subject to an assessment of their suitability for the course by the responsible governing body according to section 64, paragraph 5 of Austria's Universities Law (UG) 2002.
Examination Subjects and Modules of the Master's Programme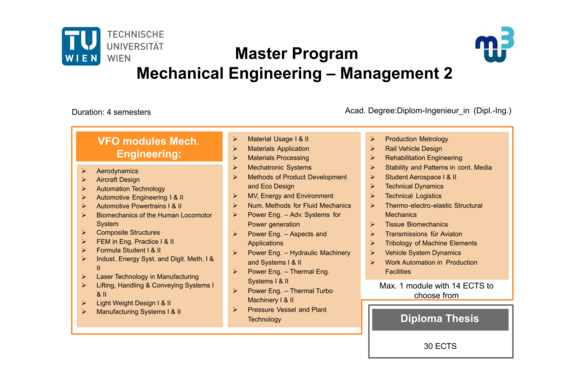 The Programme has an interdisciplinary and modular structure and allows you to set your own focus through a high degree of flexibility. From the advanced modules you choose six modules, which must be completed in full, that are of particular interest to you in order to deepen your basic knowledge. From the more extensive vocational field orientation modules, you must complete two modules in full. Of these, at least one module from the vocational field orientation modules in business studies must be completed in full. In addition, you must complete courses from the free electives, transferable skills and subject-specific electives. The degree is rounded off by a project thesis with a focus of your choice. Finally, you have to write a scientific paper, the diploma thesis. You complete this degree programme with the academic degree of Diplom-Ingenieur_in (Dipl.-Ing.).
The Master's Programme in Industrial Engineering - Mechanical Engineering builds consecutively on the Bachelor's Programme in Industrial Engineering - Mechanical Engineering at the TU Wien (UE 033 282). Consequently, graduates of the Bachelor's Programme in Industrial Engineering and Management - Mechanical Engineering are admitted to this Master's Programme without any restrictions. For all graduates of other studies, an assessment of the professional suitability is carried out by the governing body responsible for study law.
Objectives
Graduates of this Master's Programme will have acquired an understanding of basic theoretical principles and specialist skills, as well as problem-solving, economic and social skills. This enables them to independently initiate and promote developments, to assess available resources with regard to their use in relevant processes, to plan and coordinate the introduction of technologies, to lead teams, to quickly gain an understanding of new subject areas, to competently present and represent ideas and results and also to evaluate the social, economic and ecological effects of technical developments and promote humane technologies. These skills are prerequisites for doctoral studies or a successful career in industry.
Study abroad and work placements
As part of the European exchange programmes (ERASMUS, SOCRATES), it is possible to spend one or two semesters studying in another EU country. Study abroad is formally recognised and the process is straightforward with few bureaucratic hurdles. There are also specific bilateral agreements with universities in other countries (such as the USA). Further information can be obtained from the Dean's office, the Dean of Mechanical Engineering or the Chair of the Studies Commissions.
Dean of Academic Affairs
Paul Heinz Mayrhofer
Univ.Prof. Dipl.-Ing. Dr.mont.
Vice Dean of Academic Affairs
Michael Filzmoser
Associate Prof. Mag.rer.soc.oec.
Questions about the Programme?