Time-of-Flight Secondary Ion Mass Spectrometry (ToF-SIMS)
The TOF-SIMS 5 by IONTOF provides detailed elemental and molecular information about a sample's surface, thin layer structure, and interfaces. That enables a complete three-dimensional analysis of a specimen.
Its unique design guarantees optimum performance in all fields of SIMS applications. The product line includes:
4" version for sample sizes up to 100 mm in diameter
8" version for sample sizes up to 200 mm in diameter
12" version for sample sizes up to 300 mm in diameter
The instrument is basically equipped with a reflectron time-of-flight analyzer giving high secondary ion transmission with high mass resolution, an analysis column (liquid metal ion gun; BiMn alloy), a dual source column (O2 and Cs), a sample chamber with a 5-axis manipulator (x, y, z, rotation and tilt) for flexible navigation, a fast entry load-lock, charge compensation for the analysis of insulators, a secondary electron detector for SEM imaging, state-of-the-art vacuum system, and an extensive computer package for automation and data handling.
In our laboratory, the ToF-SIMS 5 is also equipped with argon (Ar) as additional sputter species in the dual source column and an integrable heating/cooling sample holder for controlled temperature experiments in a range of approximately -150 °C up to +500 °C.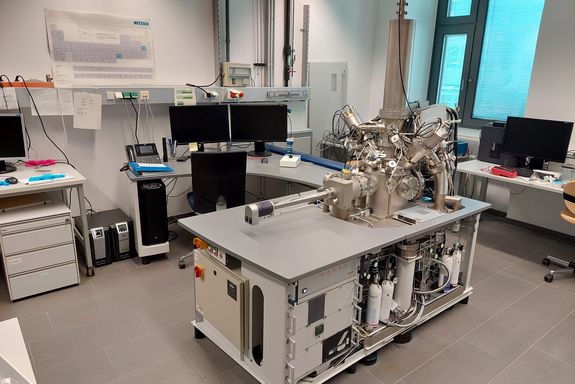 Operation possibilities:
Surface spectrometry:

quasi non-destructive for the outer monolayers
information about elemental and molecular composition
sensitivity: parts per million (ppm) / parts per billion (ppb)

Surface imaging:

chemical surface mapping
lateral distribution of elements/molecules
lateral resolution: down to 50 nm

Depth profiling:

in-depth distribution analysis
elemental/molecular information
depth resolution: <1 nm
analytical distance from few nanometers (nm) to several micrometers (µm)

3D analysis:

defect analysis (buried particles, diffusion channels,..)
material science (grain boundaries, diffusion,..)
Find more information on the manufacturer's website, iontof.com, opens an external URL in a new window.