Bachelor's Programme Spatial Planning
Programme Code

UE 033 240 – Bachelor's Programme Spatial Planning

Duration of Programme

Credits

Language

Degree

Bachelor of Science (BSc)

Curriculum
Programme Contents
The Bachelor's Programme Spatial Planning at TU Wien deals with how space in cities and regions can be used, designed and organized. This involves topics such as urban development, transport, environmental protection and architecture, which are viewed from a geographical, physical and social perspective.
You will learn how to create plans and concepts for sustainable development of cities and regions, how to unite the interests of all stakeholders and comply with legal regulations, and how to communicate and implement the results.
Graduates of the programme are in high demand and can work, for example, in city planning offices, private planning offices or research institutions.
Admission procedure
For the Bachelor's Programme Spatial Planning, 200 places are allocated each year in a two-stage Admission Procedure. After you have registered online, you must write a letter of motivation, submit it online and then take part in a ranking test.
Current information can be found on the Admission Procedure page.
Further information about the programme
The most important things to be successful in the spatial planning programme are the ability to work in a team, personal responsibility and organization, creativity and technical affinity. You do not need to be proficient in drawing or graphics programs. These skills are taught in individual courses.
Many of the courses in both the bachelor's and master's programs require collaborative work. You can largely design your course of study individually within the framework of the curriculum. This allows you to tailor your studies to your personal circumstances, such as employment. However, we advise you to follow the recommended sequence.
The contents of the Programme are divided into different modules. A module consists of individual courses or courses with related content. You must complete these in order to complete the module. Thematically similar modules are combined into examination subjects. These examination subjects appear on the degree certificate with the overall grade achieved upon completion of the programme.
The scope of courses and modules is expressed in ECTS points. One ECTS point represents 25 hours of work.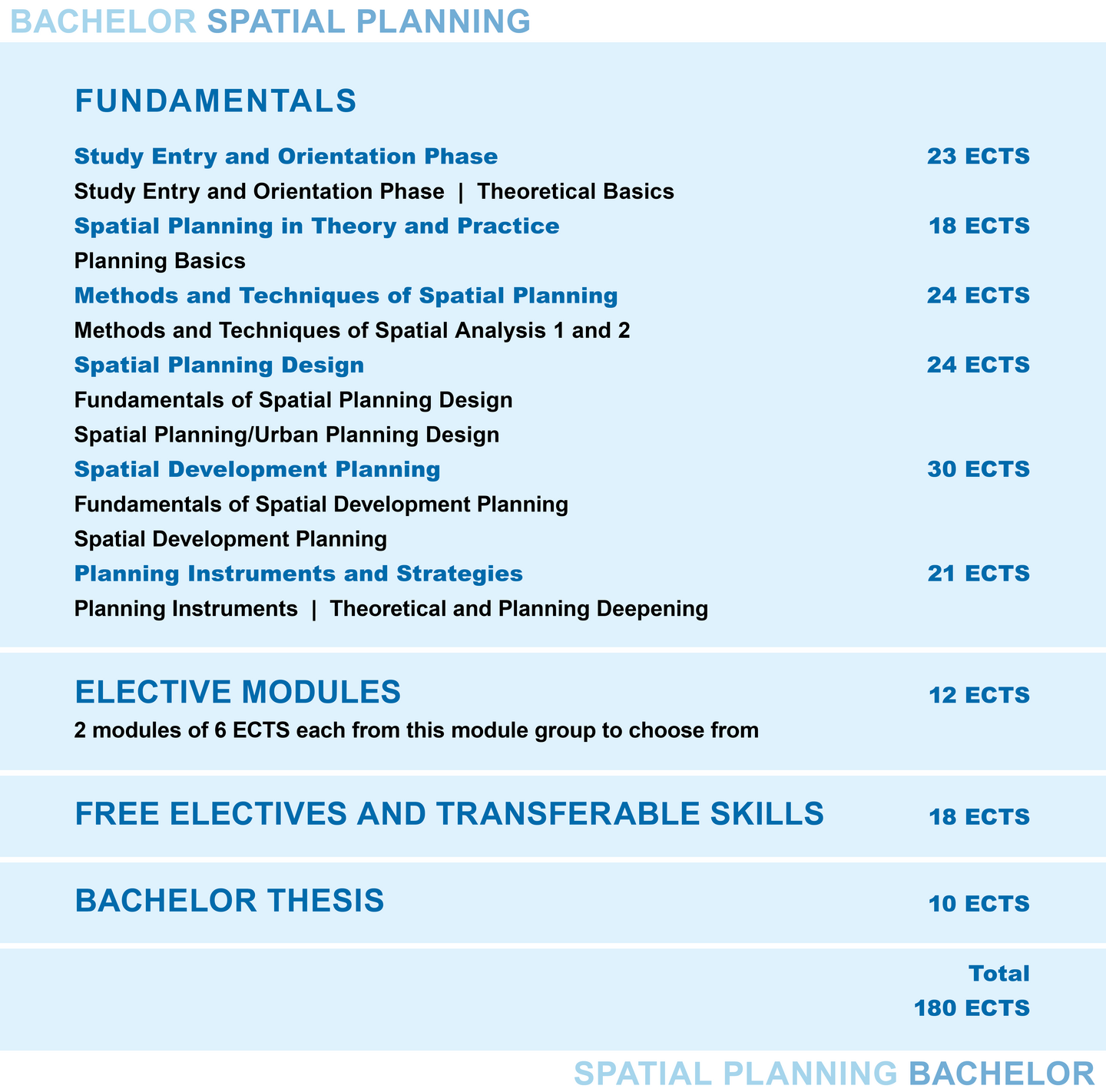 The Bachelor's Programme Spatial Planning is composed of the following examination subjects and modules.
The mandatory foundation modules are:
Study Entry and Orientation Phase: Theoretical Basics as well as Study Entry and Orientation Phase
Spatial Planning in Theory and Practice: Planning Basics
Methods and Techniques of Spatial Planning: Methods and Techniques of Spatial Analysis 1 and 2
Spatial Planning Design: Fundamentals of Spatial Planning Design and Spatial Planning/Urban Planning Design
Spatial Development Planning: Fundamentals of Spatial Development Planning and Spatial Development Planning
Planning Instruments and Strategies: Planning Instruments as well as Theoretical and Planning Deepening
From the module group of elective modules you have to complete two modules of 6 ECTS each.
In addition, you must complete 18 ECTS from a catalog of Free Electives and Transferable Skills.
Finally, you have to write your Bachelor's thesis.
More detailed information can be found in the curriculum in TISS, opens an external URL in a new window.
The focus of the programme is on design and project work and on learning theoretical and practical basics. This includes, in particular, becoming familiar with planning instruments, the methods of spatial analysis as well as the different planning levels of spatial planning from neighborhood planning to urban planning to regional planning.
An individual focus is set in the elective modules. Here, you can choose between the following depending on your interests:
Resource Landscape
Processes and instruments of urban development
Traffic in space
Cooperation Region
Sustainable urban development
Tourism development
Management of (public) enterprises
Project management and infrastructure economics
Communication and participation
Legal aspects in planning processes
Visutech
International urban studies
Climate-friendly spatial planning
Climate change is a major problem for our society. Spatial planning must respond by developing practical solutions to deal with it or at least reduce its impact.
There are many important issues that spatial planning deals with. For example, we need to make sure that we don't destroy or divide up our landscape. We also need to make sure we use renewable energy and sustainable transportation systems. And we need to protect the soil in order to produce enough food and maintain a diversity of animal and plant species.
These issues are important not only for us, but also for the world as a whole. We need to address global developments, such as a clean energy supply, affordable housing for all people, and a more equitable distribution of resources. Spatial planning plays an important role in ensuring that these developments also happen in harmony with nature.
Spatial planners are in high demand and receive a corresponding academic salary. Due to the different employers, the actual salaries vary.
Work areas
As a spatial planner, you will often work in complex and interdisciplinary contexts. Fields of work are for example
in regional or municipal development planning in urban and rural areas
in urban planning, urban redevelopment and urban renewal
in transport, infrastructure and environmental planning
in political and economic consulting or in international development cooperation.
Tasks
Spatial planners do different things to help solve problems related to spatial and urban planning. They work on different levels and in different contexts and have to consider many different interests. Some combination of the following tasks is always required:
analysis of physical, geographic and social space
spatial research and consulting
spatial planning design and drafting
design of planning processes
communication, mediation and negotiation of space and spatial planning
Establishment of spatial agreements, liabilities and legal certainty
Employers
As a graduate of the Bachelor's Programme Spatial Planning you will find many different employers:
in public administration, such as city planning offices and regional associations
in private planning offices or as independent civil engineers
in companies working in spatial, urban or regional planning, transport, infrastructure and environmental planning
in other private companies, especially in the field of real estate and location development
in associations, interest groups or other non-governmental organizations
in scientific and research institutions
Climate change and the sustainable and responsible use of resources are important topics that are intensively researched in spatial planning and play a role in every research area. These include questions about sustainable mobility concepts (e.g. e-mobility, shared mobility), the energy transition and spatial planning solutions or local climate experiments.
Another important topic is "Housing and living in the city". Here, the focus is on topics such as housing in the city, social housing and affordable housing. The study of vacancies and the impact of expensive housing in some neighborhoods are also research topics.
We also research the supply of important services in an area, issues around migration (potentials of integration, cross-border migration) or the impact of automated driving.
The Spatial Planning programme is very broad and well-trained spatial planners can contribute to finding answers to many social questions.
TU Wien offers its students the opportunity to spend a semester abroad. The International Office can help and support you with the organization.
Internships are not mandatory. However, they help to better understand and consolidate what has been learned and support career orientation.
We recommend completing semesters abroad as part of the ERASMUS exchange program. Getting to know other (planning) cultures opens up a view beyond your own nose. The International Office is there to help and support you with the organization.
Internships are not obligatory but recommended: If you work in a company or a research institution, we can credit you with up to 6 ECTS in the module Free Electives. This activity must be recognized by the dean of academic affairs.
The supervision ratio in the Spatial Planning Programme is very good: around 1,200 students are enrolled in the Spatial Planning programmes - of which slightly more than half are in the Bachelor's Programme. They are supervised by around 100 professors, assistants and student employees, who are happy to answer any questions.
In the Bachelor's Programme Spatial Planning you will spend most of your time in the main building of TU Wien at Karlsplatz 13. However, there are also courses that take place at Karlsgasse 11 and 13.
The programme is mainly supervised by the following institutes:
Institute of Spatial Planning
Institute of Urban Design and Landscape Architecture