Master's Programme Spatial Planning
Programme Code

UE 066 440 - Master's Programme Spatial Planning

Duration of Programme

Credits

Language

Degree

Diplom-Ingenieur_in (Dipl.-Ing.)
Master of Science (MSc)

Curriculum
Programme contents
The study programme deals with space in its many dimensions in an interdisciplinary sense. This theoretically founded, process-related and future-oriented perspective aims to balance and integrate ecologically compatible use of resources, economic efficiency and socially compatible distribution of wealth, opportunities and quality of life in the sense of sustainable development, taking into account social diversity. Independent analytical work and integration of spatial information, its methodical transformation into knowledge, the scientifically founded and critical evaluation of spatial qualities and challenges as well as the independent development of strategies, spatial concepts and measures up to the legalisation of spatial utilisation possibilities and their evaluation are taught.
Examination Subjects and Modules of the Bachelor's Programme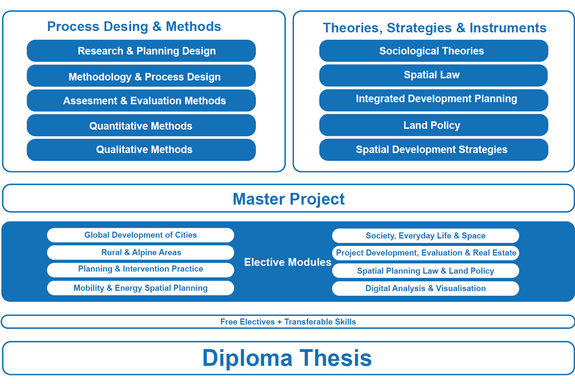 Since 2005/06, the Faculty of Architecture and Spatial Planning at TU Wien has offered a 4-semester Master's programme in Spatial Planning and Spatial Development with 120 ECTS, which builds on the six-semester Bachelor's programme of the same name. In addition, graduates of a relevant Bachelor's degree programme at universities or universities of applied sciences are admitted.
The programme consists of the following modules:
Two compulsory modules (33 ECTS)
Two elective modules (36 ECTS)
One Master's project (12 ECTS)
One module "Free choice and transferable skills" (9 ECTS)
A diploma thesis with diploma seminar and diploma examination (30 ECTS)
The completion of the practice-oriented project (compulsory module 3: Master's project) on current topics is of particular importance. The elective modules can be selected from a wide range, which enables an individual thematic focus. The free elective module enables an individual combination of subjects offered at universities in Germany and abroad. Numerous excursions at home and abroad are an integral part of the education.
The Master's programme is divided into the following examination subjects with the modules assigned to them:
Concepts and methods for research and planning
Compulsory module 1: Process design and methods
Elective module 8: Digital analysis and visualisation
Theories, strategies and instruments of spatial planning
Compulsory Module 2: Theories, Strategies and Instruments
Elective Module 1: Global Development of Cities and Metropolitan Regions
Elective Module 6: Project Development, Project Evaluation and Real Estate Economics
Elective Module 7: Spatial Planning Law and Land Policy
Practice of spatial planning
Compulsory module 3: Master's project in spatial planning
Elective Module 2: Spatial Planning in Rural and Alpine Areas
Elective Module 3: City and Landscape. Planning and intervention practice
Elective module 4: Mobility and energy spatial planning
Elective module 5: Society, everyday life and space".
Free electives and transferable skills
Compulsory module 4: Free electives and transferable skills
Diploma thesis
Further information about the programme
Spatial planners mostly work in complex, inter- and transdisciplinary contexts. The fields of work of spatial planning can be found, for example
in regional or municipal development planning in urban and rural areas
in urban development, urban redevelopment and urban renewal
in transport, infrastructure and environmental planning,
in location analysis and evaluation, in real estate management and project development
in economic development and structural policy, in urban and regional marketing,
in political and economic consulting or in international development cooperation, and
in spatially related research institutions.
For graduates of the Master's degree programme "Spatial Planning and Development", employment opportunities arise above all:
in public administration and downstream institutions, such as urban planning offices and corresponding municipal departments, municipal and regional associations, in regional management, in economic development agencies, area support agencies, city and regional marketing agencies,
in private planning offices, as self-employed civil engineers, companies in spatial, urban or regional planning, transport, infrastructure and environmental planning as well as consulting companies, -in other private sector companies, especially in the field of real estate and location development,
in associations, interest groups or other non-governmental organisations such as chambers of commerce, business or environmental protection associations, initiatives or societies, as well as
in scientific and research institutions. The activities mentioned can refer to all spatial levels of reference and action: -local and local level -total city and municipal level
small regional, regional and state level - national (federal) level - cross-border, inter- and transnational level - European and international level
Numerous domestic and foreign excursions form an integral part of the course. Thanks to Erasmus partnerships, there are many opportunities to spend semesters abroad at European universities, an option which is taken up by the vast majority of students.
In addition to graduates of the Spatial Planning bachelor's degree, graduates from other relevant bachelor's courses at universities or technical colleges are admitted to the master's programme.
Dean of Academic Affairs
Thomas Dillinger
Associate Prof. Dipl.-Ing. Dr.techn.
Vice Dean of Academic Affairs
Kurt Weninger
Senior Lecturer DDipl.-Ing. BSc.
More Information and Contact