Hydrogen Based Energy Systems
A number of projects have already been carried out in the research area of Hydrogen Based Energy Systems.
Selected Projects
The main objective of CORALIS is to create pathways for the decarbonisation of resource and energy intensive sector value chains through the implementation of viable industrial symbiosis approaches combining new business and management strategies with innovative technology-based enablers.
This whole approach will be demonstrated in three real industrial areas covering different sectors, geographical dimensions and resources, improving the knowledge basis and laying the foundations for exploiting the potential of Industrial Symbiosis in EU process industry.
In a subproject, IET and ICEBE (Institute of Chemical, Environmental and Bioscience Engineering) analyzed a (reversible) Haber Bosch synthesis for H2 storage via NH3 and the reconversion via simulation. The idea is to use green hydrogen from electrolysis by VOEST Alpine to provide hydrogen needed by Borealis to produce ammonia in their current Haber Bosch reactor. The effects on the synthesis of using green high-purity hydrogen instead of hydrogen from steam reforming were studied. The ammonia can function as a favorable hydrogen storage until reconversion. After splitting back into hydrogen, different purification routes to remove the nitrogen were analyzed, depending on the quality required for specific applications at VOEST Alpine. An important part of this purification are the membranes developed at ICEBE.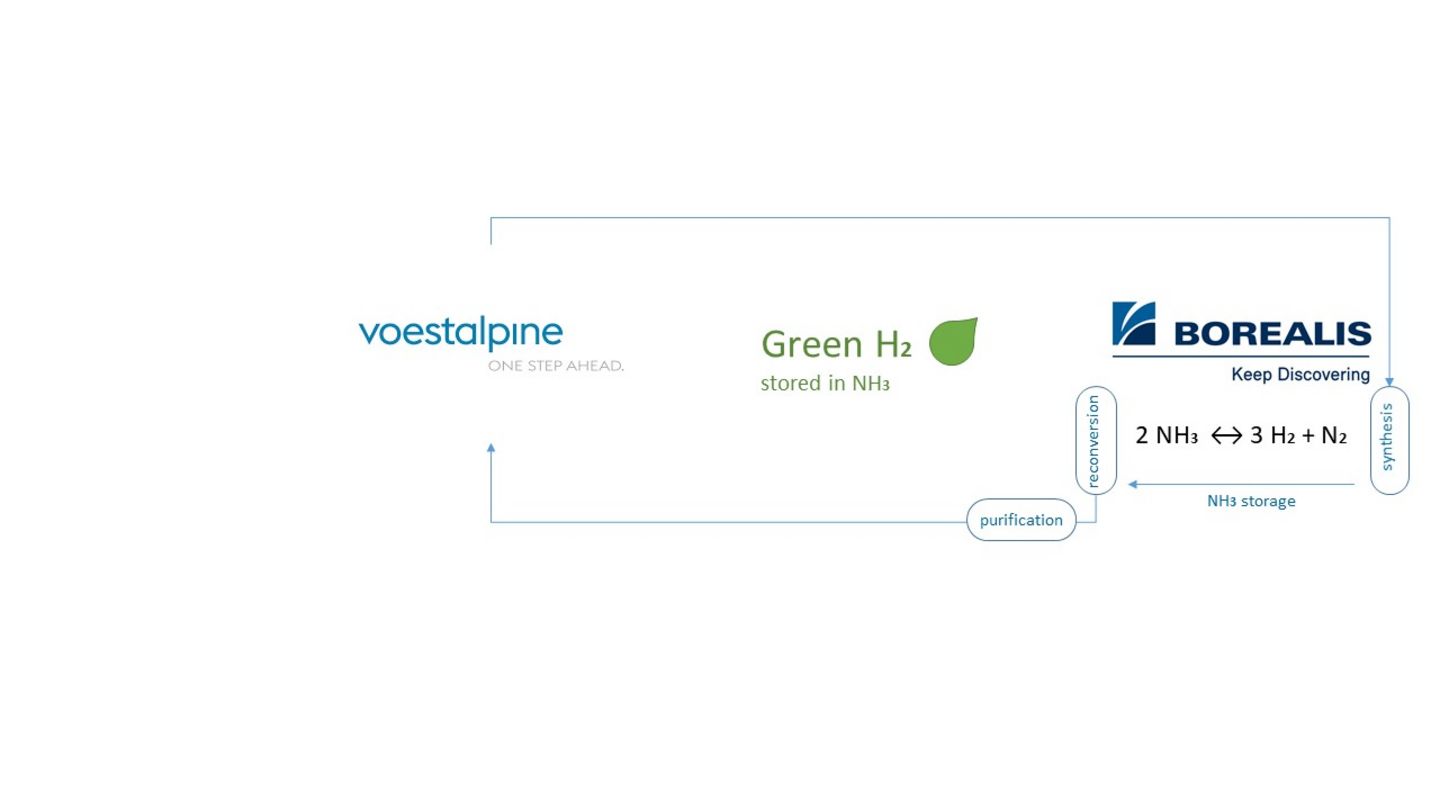 Contact IET
Markus Haider
markus.haider@tuwien.ac.at
Contact ICEBE
Michael Harasek
michael.harasek@tuwien.ac.at
Contact Sub-Project Reversible Haber-Bosch-Synthese
Johannes Lindorfer
lindorfer@energieinstitut-linz.at
Contact Project Coralis
https://www.coralis-h2020.eu/join-us/, opens an external URL in a new window
The project "Direct Carbon Capture and Electrolysis" (directCCE) has the ultimate goal of adopting a close-to-nature CO2 capture and utilization process viable for industry scale carbon reforming. directCCE is part of the Austrian "New Energy for Industry" (NEFI) thematic model region, that positions energy intensive and manufacturing industries and their decarbonization in the center of a long-term innovation process to boost technological development.
The flagship project demonstrates carbon processing directly from flue gas to (oxygenated) hydrocarbons at industrial scale of 1 ton CO2 per day. The 3-year project has the core steps of CO2-capture and electrolysis. The concept enables a downstream process from CO2-rich flue gas as delivered from the cement production to value-added chemicals.
Central is a specially designed catholyte that is prone to dissolve large amounts of CO2, while serving as electrolyte medium for cathodic reduction. The process cycle is completed by an online liquid/gas product separation.
Such combination of CO2 absorption and electro-reduction potentially saves multiple elaborate steps in between, e.g. the steam-intense thermal desorption and thereby caused post-purification steps. The key objectives are (1) lower energy consumption per transferred CO2 as compared to classic processes, (2) mature cycling stability, (3) advantageous electrolysis kinetics to reach performances on par with hydrogen electrolyzers, and finally (4) reduced investment costs from the overall reduced complexity.
The project part of TU Wien (IET + IFT), in close cooperation with NOVAPECC, is development, manufacturing and testing of the custom electrolyzer for the direct electroreduction of CO2 solutions.
The figure shows the basic process flow diagram with the key steps of:
(A) cement flue gas cleaning
(B) CO2 absorption,
(C) direct transfer to the electrochemical cell and electrolysis
(D+E) hydrocarbon product processing.
© IET
Consortium
Zementwerk Hatschek GmbH (Projektleitung)
Scheuch GmbH
Enrag GmbH
GIG Karasek GmbH
Montanuniversität Leoben (EVT)
Universität Innsbruck (Inst. für Physikalische Chemie)
NOVAPECC GmbH
TU Wien - Institut für Energietechnik und Thermodynamik (IET)
TU Wien - Institut für Fertigungstechnik (IFT)
Business Upper Austria - OÖ Wirtschaftsagentur GmbH
Contact
Univ.Prof. Dipl.-Ing. Dr.
Markus HAIDER
+43 1 58801 30208
markus.haider@tuwien.ac.at