Compliance at TU Wien
On June 1, 2021, TU Wien set up the Service Unit Compliance, appointing Elke Sagmeister as Compliance Officer Non-Scientific Area (CO) and Verena Dolovai as CO Research. In doing so, TU Wien, as a legal entity under public law shows a strong commitment to regulatory compliance and transparency of processes.
In anticipation of the entry into force of the HinweisgeberInnenschutzgesetzes, Verena Dolovai has been appointed as Reporting Officer for Research, and Elke Sagmeister as Reporting Officer for the Non-Scientific Area, effective from 01.01.2023. In these functions, they will supervise the reporting office to be set up in accordance with the law.
Overview
Compliance refers to all measures in an organisation intended to ensure the lawful conduct of persons associated with the organisation.
Compliance applies to all employees of an organisation, including management.
Compliance officers support an organisation's compliance with legislative and regulatory frameworks regarding processes and procedures. The decision regarding which tasks and responsibilities should be specifically assigned to compliance officers is taken by the respective organisation in each individual case.
Compliance officers analyse and identify potential risks, develop proposals for managing and avoiding compliance risks, and optimise existing processes and procedures.
In particular, an effective compliance organisation can reduce risks of civil and criminal law.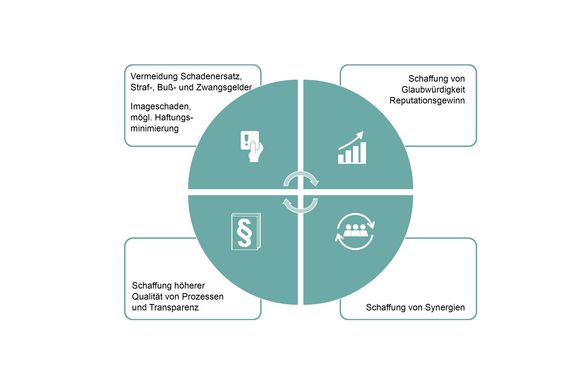 The most important compliance measures include the creation of an internal set of rules and guidelines employees can refer to.