Master's Programmes in Architecture
Course ID

UE 066 443 - Master's Programme Architecture
UE 066 444 - Master's Programme Building Science and Technology (to be discontinued)

Duration of Course

Credits

Certificate received upon completion

Diplom-Ingenieur
Master of Science

Course programmes
Architecture
Candidates must have successfully completed a bachelor's programme Architecture. Candidates with bachelor's, master's or equivalent degrees in related technical or creative academic subjects may be considered if the scope of these degrees corresponds to that of the bachelor's programme Architecture at TU Wien.
The main skills of the graduates of the master's programme Architecture at TU Wien lie in the development of design solutions for architectural problems, taking into consideration creative, technical, social, economic and ecological aspects. Architectural problems include detailed, structural and project design, city planning, landscaping, land-use planning and the design of virtual spaces. The qualifications of our graduates cover the analysis and specification of construction and planning tasks, drafting and designing, presenting and conveying planning-relevant information as well as the management of planning and implementation procedures.
Master's graduates have comprehensive training in drafting, which makes up over half of the modules of this course. The course curriculum also enables students to gain a deeper academic understanding of all of the central architectural subjects, including city planning and landscaping, structural design and construction, residential buildings, interior design and building theory, care and preservation of monuments, reconstruction, project design, architectural theory, art history, construction research and management and computer-aided design. This course is broken up into modules that ensure a close interconnection of theoretical and practical subjects as part of a research-led learning programme. The wide range of modules and drafting available allows students to independently put together a course programme based around their talents and interests.
With these qualifications, graduates can practise their careers in the following fields: independent practice in architecture and city planning, work in architecture and design firms, the public sector, construction and design departments in companies, project development and consulting, teaching and research at universities and technical colleges, product development in the construction industry, IT for architecture, architectural journalism and in new design disciplines being created within the context of the information society.
The course lasts four semesters and is broken down into the following areas: drafting (40 ECTS), modules and general electives (41 ECTS), and free electives and soft skills (9 ECTS). The course concludes with a master's thesis.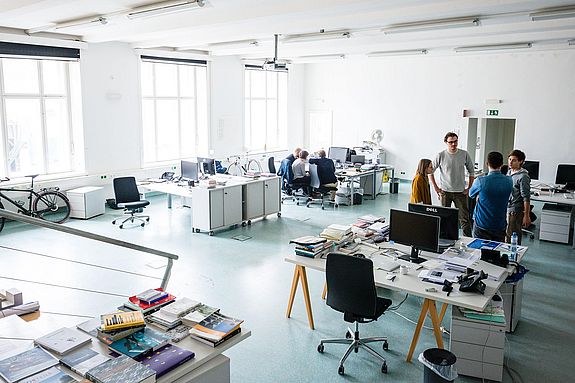 Building Science and Technology
The master's programme Building Science and Technology targets students who wish to develop and deepen their knowledge in the areas of building performance, sustainable design, design computing, and rapid prototyping. The programme is interdisciplinary and taught in English.
Dean of Studies
Christian Kühn
Ao.Univ.Prof. Dipl.-Ing. Dr.techn.
Vice Dean of Studies
Helmut Schramm
Ao.Univ.Prof. Dipl.-Ing. Dr.techn.
Vice Dean of Studies
Michael Surböck
Ass.Prof. Dipl.-Ing. Dr.techn.
More Information and Contact
Dekanat der Fakultät für
Architektur und Raumplanung
Karlsplatz 13
Stiege 3, 4. Stock
1040 Wien
T +43-1-58801-25001
E E299-01@tuwien.ac.at
Student Association
Student Association Architecture
Karlsplatz 13
Hof 2, Erdgeschoss
1040 Wien