Institute field trip 2023
The meeting point for this year's excursion was in the 11th district of Vienna, in front of the main entrance to the Siemens Mobility factory. The tour didn't start until 9.30 a.m. so that the morning grumblers wouldn't have anything to complain about. We learned a lot about the production of trains, trams, and metros and even got to see the new Nightjet before it was put into service.
After the tour we took the bus to Carnuntum and started the second part of the trip with a well-earned break. As you can see in the picture, the members of our institute are obviously shade-loving people.
The same can be said about the team of our secretariat and the head of our institute. Even the driver of the bus recognized the advantage of a shady spot and quickly joined us.
Even before the start of the tour of the Roman city, some of the more motivated participants went to the amphitheatre and the replica of the gladiator school.
The tour of the Roman town began with an overview of the vast area where the town was once located. The strategically important city was built within a very short time and then offered a home for around 50,000 inhabitants. Apparently, there were no massive miscalculations of costs and construction times around the 1st century AD - something that current major projects should be measured against!
With this object, archaeologists are still not sure what this building was. Some say it was a market, others a hotel. What is certain is that a lot of amber was found in the remains of the building during the excavations.
Inside a building we learned a lot about the Roman way of life.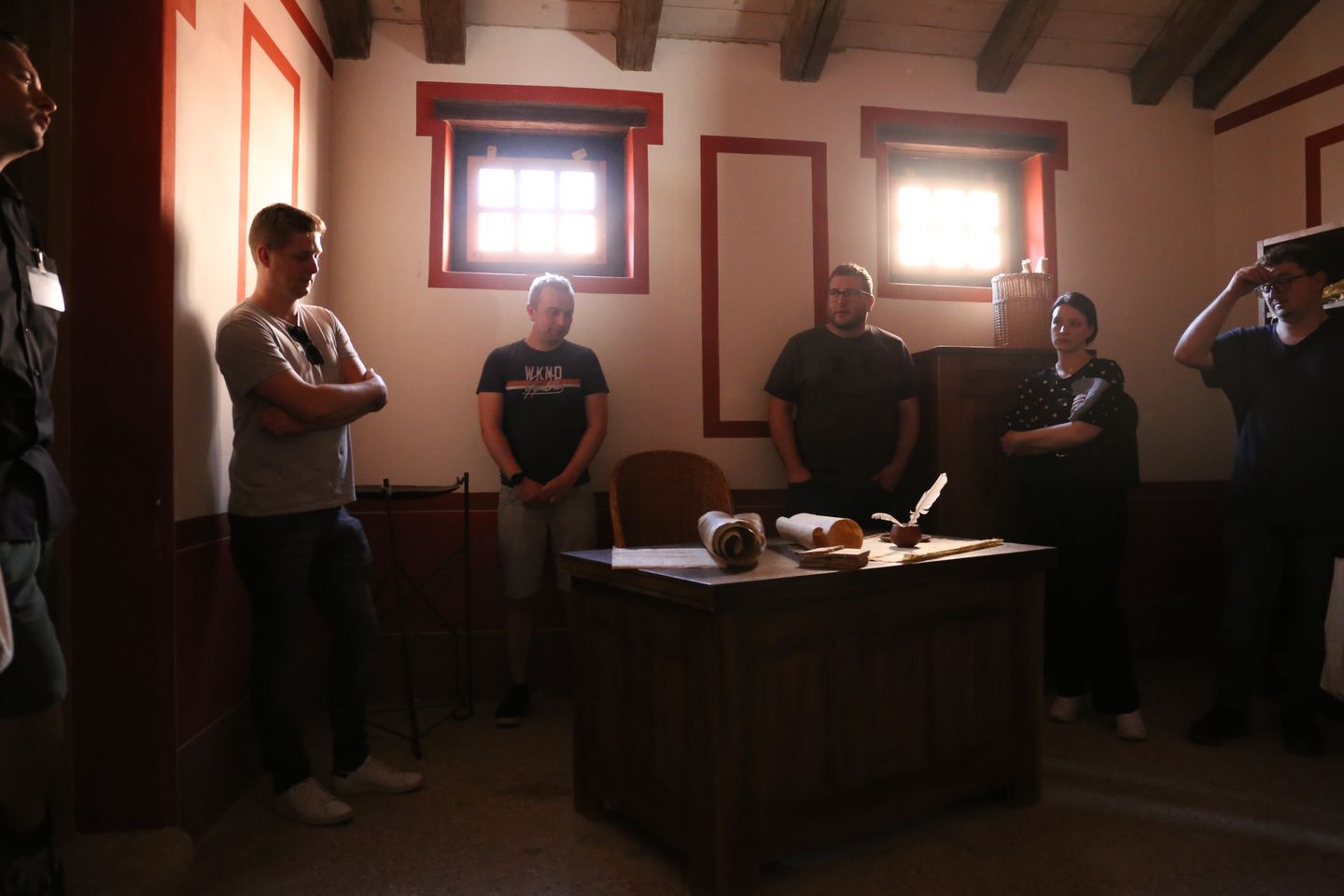 An explanation of the teaching methods from the past was also included. A comparison with the present shows that modern teaching methods have clear advantages.
We took a seat in the former dining room and marveled at the decoration on the walls. We also learned how the Romans celebrated their feasts.
We also took a seat on the ancient toilets. Although the toilets were comfortable, the consensus was that modern toilets offer much more privacy.
At last we visited the thermal baths and had a look at the different pools. There was also an original wood-fired underfloor heating system, which showed how far technological development had progressed in Roman times.
The end of this year's excursion took place at the restaurant "Der JungWirt" in Göttelsbrungn, where we were treated to excellent food and drinks.