The Microwave Engineering Group covers a variety of research areas from basic to applied research. A state-of-the-art microwave laboratory as well as a variety of circuit-, system-, and electromagnetic field simulators make this possible. In the microwave laboratory, almost all types of measurements can be performed ranging from on-wafer to whole systems.
A special feature of the group is the broad knowledge of the researchers, which goes far beyond the microwave technology. This is particularly evident in the implementation of research projects with FPGA-based real-time signal processing, the design of complex microwave systems and the use of strong signal processing algorithms.
Much of the group´s activity is focused on communication applications. In particular, the group is working on efficient, linear, and robust transceivers. On the transmission side, this includes, for example, switched mode power amplifiers; on the receiver side, the group is investigating interference-proof receivers. Basic research is currently focused on improving polyharmonic distortion (PHD) based nonlinear models.
In the field of UHF RFID, the group has extensive knowledge in the field of reader design and tag localization. As the newest research area, the Microwave Engineering Group investigates the description, modeling and emulation of interference in shared frequency bands (as part of the EFRE Interreg project InterOP).
Research Activities Overview
Research Capabilities
Linear Vector Network Analysis (VNA): 50 GHz⁄4-port
Nonlinear VNA: 67 GHz/4port-X-parameters/mixer/pulsed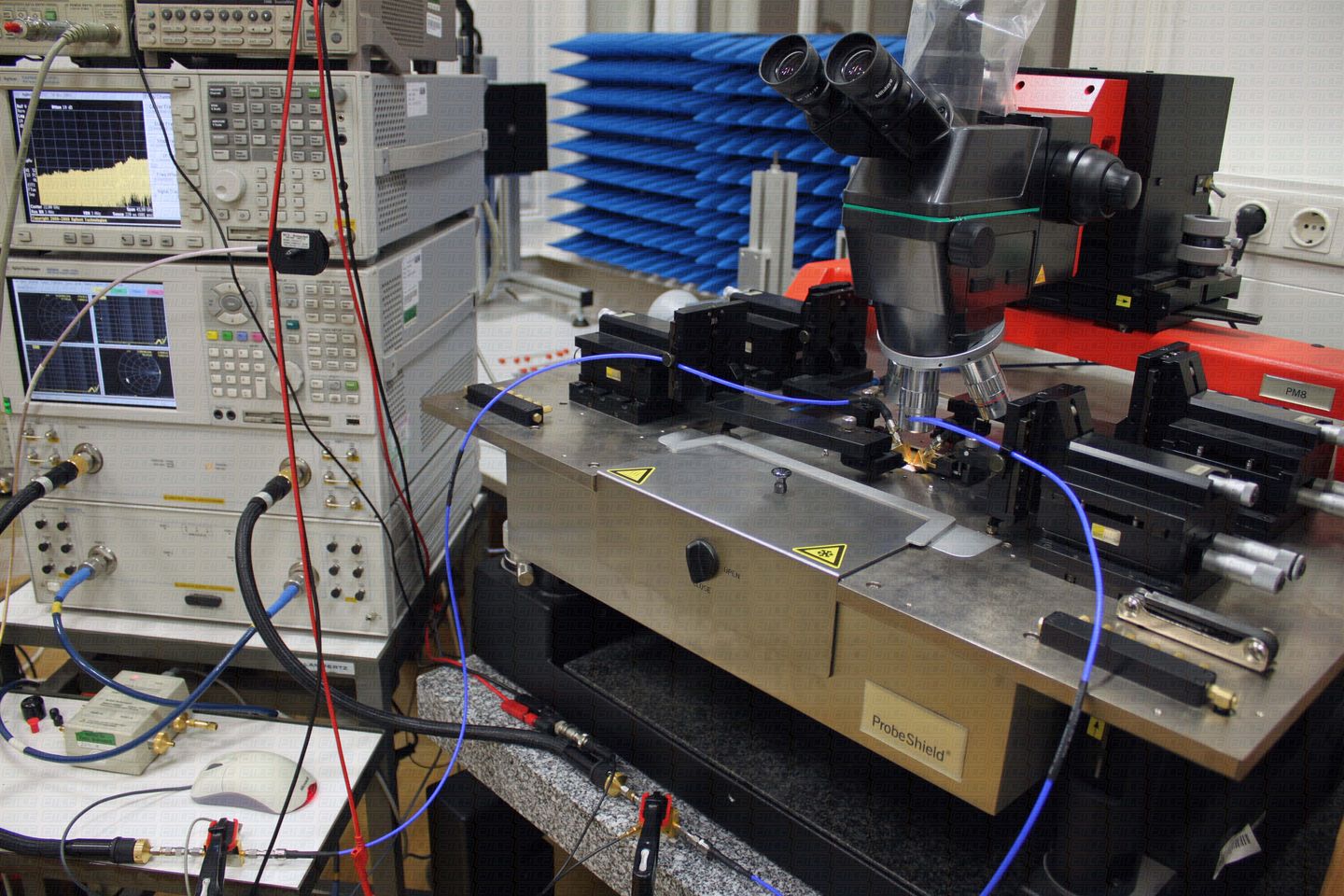 © Holger Arthaber
VNA connected to wafer prober
Low frequency component characterization: 10-500 MHz
Signalsources (CW up to 40 GHz, modulated 120 MHz RF BW)
Spectrum analyzers and signal analysis: up to 44 GHz
Pulsed measurements (RF and/or bias)
Nonlinear measurements

LSNA (Large Signal Network Analyzer): 20 GHz
PNA-X (4port/X-Parameter/mixer/pulsed...): 50 GHz
Harmonic Load Pull (active/passive; Maury ATS): 18 GHz
Low Impedance test-fixtures

Oscilloscopes/TDR/Eye-analysis: 20 GHz+
Noise figure measurement: 18 GHz
RF wafer-prober with thermo-chuck
Others

Microwave simulation tools (AWR)
2.5/3D field simulation (AWR, CST, HFSS, Comsol)
System simulation (AWR)
Rapid prototyping PCB milling machine
© Holger Arthaber
Milled RF PCB and rapid prototyping PCB mill
Additional equipment (on shared basis with in-house groups)
Bit/Pattern-generators: 40 GHz+
Oscilloscopes/Eye-analysis: 70 GHz+
EMC tests with GTEM-cell
Anechoic chamber, antenna measurements: 40 GHz
© Holger Arthaber
Antenna measurement system in anechoic chamber