Art in the lab (2019)
For techArt: Art in the lab, artist Ivan Chemakin from St. Petersburg was invited to the TU Wien in November 2019 to make several art objects showing various laboratories and instruments as well as the buildings of the TU Wien. This resulted in two series titled "Optik Labor" (oil on canvas, 80x60 cm) and "Gebäude der Technischen Universität" (oil on canvas, 30x24 cm). In addition, the artist also created two works entitled "Heliumbahnhof" (oil on canvas, 80x60 cm).
The basic idea of the project was, on the one hand, to find out what artists see when they enter a scientific laboratory and, on the other hand, to promote dialogue between artists and scientists. The exhibition took place from November 29-30, 2019 in the main building of the TU Wien and was opened by Rector Sabine Seidler.
In addition to the works created as part of the project, other works by the artist from the series "Sachen" (Rus. "Штуки") were also shown. Chemakin was awarded the Innovation Prize of the Pushkin Museum, opens an external URL in a new window and the National Center for Contemporary Art in Moscow in the category "The new Generation" the following year.
Paintings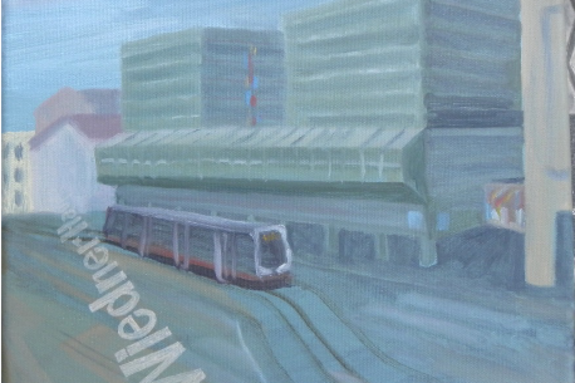 Art in the lab
Artist:
Ivan Chemakin
Curator:
Anna Pimenov