29. September 2020, 15:00 until 16:30
(An)gemessen behandeln: Lab-on-a-Chip-Technologien für die Präzisionsmedizin
Information Event
Krankheitsbilder und Verletzungen umfassender verstehen, um treffsichere Arzneimittel zu entwickeln: Die Cell Chip Group an der TU Wien arbeitet an mikrofluidischen Untersuchungssystemen für die individuell anpassbare Medikation von Menschen. Im Fokus der Forschung stehen Bio-Chips, Lab-on-a-Chip und Organs-on-a-Chip.
Organs-on-a-Chip, eine spezielle Form der Bio-Chips, sind scheckkartengroße Platten, auf denen Zellen menschlicher Organe herangezüchtet und durch eingebaute Biosensoren gesteuert und kontrolliert werden können. Diese miniaturisierte Labordiagnostik ermöglicht präzise Ergebnisse ohne Tierversuche.
Zahlreiche Patente der TU Wien-Cell Chip Group aus diesem Bereich finden bereits wirtschaftlichen Einsatz. In diesem Firmenworkshop werden anwendungsbezogene Arbeiten im Kontext der personalisierten Medizin präsentiert und weitere neue Spitzentechnologien vorgestellt.
Die Veranstaltung findet in Kooperation mit der Wirtschaftskammer Wien online statt und ist kostenlos.
Informieren Sie sich über den Stand der Technik und holen Sie sich Anregungen für neue Innovationen in Ihrem Geschäftsfeld.
Zielgruppe
Unternehmen und interessierte Organisationen aus Biotech, Pharma, Bio-Chip-, Lab-on-a-Chip- und Organs-on-a-Chip-Herstellung
Programm
Begrüßung und Kurzvorstellung des TU Wien, Forschungs- und Transfersupports
Einführung: Präzisionsmedizin, Lab-on-a Chip und Organs-on-a-Chip
Kurzpräsentationen von TU Wien-Technologien à 5 Minuten

Chip Design: Hydrogel Kondensation Guide and Hydrogel Stopper
Mikrofluidik, Herstellung: Method and adapter to test tensile and shear strength by applying pressure for microfluidic composite manufacturing process Technologies
Mikrofluidik, Herstellung: Device and method for multi-parametric, multi-cell barrier integrity analysis using a combination of TEER and impedance spectroscopy within and on membrane-based biochips
Energieautaker Biochip: Self-powered-sensing solution
Wundheilung: Methode zur Untersuchung von Zellmigration und Wundheilung in der Mikrofluidik und 3D Trauma on Chip: Vorrichtungen und Methoden zur mechanischen Verwundung von 3D Zellkulturen, Mikrogeweben und Organoiden
Mittelhirn, Parkinson: Microfluidic culture and biochip for long-term cultivation and maturation of human midbrain organoids
Der online Meetingraum wird am Ende der Veranstaltung für Gespräche geöffnet bleiben.
Speaker: Univ. Prof. Dr. Peter Ertl
Moderation: Kathleen Jimenez und Astrid Stakne (Co-Moderation)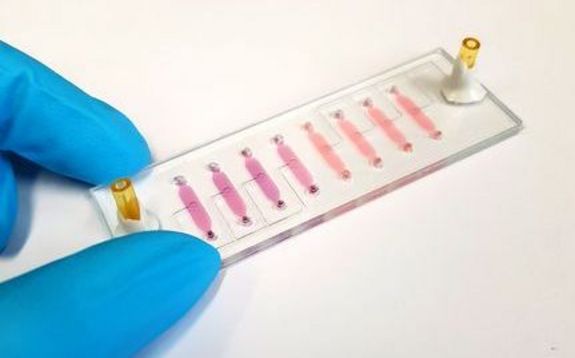 Calendar entry
Event location
TU Wien
online event
Zoom-Link nach Anmeldung
Organiser
Forschungs- und Transfersupport
Kathleen Jimenez-Mühlbacher
kathleen.jimenez@tuwien.ac.at
More Information
Public
Yes
Entrance fee
No
Registration required
Yes