Lisbon, Summer Semester 2017/18
Lisa Magdalena Weijler
(This blog is available in German language only)
März 2018
"Queria dois pasteis de nata, por favor" – "Take away?" – "Yes, please!". Hier bin ich nun, in Lisboa!
Mein erster Versuch mein zuhause gelerntes Portugiesisch anzuwenden wird einfach mit Englisch erwidert. Gut, dass ich keine Portugiesin bin ist offensichtlich, nicht nur wegen dem Koffer und der Presswurst auf meinem Rücken (mein Rucksack der fast zu platzen droht). Ich bin eher groß, ein heller Typ, Portugiesen eher klein und dunkel. Naja, das wird schon noch sag ich mir und da stehe ich, überglücklich mit meinem Gepäck, einem Grinsen im Gesicht und 2 Pasteis de Nata (portugiesische Mehlspeise) mitten in Lissabon im Februar.
Es ist nicht das erste Mal, dass ich hier bin. Ich war schon einige Male in Portugal auf Surfurlaub, im Süden zumeist. Zwei drei Tage Lissabon waren oft der Abschluss dieser Urlaube.
Aber jetzt hatte ich die Gelegenheit nicht nur ein paar Tage, sondern ganze 4-5 Monate in meiner Lieblingsstadt (abgesehen von Wien natürlich) zu verbringen – AMAZING. Und surfen kann man hier auch, was zugegeben einer der Hauptgründe war hierherzukommen.
Die Uni startete am 19.2 - das Wochenende davor war volles Programm, von City rally über Welcome Dinner + Party bis Ausflug nach Sintra (schöne Kleinstadt in der Nähe von Lissabon), extra für Erasmusstudenten vom NAPE Team der Institutio Superior Tecnico (meine Uni hier) organisiert.
Ich muss sagen ich war echt begeistert wie gut vorbereitet und organisiert alles war. Ich fühlte mich keine Sekunde alleine oder verloren, ich bekam eine Mentorin zugewiesen und alle möglichen Fragen die man als Erasmusstudentin hat wurden beantwortet.
Ich bin sehr zufrieden mit den Kursen die ich gewählt hatte, die ProfessorInnen schaffen es einen zu begeistern und haben sichtlich Spaß am Lehren.
Ich mache hier 3 Kurse, insgesamt sind das 18 Ects. Es sollte ja auch noch Zeit für Portugiesisch lernen, surfen und neue Freunde bleiben!
Zwei Monate bevor ich geflogen bin hat sich dann aber noch eine Möglichkeit für ein Praktikum ("study visit") im "European Monitoring Center for Drugs and Drug Addiction" ergeben, welches ich auf keinen Fall ausschlagen wollte (für Interessierte: einfach EMCDDA googlen).
Das heißt, immer wenn ich keine Vorlesungen oder Übungen habe bin ich arbeiten, was schlussendlich dann doch zu einer komplett vollen Woche geführt hat.
Die ersten Uni/Arbeitswochen fielen etwas schwer, da alles neu war und ich mich selbst erst zurechtfinden musste. Aber ich habe nun auch schon meinen Alltag gefunden und ich kann trotz der vollen Woche noch Zeit für Surfen, Menschen und Portugiesisch finden. Zugegeben das Portugiesisch leidet zwar ein bisschen darunter da ich an der Uni und im Praktikum nur Englisch spreche, aber ich bin zuversichtlich! Ich wohne mit 3 PortugiesInnen zusammen, denen ich am Abend, wenn ich nachhause komme meine dürftigen Sprachkünste aufzwinge und sie bitte ganz langsam mit mir zu sprechen damit ich sie verstehen kann. Normalerweise werden in diesem Land hier so viele Silben verschluckt, dass ich mich manchmal frage wie da eigentlich noch ein Wort übrigbleiben kann. Was es dann noch schwieriger macht ist die Geschwindigkeit, würden sie so schnell fahren wie sprechen würden sie täglich ins Radar fahren. Zum Glück sind meine Mitbewohner sehr geduldig mit mir!
Die Zeit vergeht wie im Flug. Ich bin jetzt schon 1,5 Monate hier und es fühlt sich trotzdem so an als würde es erst jetzt richtig losgehen. Dies liegt aber vermutlich auch am Wetter, welches eine Woche nach meiner Ankunft ganz plötzlich von Sonnenschein in Platzregen, der niemals aufzuhören schien, umschlug. Es ging sogar soweit, dass ich mir nach 2 Wochen Regen dann doch noch einen Regenschirm gekauft habe, obwohl ich nicht mal in Wien sowas besitze... Trotzdem habe ich mit Studienkollegen die Stadt erkundet und einen Ausflug nach Nazareh gemacht um die Monsterwellen zu bestaunen (was aber leider auch im Regen endete, war trotzdem schön).
Mittlerweile hat sich das Wetter wieder erbarmt und schenkt uns nun doch wieder schönsten Sonnenschein! Ich freue mich riesigst auf alles was noch kommt.
Jetzt werde ich aber zuerst mal Ostern im Süden Portugals in Sagres mit meiner Schwester und Freunden aus Österreich verbringen und die Zeit nutzen um mal wieder richtig zu entspannen und natürlich um zu surfen!:)
Bring it on Lisboa, I am ready for whatever is next!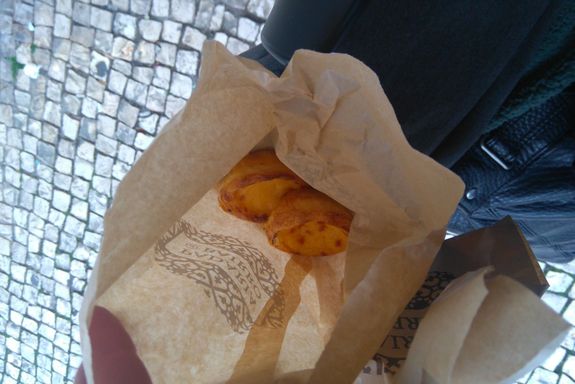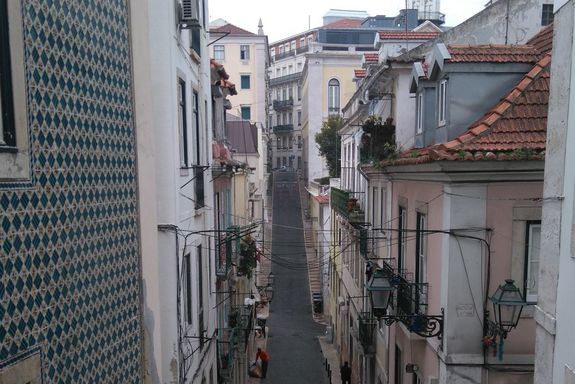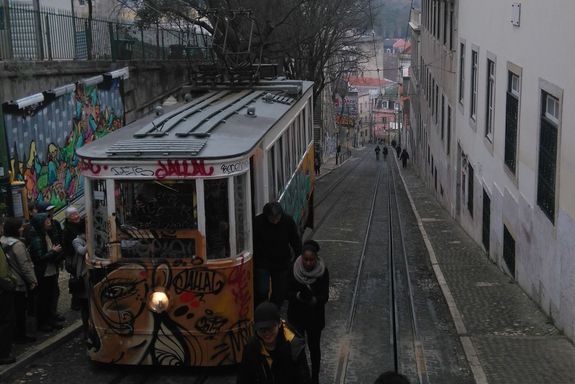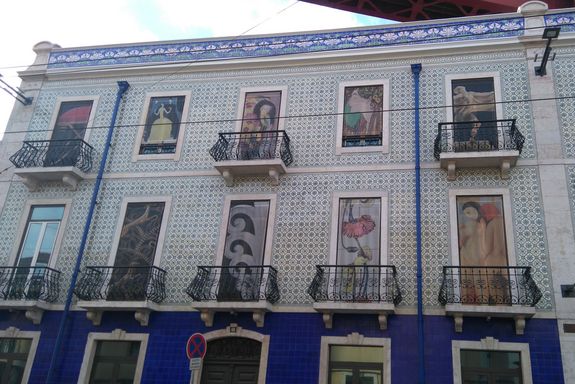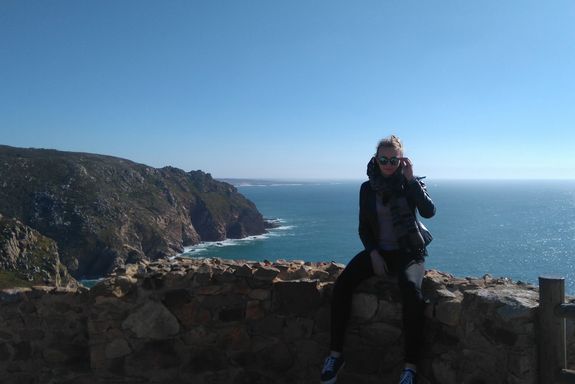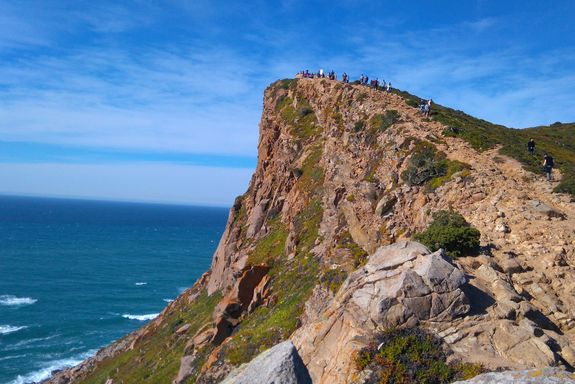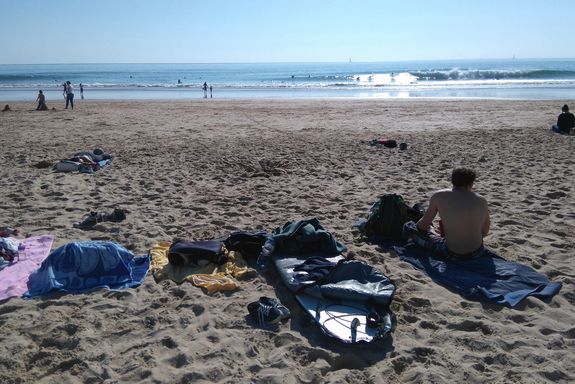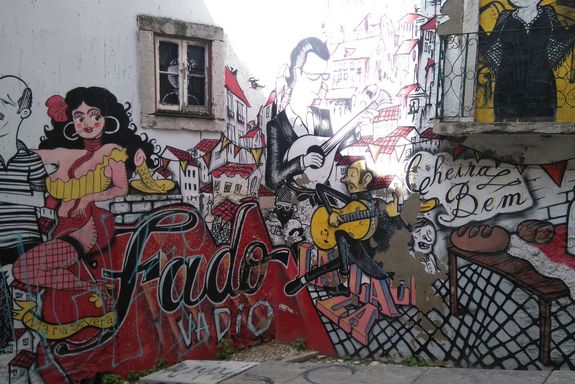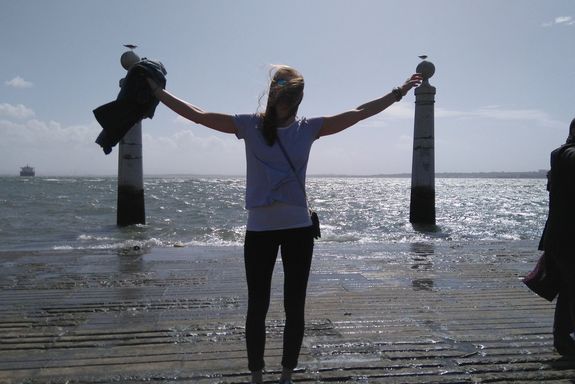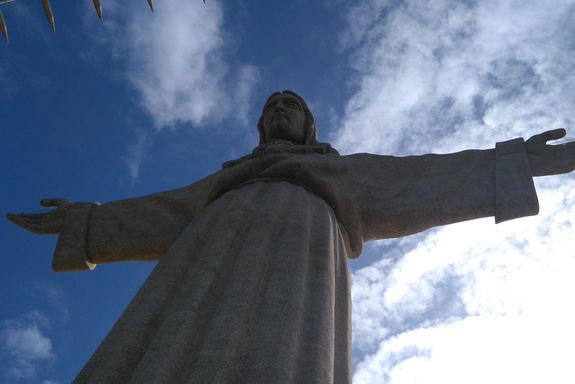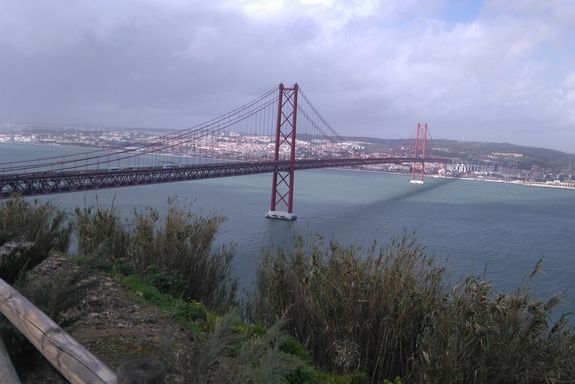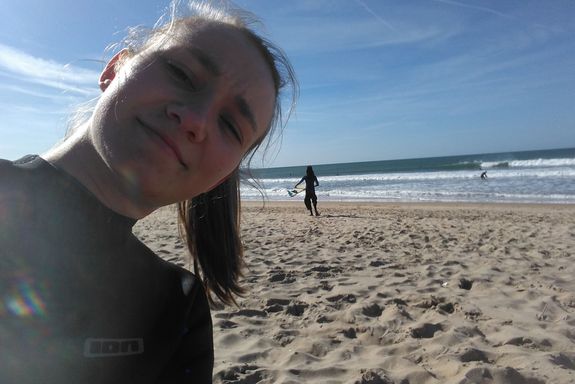 April 2018
Time flies! Ich bin mittlerweile schon zweieinhalb Monate hier und noch immer nicht von einem Hai gefressen worden oder vor lauter Pasteis de Nata geplatzt! Das ist wohl ein gutes Zeichen und lässt mich hoffen, dass ich auch die restlichen Monate gut überstehe. Besser gesagt, sehr gut überstehe, denn es geht mir hier tatsächlich wunderbar! Das Wetter hat sich eingependelt: Sonnenschein, was sehr hilfreich für gute Laune ist und ich bin ständig dabei neue Cafés/Restaurants und Gegenden hier in Lissabon zu entdecken, die mich diese Stadt noch mehr lieben lassen. Das einzige was mich stört hier: Es gibt kein normales Joghurt, nur griechisches Joghurt und die Auswahl ist sehr bedürftig.
Ein großer Bestandteil meiner Ernährung hier ist nämlich Joghurt mit Früchten! Obst ist hier extrem gut und teilweise wirklich günstig: ein halbes Kilo Erdbeeren für 1.20€ und sie schmecken noch dazu nicht nur nach Wasser! Paradise!!
Was die Uni betrifft war es nach Ostern etwas stressig, da wir einige Projektarbeiten fertigstellen mussten und diese in Gruppen erarbeitet wurden. Portugiesen haben wohl eine andere Gelassenheit als ich (obwohl ich zuhause eigentlich für sehr gelassen bekannt bin), denn manche Teammitglieder erklären dir einen Tag vor der Abgabe, dass sie ihren Part nicht gemacht haben und auch nicht im Stande sind ihn zu machen. Obwohl man ja eigentlich froh sein kann, dass sie etwas sagen, denn manche melden sich einfach gar nicht und tragen auch keinen Strich dazu bei. Was schon ärgerlich ist, da die Arbeit von 5 an dreien hängen bleibt. Was solls, das ist mittlerweile auch überstanden und ich bin wohl mit meinen Studienkollegen zuhause sehr verwöhnt! ;)
Arbeitstechnisch ist auch das erste große Projekt geschafft und ich muss sagen ich habe wirklich viel gelernt. Das European Monitoring Center for Drugs and Drug Addiction war zwar eine komplett neue Umgebung für mich und die Themen alle unbekannt aber dadurch konnte ich viele neue Sichtweisen erlangen und meinen Horizont tatsächlich erweitern. Mein Supervisor ist nicht nur ein Supervisor, sondern viel mehr ein Mentor oder Lebenscoach. Ich bin super glücklich ihm begegnet zu sein, er ist ein wahnsinnig inspirierender Mensch – ein Lichtblick in der großen, weiten und dunklen Welt, in der tausend Entscheidungen auf mich warten und ich mich nicht mal entscheiden kann was ich heute zu Abend essen möchte – sad but true…
Wenn ich aber nicht grad große Essensentscheidungen treffen muss habe ich auch Zeit um andere Städte zu entdecken, Porto zum Beispiel! Ich verbrachte ein Wochenende mit 3 StudienkollegInnen im schönen Porto (J.K. Rowling hat dort eine Zeit lang gelebt) - Kurzurlaub mit leckerem Essen, Sightseeing und natürlich Portwein! Ich habe meine Liebe zu Portwein entdeckt! Er ist grundsätzlich süßer und stärker als normaler Wein und geht runter wie nix. Man kann ihn auch mixen, mit Tonic zum Beispiel – sehr empfehlenswert! Die Gegend um den Fluss in dieser Stadt hat mich an den Donaukanal in Wien im Sommer erinnert und mich Wien für kurze Zeit vermissen lassen, aber auch wirklich nur kurz. Porto ist von vielen zur schönste Stadt in Portugal deklariert worden – ich muss sagen, ich bevorzuge aber dann doch Lissabon.
Das letzte April Wochenende wurde ich von zwei Freundinnen aus Österreich beehrt und ich habe somit auch wieder ein paar touristische Aktivitäten mehr in Lissabon abgehakt. Es war schön jemanden so Vertrautes wiederzusehen und mein Leben hier mit ihnen ein Stück teilen zu können! Von meinem Portugiesisch waren sie aber eher mäßig bis gar nicht beeindruckt… denn das ist so eine Sache oder besser gesagt keine Sache – Fortschritte sind nur mit einer Lupe erkennbar. Ich muss mir aktiv dafür Zeit nehmen und wirklich einmal Vokabeln lernen, ansonsten drehen sich die Gespräche immer um dasselbe und meine Mitbewohner werden auch schon etwas müde vom langsamen sprechen mit mir! Also Zielsetzung bis zum nächsten Blogeintrag: melhorar o meu Português!
PS.: Ich musste das Wort "verbessern = melhorar" im Wörterbuch nachschlagen, soviel dazu ;)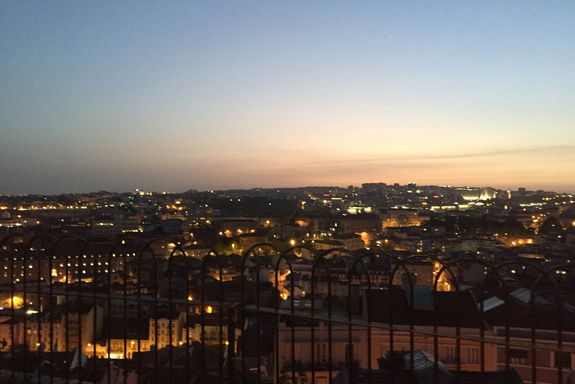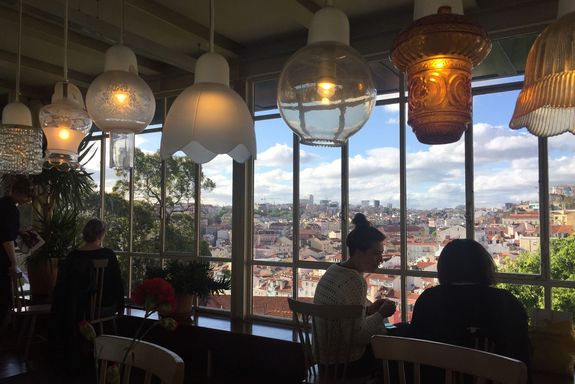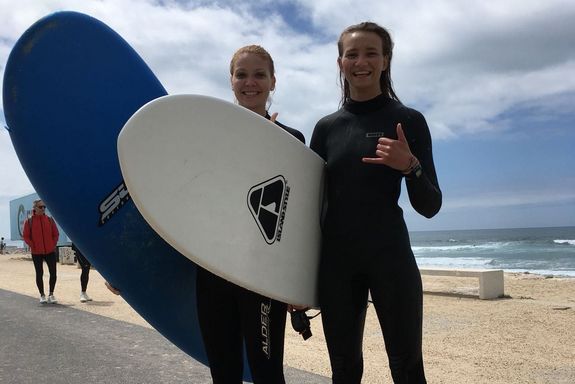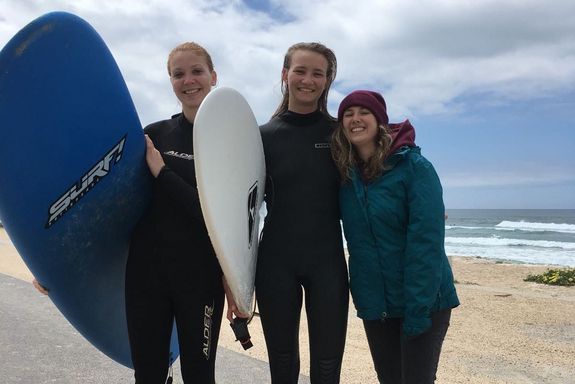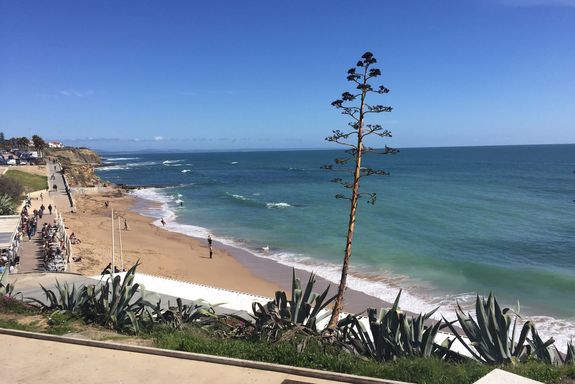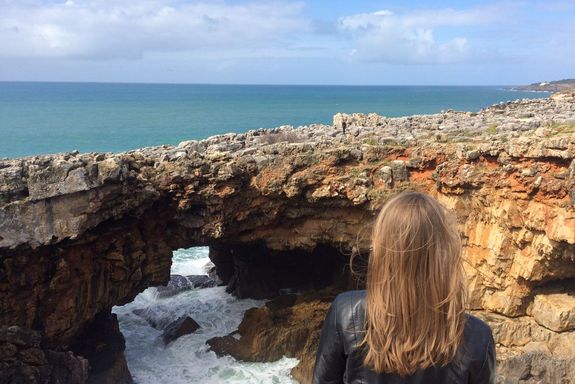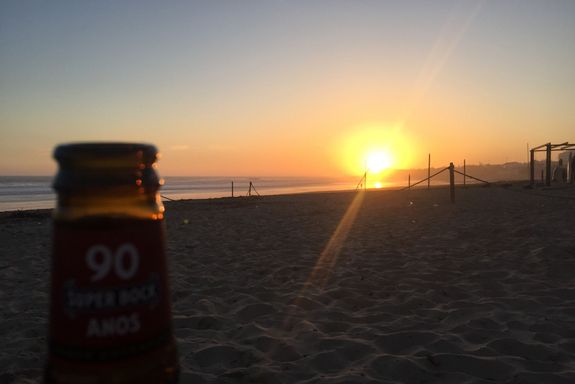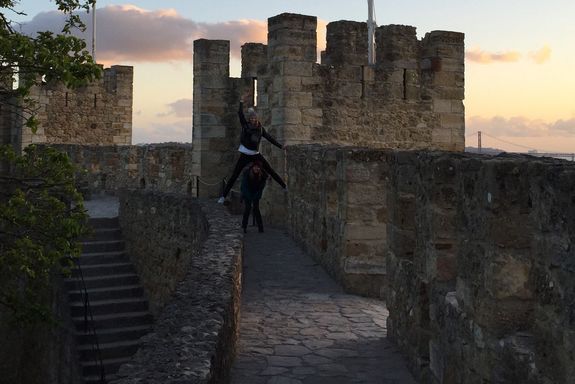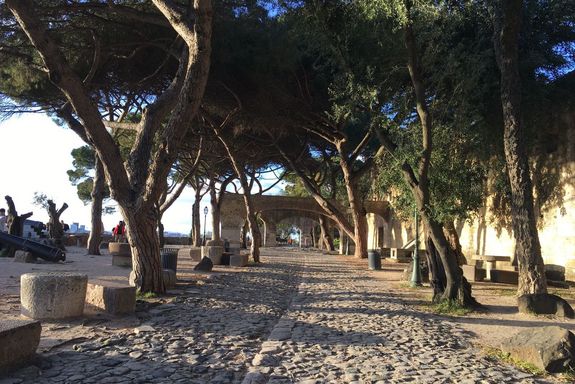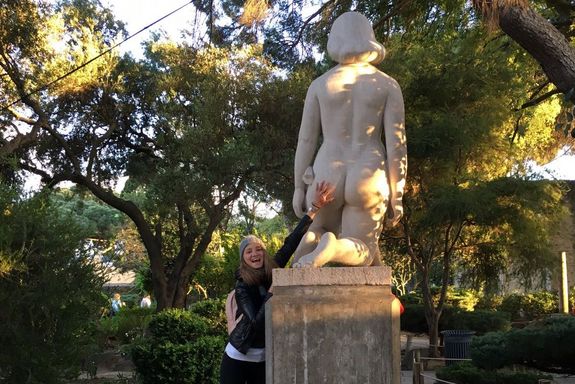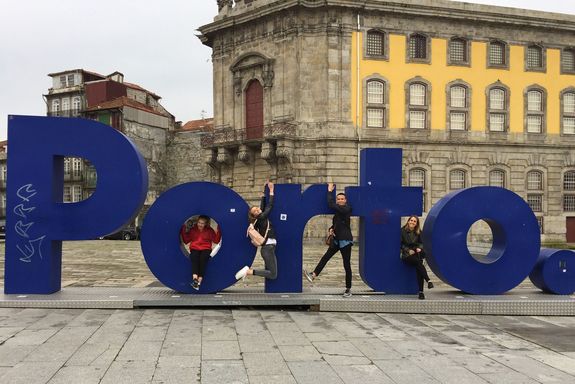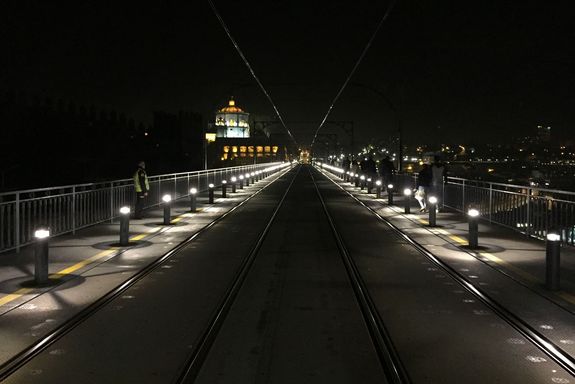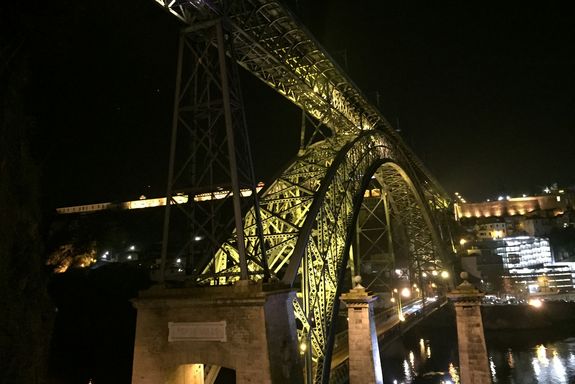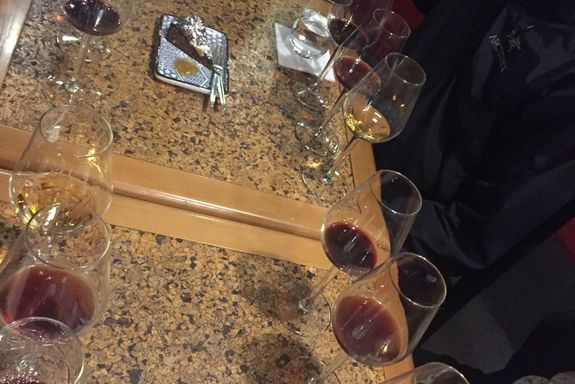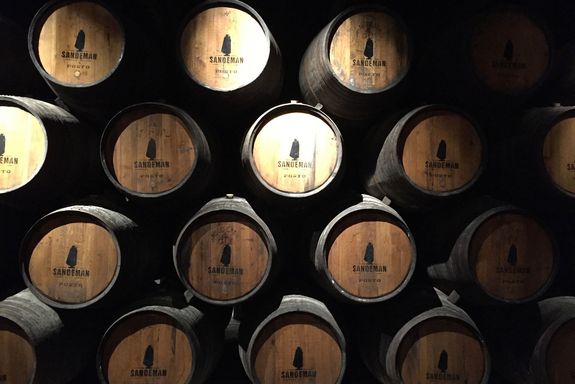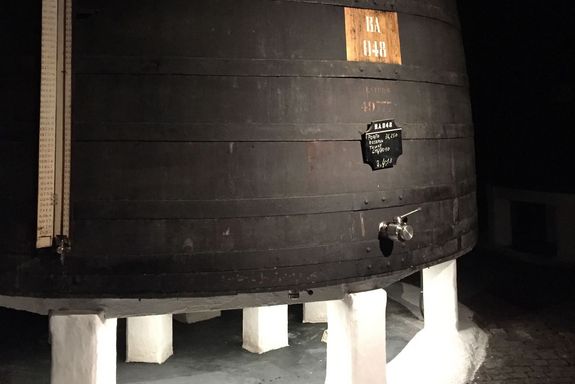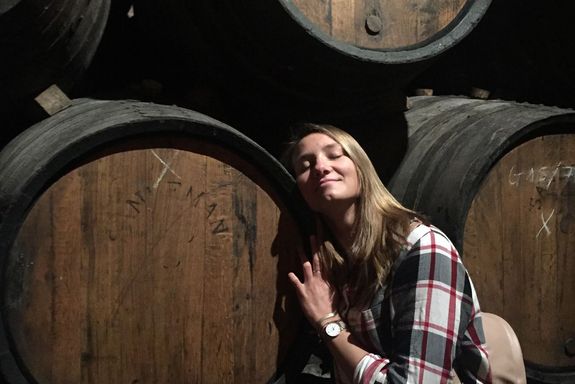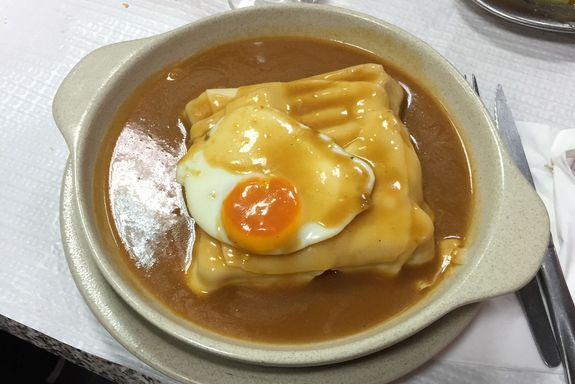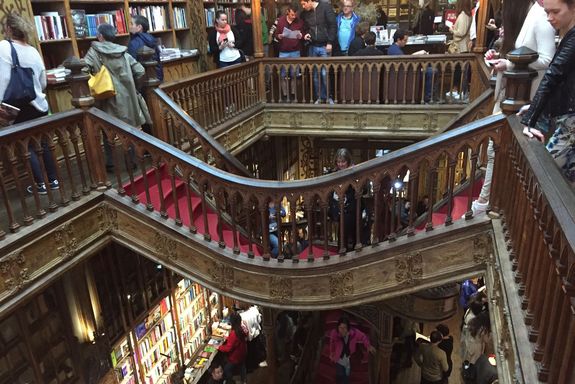 Juni 2018
Olá, os meus amigos! Tudo bem? Hier in Portugal ist jedenfalls 'alles klar'. Und ja – um auf den Vorsatz meines letzten Blogeintrags zurückzukommen – ich habe diesen Monat mehr Zeit in Portugiesisch investiert, Hurraay! Von einem natürlichen Sprachfluss bin ich dennoch weit entfernt und alles verstehen tu ich auch nicht. Es ist aber gut so wie es ist. Ich habe eingesehen, dass wenn man 5 Projekte gleichzeitig am Laufen hat, es einfach länger dauert bis alle da angelangt sind wo man sie gerne hätte oder ein, zwei einfach ein wenig auf der Strecke bleiben. Ganz nach dem Motto "Slow down", hab ich meine überaus ambitionierten Vorstellungen und Ziele bevor ich nach Lissabon gekommen bin noch einmal überdacht und bin zu dem Entschluss gekommen, dass sie vielleicht etwas unrealistisch und viel zu ambitioniert waren: 1) Surfprofi werden - am besten jeden Tag mind. zwei Stunden surfen 2) Portugiesisch fließend lernen 3) mich voll und ganz in das Praktikum reinhängen und viel Zeit investieren 4) In alle Vorlesungen gehen und Vorzeigestudentin sein 5) das Leben genießen, Zeit für Freunde, Party und Entspannung haben, neben dem Surfen noch anderen Sport betreiben, gesund ernähren und viel lesen.
Dass der Tag nur 24 Stunden hat und ich irgendwann auch noch schlafen muss hab ich da wohl vergessen. Nun ja, das ist eben mein ehrgeiziges und lebensmotiviertes Gemüt, dem hin und wieder einen Gang runterzuschalten ganz guttut! Also habe ich mir selbst erlaubt, ein, zwei Ziele etwas niedriger zu stecken, und siehe da, auf einmal breitet sich eine viel größere innere Ruhe und Zufriedenheit in mir aus. Die gesteckten Ziele sind erreichbar und ich habe Zeit diese Erfolge zu feiern! Der sooft gehörte Spruch: "Weniger ist mehr!" ist also zurzeit meine Lebensphilosophie. Jedenfalls, um auf den Anfang dieser philosophischen Ausschweifung zurückzukommen, es ist okay wenn ich in 1.5 Monaten dann nachhause fliege und nicht fließend Portugiesisch spreche! Achja, und natürlich war ich nicht in allen Vorlesungen (ha ha) - klassischer Studentenvorsatz am Anfang des Semesters ;)
Dennoch sind mittlerweile schon 2 von 3 Kursen erfolgreich abgeschlossen und rückblickend bin ich froh, dass ich die Vorlesungszeit zumeist ins Surfen investiert habe.
Ja ziemlich froh sogar, denn ich merke Fortschritte beim Surfen und darüber bin ich überaus glücklich! Das Paddeln fällt mir leichter und ich erwische viel mehr Wellen als zu Beginn! Ich fühle mich wohler und sicherer im Wasser auch wenn die Wellen mal etwas größer und stärker sind.
Letztes Wochenende durfte ich Surflehrerin spielen und zeigte meiner Familie, die mich besuchte, wie schön und wunderbar Surfen ist. Ich muss sagen, sie haben sich allesamt super angestellt und es hat Spaß gemacht meine Leidenschaft für einen Nachmittag mit ihnen teilen zu können!
Familie war aber nicht der einzige Besuch, den ich vergangenes Monat hatte, mein Freund kam nach Lissabon – Juhu!! Es war ein schönes und lang ersehntes Wiedersehen. Wir hatten 5 volle Tage und waren fast immer unterwegs. Ein Auto wurde schwuppdiwupp gemietet und wir fuhren nach Sintra um das berühmte Schloss anzusehen – durchaus sehr märchenhaft und beeindruckend (kann ich nur empfehlen)!
Weiter ging es nach Ericeira, eine kleine Surfer-Stadt direkt an der Küste. Ich beschloss, dass das eines meiner nächsten Urlaubsziele sein wird, weil ich es so schön dort fand!
Der letzte Stopp unserer kleinen Rundreise war ein Strand in der Nähe von Sesimbra (eine kleine Ortschaft ca 1h entfernt von Lissabon). Wir beschlossen den Weg runter zu diesem Strand mit Flip Flops zu bezwingen. Als uns die ersten Menschen in voller Wandermontur entgegenkamen, realisierten wir, dass feste Schuhe vielleicht doch nicht so eine schlechte Idee gewesen wären. Umdrehen wollten wir aber dann auch nicht mehr und abgesehen von einer geköpften Zehe sind wir heil unten angekommen. Dieser Strand war die geköpfte Zehe allemal wert! Das Wasser hatte unterschiedliche Blautöne von türkis bis dunkel blau und es war der friedlichste Ort, den ich seit langem gesehen hatte. Das waren also fünf Tage Urlaub mit meinem Freund bevor die Prüfungsphase los ging – gibt durchaus Schlimmeres.
Eine Prüfung ist jetzt noch über und die wird hoffentlich auch klappen!
Langweilig wird mir aber danach auch sicher nicht werden, da es im Praktikum noch viel zu tun gibt. Ich möchte die Zeit, die mir beim EMCDDA noch bleibt voll und ganz nutzen. Ich habe das Gefühl, noch so viel von meinem Supervisor lernen zu können, vor allem jetzt, wo er mich für sein Wissenschaftsgebiet, Epidemiologie, immens begeistert hat.
Man glaubt es kaum, aber ich habe nun doch noch in der großen, dunklen, weiten von Essensentscheidungen durchzogenen Welt ein Gebiet gefunden, auf das ich mich mit voller Begeisterung stürzen kann: Epidemiology of Infectious Diseases!
Welch wunderbares Gefühl zu wissen (zumindest für jetzt) in welche Richtung man möchte!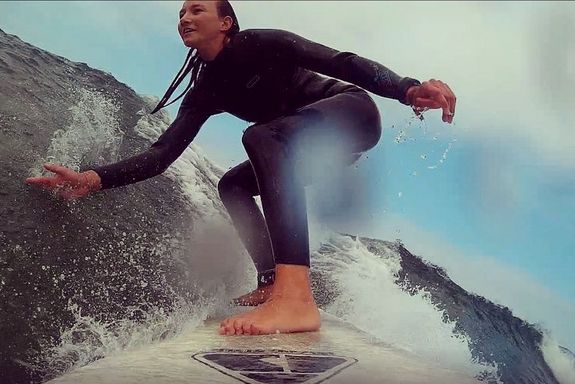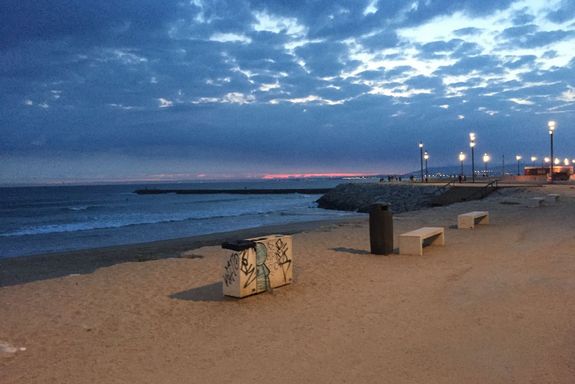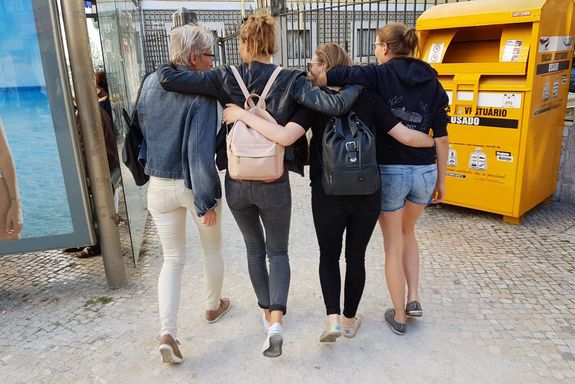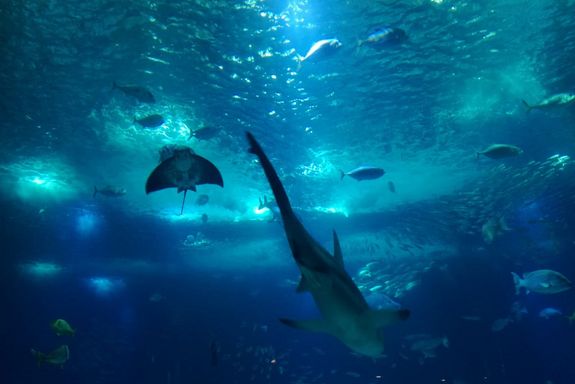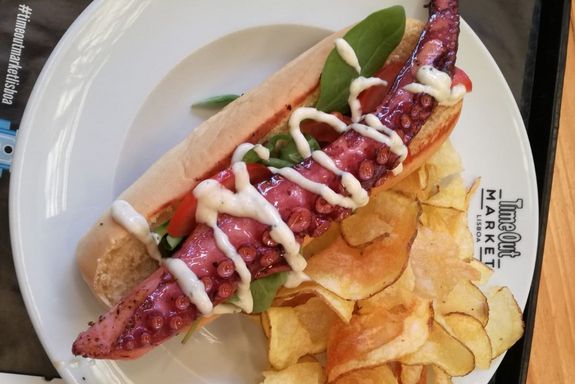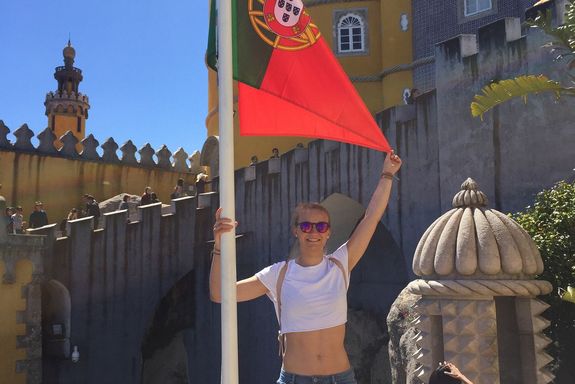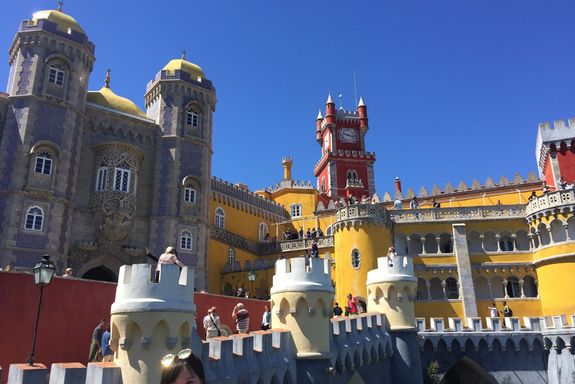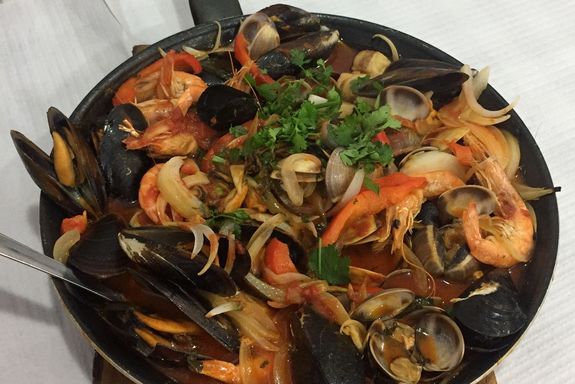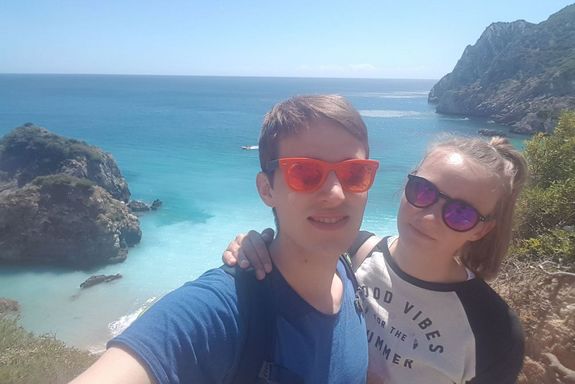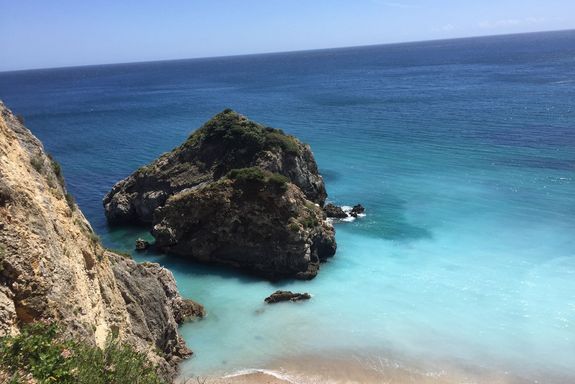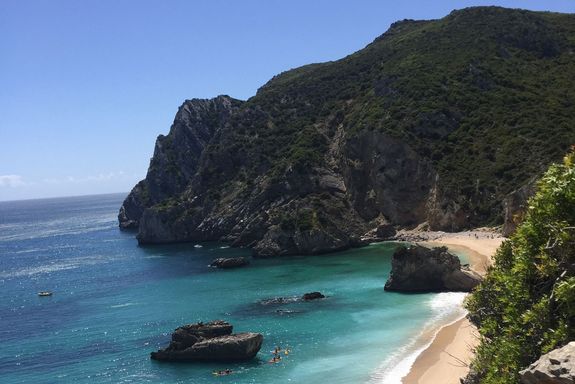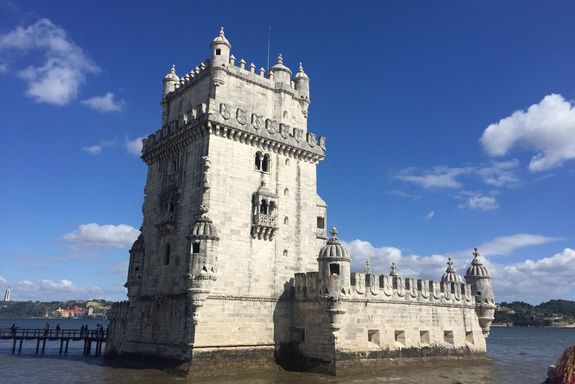 Juli 2018
Wie Katja Ebstein schon vor einigen Jahren gesungen hat: "Abschied ist ein bisschen wie sterben". Zum Glück aber nur im übertragenen Sinne, ansonsten wäre ich schon mindestens 6-mal gestorben…
Die letzten eineinhalb Wochen musste ich fast jeden Tag zu jemanden der mir richtig ans Herz gewachsen war 'auf Wiedersehen' sagen. Es wird also immer leerer hier und ich bin mittlerweile schon etwas emotional erschöpft! Das gehört wohl aber leider dazu und wie man dem Gruß 'auf Wiedersehen' entnehmen kann, muss dieser Abschied ja nicht bedeuten, dass man sich nie wiedersieht.
Eine emotionale Achterbahn sondergleichen. Ich bin wahnsinnig dankbar und glücklich, wenn ich auf die Zeit, die meine Erasmus Kollegen und ich gemeinsam hatten, zurückblicke. Zugleich bin ich traurig, dass es vorbei ist.
Ich merke aber, dass ich mich mittlerweile auch ziemlich auf mein Zuhause in Österreich freue und es kaum erwarten kann meinen Freund, meine Familie und meine Freunde wieder in die Arme zu nehmen.
In knapp einer Woche geht es nachhause und ich habe jetzt schon Panik vor dem Packen. Ich bin nicht unbedingt ein großer Fan vom Packen, schon gar nicht, wenn ich weiß, dass nicht alles, das ich mitnehmen möchte, in meinen Koffer passt. Jedoch habe ich ja nicht umsonst studiert und mein lösungsorientiertes Denken hat mir schon einen Masterplan vorgelegt: Schichten! Kleidung in strukturieren Schichten anziehen – ja, strukturiertes Denken ist dabei auch gefragt, gar nicht so einfach die optimale Schichtreihung zu finden… Bis dahin ist es aber fast noch eine Woche und vielleicht fällt mir ja noch etwas Besseres ein.
Das letzte Monat war sehr ereignisreich. Eine Prüfung war noch zu bezwingen und der Lernmarathon dafür war nicht sehr schön! Er war jedoch effektiv und somit konnte ich auch die letzte Prüfung abhaken.
Der Juni in Lissabon ist DER Festival-Monat, genannt Festas de Lisboa – die Straßen sind bunt geschmückt, es gibt zahlreiche Paraden, Musik an jeder Ecke und in jedem Park, Essenstände verkaufen gegrillte Sardinen oder andere Köstlichkeiten und Getränke. Die größte Nacht war von 12. auf 13. Juni in der der Schutzpatron von Lissabon (Heilige Antonius) gefeiert wurde. Es war ein unglaubliches Erlebnis und ich glaub ich kann sagen es war eine der besten Nächte, die ich hier in Lissabon hatte!
Am Wochenende darauf brachten wir es zustande zu zwölft in den Süden von Portugal nach Lagos zu fahren um dort ein gemeinsames Abschiedswochenende zu verbringen. Es waren nur 3 Tage aber eine wunderschöne, gemütliche und sehr lustige Zeit! Ich hatte wirklich Glück mit der Freundesgruppe dich ich hier gefunden hatte, wir nannten uns auch Lisbon Family!;)
Eine Woche später fuhr ich in den Norden nach Peniche mit ein paar anderen Surfbegeisterten. Was die Wellen betrifft hatten wir nicht so viel Glück, da es nach den ersten zwei Tagen komplett flach war und es mehr nach Mittelmeer als nach Atlantik aussah. Es war dennoch eine extrem relaxte Zeit und statt den Armen wurde eben der Bauch vom Lachen trainiert - ich hatte schon lange nicht mehr so viel und so ehrlich innerhalb so kurzer Zeit gelacht!
Hin und wieder überkamen mich dann doch wieder Zweifel bezüglich meiner Zukunft und war mir unsicher was ich denn überhaupt vom Leben will. Ich denke das ist ganz normal und diese Phasen werden auch immer wieder kommen. Tief in mir weiß ich aber, dass ich meinen eigenen Weg gehen werde bzw. eigentlich ja auch schon gehe und dafür muss ich gar nicht wissen wie dieser in Zukunft ganz genau aussieht. Ich denke dieses Erasmus Semester hat definitiv meinen Glauben daran meinen Weg zu finden bestärkt und mir wieder einmal gezeigt, erstens, dass es sie wirklich gibt, die inspirierenden, bewundernswerten und lieben Menschen und sogar einen ganzen Haufen davon, und zweitens, wie glücklich ich mich schätzen kann mit meiner Familie, meinen Freunden und meinem Leben zuhause!
So this is it. Lissabon, es war mir eine Ehre. Thanks for having me. Cheesiness off. Lisa out.