Corporate Impact Solutions
Corporate Impact Solutions (CIS) offers customized leadership development programs for companies and organizations. Each training measure is individually adapted to the specific needs of the company and the challenges of the respective target group(s). Our portfolio ranges from Compact Programs to International Learning Experiences and customized MBA Programs.

Our aim is to design in-house programs with a holistic, sustainable impact:
collective knowledge and competence building through jointly selected experts from science and practice
implementation of targeted personnel development measures and strengthening of your company's employer branding profile
consolidation of the trusting network within the management team and the experts of your company
developing a common strategic understanding to better leverage your company's unique competitive advantages
Our expertise for your business success
Each of our existing programs can be customized to meet the specific needs of your company or organization. The formats offered and specially developed range from Compact Programs, opens in new window such as Management & Technology Essentials, opens in new window or Project Management, opens in new window to Master Classes, opens in new window and International Learning Experiences, opens in new window to customized MBA Programs, opens in new window. If required, we are also pleased to develop a customized corporate in-house program for your executives.
In terms of content, our range of services includes the following key areas:
Conception of customized corporate in-house programs
The development of individual personnel development programs takes place in close coordination with the respective organization or company. We take sufficient time to analyze your specific needs and create a customized training concept.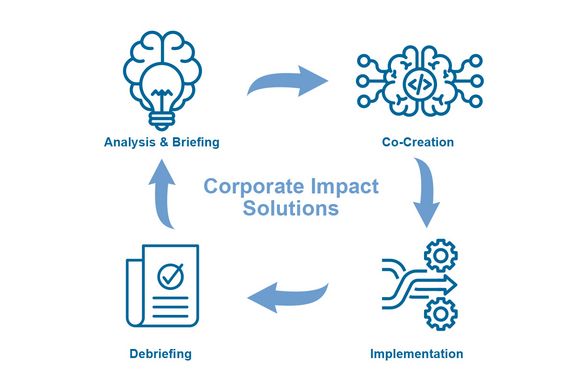 Analysis and briefing
survey of the specific needs
clarification of the expectations and goals of the organization
clarification of the needs of the target group
creation of a first concept
Co-creation
discussion of the initial concept/obtaining feedback from the organization
individual adaptation of the concept
definition of learning objectives
joint selection of lecturers
finalization of the customized program
Implementation
complete processing of the program
innovative teaching methods
transfer assurance
ongoing quality assurance
Debriefing
evaluation
optimization for further in-house programs, if necessary
issuance of confirmations of participation or certificates
crediting to open program offers, if applicable

Your benefits at a glance
There are many good reasons for choosing Corporate Impact Solutions (CIS) offered by the TU Wien Academy for Continuing Education. We have summarized the most important benefits for you.
Head of Corporate Impact Solutions & Operations Management

Mag. Petra Aigner, M.Sc.
+43 1 58801 41701
Prof. Dr. Wolfgang Güttel, Dean TU Wien Academy for Continuing Education
Leaders are the crown jewels of any organization: their development therefore takes on an intrinsically strategic character. Effective leadership always results from current skills and from the appropriate mind-set or leadership identity. We know how to develop both – skills and mind-set – in a targeted way! Your crown jewels are in good hands with us.
Mag. Petra Aigner, M.Sc., Head of Corporate Impact Solutions
In a rapidly changing society and a highly technological, agile and complex environment, continuous training is essential and a key factor for the success of companies and organizations. We train experts, managers and high potentials who face this challenging constellation and offer companies not only customized knowledge transfer but also an international network of co-creators.