Michaela Waltersam, A1 Telekom Austria AG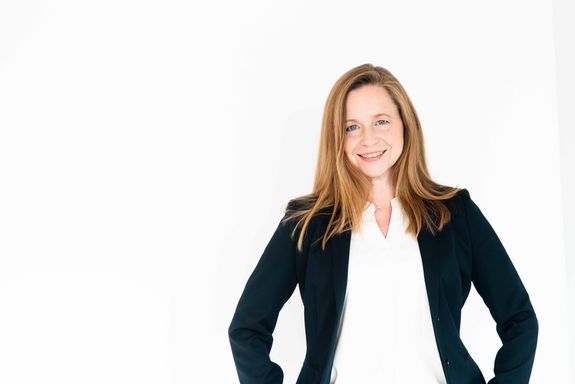 Michaela Waltersam is a passionate manager and currently heads a 30-strong team in the ICT Services division of A1 Telekom Austria AG, opens an external URL in a new window. Both privately and professionally, lifelong learning and personal development are close to her heart. Michaela has her roots in marketing and strategy management. Project management is her passion, which is why she dedicated her master's thesis in 2012 to agile project management as part of her MBA General Management. For the past 10 years, Michaela Waltersam has now been responsible for an 800-employee:in engineering department with her team of experts for quality, ITIL processes and organizational development.

What has been your greatest professional success so far?
"Leadership can be challenging, but when you really think about it, leading people is one of the most fulfilling and rewarding experiences anyone can have since you have the opportunity to change the lives of people every day" (Source: Leadership First)
I am passionate about being a leader. For me, being successful means that my employees enjoy what they do and can grow with it - even if some of their tasks can be very demanding ;-)
I have had the opportunity to work with many people in a wide variety of constellations and have always enjoyed actively supporting employees in their further development and observing how they grow with their tasks.
The success formula "Success = Performance x Acceptance" has accompanied me for a very long time and has often been a guiding principle for me. If I am a good leader, i.e. a role model, fair and open, then my employees sense this and join me on the path that leads us to joint success. These joint successes are also my greatest professional successes.
How has completing the MBA General Management helped you achieve your career goals? What have you benefited from the most?
The MBA General Management was a major milestone in my personal and professional development. The decision to pursue this management education was well-considered and highly supported by those around me. However, I recommend every prospective student to be aware that this education requires some discipline, organization and commitment. As a working and single mother of 2 young boys, it was a very challenging time for me. At the end of the day, I benefited greatly from the content, lecturers and interaction with fellow students.
Soon after I graduated, I got the chance to take on a leadership role again. This meant that I was able to apply what I had learned immediately. Even after moving to the technical area of my company and managing my current team of 30 people, I still like to draw on the knowledge gained from the MBA. The area of responsibility of my team of experts is very broad and ranges from process management and data management to organizational development tasks for a technical department with over 800 employees. This diversity has always been very appealing to me.
In your opinion, what characterizes a good leader?
I am attracted to visionary leaders who are aware of their role as role models and are mindful of their power. They should act in a directional and situational way, be reflective and make decisions. The daily business of a manager is the achievement of corporate goals and positive contributions to results. However, I am convinced that the times of the "tough manager" are over and that nowadays heart and humor can and should also play a role in management.
It is also essential that managers continuously educate themselves, take time for reflection and pay attention to their own needs as well as the needs of those around them. Social commitment should also find a place in management. Today's managers must create the framework for issues such as diversity, equal opportunities and sustainability. For this reason, I am also increasingly committed to initiatives for the advancement of women.
Last but not least: good time management, clear prioritization, resilience and humor - especially in challenging times.

What future topics should managers definitely be concerned with?
Clearly, digitization. Digitization offers countless opportunities. New job profiles are emerging and many opportunities will open up that were previously unknown to us. Today's employees have very different expectations of their employers and of working life than they did just a few years ago. They are more emancipated, are looking for a work-life balance, want to realize their potential and make a difference. It is a pleasure to work with such highly motivated people, bursting with energy and potential!
The managers and leaders of the future are challenged to continuously develop and learn in order to achieve the best possible success. In addition, we also have a socio-political mission and I hope that in a few years we will no longer have to talk about topics such as diversity, ESG and equal opportunities, but that they will have become a matter of course!
To be prepared for the future, we need to build key digital skills on the one hand, such as digital learning, collaboration management and New Ways of Work. We also need to keep an eye on research and cooperate with educational institutions in order to bring theory and practice together in a timely manner. Development cycles have shortened sustainably, and it is important for our economic success that we rethink the knowledge society.
On the other hand, non-digital key qualifications must not be ignored. They are the most important tool of any manager. They include adaptability, managing change, conflict management, as well as communication management and project management.
How do you manage to keep your work and private life in balance?
That's a difficult question. I think the balance is to be present where you are needed at the moment and to always be fully attentive in the here and now. Do I always manage to do that? No. But if my thoughts are still on the office when I'm having dinner with my loved ones, they sense that and the time we spend together suffers as a result.
At the same time, it is not only important to be there for others, but also for yourself. To listen to one's own needs and well-being. I do sports regularly, eat healthy, like to laugh, am active, look for variety and enjoy new impressions. But I also appreciate peace and quiet. A hike in nature or a good book help me to relax.
Which person would you like to meet? Why?
I am impressed by people who achieve great things with their dedication, assertiveness and courage. People who have not allowed themselves to be intimidated by setbacks, but have grown from them. People who show civil courage, remain true to their opinions and decisions, and don't just populistically seek a place in the sun and sell themselves and their souls for a few minutes of fame.
Who impresses me a lot is Margaret Thatcher, the first Prime Minister of the United Kingdom, who steered the country for 11 years as the "Iron Lady". An impressive woman who made many decisions that in turn had a lasting impact on the history of the country and also Europe. She was the first woman to hold this position and had the longest tenure of any prime minister. To hold this office for so long is impressive, and it was probably not always easy to withstand public pressure and bear unpopular decisions. She is known as a politician, but few know that she was very committed to environmental protection and used her influence as early as 1985 to bring the issue of environmental protection to the G7 summit. A woman who polarized and has a place on the list of the 100 greatest as well as the worst Britons of all time. (Source: Margaret Thatcher - Wikipedia)
Likewise, I find Angela Merkel to be impressive. She has shaped and influenced the fortunes of Germany and the EU for over 15 years.
I also find personalities like Niki Lauda interesting. He was a polarizing personality who didn't avoid conflict. What I find admirable about him is his unimaginable mental strength, which enabled him to keep going despite strokes of fate.
What still connects you with the TU Wien Academy for Continuing Education today? Do you still have contact with other students or lecturers?
I follow the activities of the TU Wien very actively and appreciate the offers of the TU Wien Academy for Continuing Education. Unfortunately, in recent years I have only been able to keep in touch to a limited extent, or only virtually, and I am very pleased that personal exchange is now coming to the fore again. This year in October we will celebrate our 10th MBA anniversary and I am happy to organize an alumni meeting for this occasion.
What (professional and/or private) goals have you set yourself for the next few years?
I am grateful for the many positive and educational experiences I have been able to gain. My goal continues to be to learn and immerse myself in new subjects every day, to build and watch them "grow," and to work on my composure. It is a satisfying feeling to actively create. Both professionally and personally, I care about advocating for others and am happy to actively support the many initiatives around gender equality and women in technology / promoting STEM professions. And I want to keep my openness and enthusiasm, because I still have a lot to do