Axel Schäffner, Vienna International Airport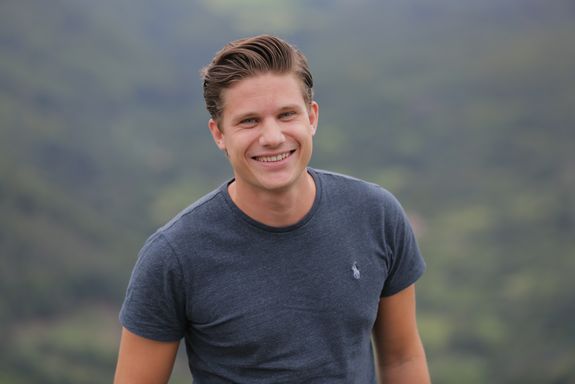 Axel Schäffner (born Gailit), MSc is a graduate of the certificate course Sustainable Construction After working at various European airports, he is currently responsible for energy management at Vienna International Airport. He can perfectly contribute his comprehensive knowledge on the topic of sustainability in this position.
You have been employed at various airports since 2011 and are currently in the energy management department at Vienna International Airport. What is special about your place of work?
For me personally an airport basically combines the passion for travel, fascinating technologies, and a high level of complexity. In addition, I get motivated working in an environment surrounded with many interesting people from all over the world in a wide variety of industries. Special about Vienna Airport is that the company consistently pursues a sustainability strategy. Climate-conscious thinking is paramount.
What has been your biggest professional success so far?
Within my previous position at Airport Design Management, I was responsible to implement the technical master plan for Brač Airport in Croatia. The project comprised apart from a sunny site visit the capacity planning for the apron, runway, supply facilities and terminal processing areas as well as a strategic CAPEX plan and the graphical completion of the master plan in five phases for the next 25 years. We were able to successfully complete the project with a final presentation in Zagreb.
How did the completion of the certificate course Sustainable Construction contribute to achieving your career goals? From what did you benefit most?
My goal was to combine my profession with sustainability. The certificate course provided the ideal basis. It offers in-depth knowledge for shaping a sustainable future in the fields of infrastructure, planning, and construction.
During my studies I changed position to become an energy manager at Vienna International Airport. It is fulfilling applying the knowledge I have acquired during studies in practice. My job tasks include, among other things, the optimization of the energy consumption on the entire site and to propose structural measures where I consciously incorporate sustainability criteria. Furthermore, the knowledge from the ÖGNI auditor training contributed to a comprehensive understanding of the technical relationships of different types of buildings and hence to work out effective optimization measures.
And what has been the biggest challenge in your professional life so far?
I have experienced that it seems from time to time, as if you are moving on a big cruise ship. Fast maneuvers might not always be possible. Changes take time.
How did the qualifications acquired during your certificate course support you in dealing with these challenges?
The knowledge taught at the university is up-to-date and practice oriented. It gave me the necessary fundament. You can professionally work out new ideas and argue with sufficient facts. This contributes to easier implement a change.
According to your opinion, what makes a good leader?
I think the personalities of good leaders can be very diverse. In my opinion, however, a good leader has a strong social intelligence with empathy and can therefore positively respond to employer's needs. A good leader motivates and supports the team increasing its performance and its social environment. Trust within the team is also important. There should be a good balance between goals and flexibility. Decisions should be made at the right time and consistently pursued.
To which future-related topics should managers definitely pay attention?
Firstly, managers should consider ecological and socio-cultural issues. In other words, develop a broader vision in addition to the conventional economic perspective. Secondly, nowadays it becomes even more important to diversify the risk and not to be placed in a situation of dependence. And lastly, it is also essential to always be on top of things and not losing curiosity. New technological developments are often evaluated too quickly and are pigeonholed based on (individual) experiences. At best, managers should keep an open mind and begin afresh every day.
How do you manage to keep your work life and private life in balance?
My daily motivation comes less from material values, money, or other social demands. I do things out of joy and conviction. Thus, the balance is already in my attitude towards everything I do – at least most of the time.
Which person would you like to meet? Why?
I always find it very refreshing meeting people from different professional fields and cultures. It is the best way for me getting to know new perspectives outside of my social bubble.
What kind of connection to TU Wien Academy for Continuing Education do you have today? Are you still in touch with fellow students or lecturers?
On the one hand, I happily connect at one of the well-organized events of the ACE Alumni Club. After the last alumni get-together at the Heurigen, I am already looking forward to the next one. On the other hand, I like to take the opportunity attending relevant events for me, such as the "Planerforum Architektur" in the Kuppelsaal of TU Wien.
Which (professional and/or private) goals do you want to achieve within the next ten years?
I would like to continue trying to live in the here and now and to enjoy and appreciate the many valuable moments with family, friends, at work or during my other activities. Then I'm sure in ten years life will be just as colorful as it is today.