02. June 2023, 15:30 until 17:00
Data Literacy: Best Practices in Data Visualization | Expert Talk & Info Session
Other
Whether for-profit companies, government agencies or non-profit organizations - the collection and evaluation of data is essential to make robust decisions at management levels. After analyzing and interpreting data, managers should be able to make decisions and communicate.
The "Data Literacy" compact program is a disciplined approach to teaching and training managers and executives in data-based decision-making. In addition, the visualization and presentation of data and evaluations is practiced.
Ing. Alin Kalam, MSc. is a TU Wien graduate and an experienced data analyst in the insurance sector. He regularly gives lectures on topics such as AI, Big Data, Data Storytelling, etc. and is the main lecturer for the "Data Literacy" program. We also introduces other experts in the field and invites them to talk in front of our participants.
Expert Talk by Mag. Mag. Michael Lamprecht (Raiffeisen Bank International AG)
We look forward to a short expert talk with Stefan Lamprecht on "Best Practices in Data Visualization" and a subsequent short Info Session on the 6-day compact program which starts June 16, 2023, in Vienna.
Please register online for the info session using the registration form.
You will then be sent details for the event on campus.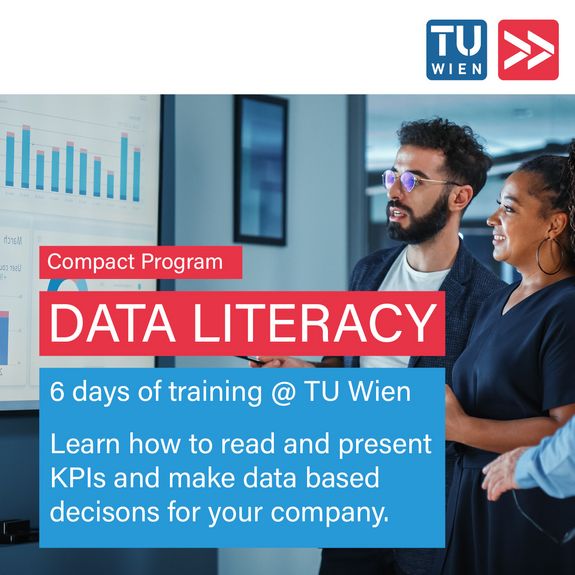 Calendar entry
Event location
Operngasse 11
1040 Operngasse 11

Organiser
TU Wien
Lisa Lehensteiner
mba@tuwien.ac.at
Public
Yes
Entrance fee
No
Registration required
Yes