Pan-European Seal Programme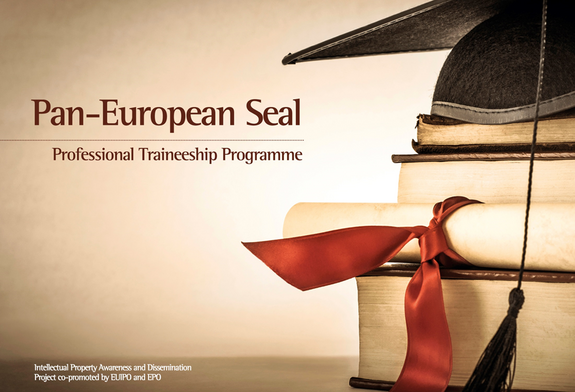 The purpose of the Pan-European Seal programme is to spot IP talent early in Europe's brightest and highest-achieving graduates. Targeting young, aspiring IP professionals, it offers them year-long paid traineeship posts sponsored by the EPO - European Patent Office and the EUIPO - European Union Intellectual Property Office.

Each strategic partner university is entitled to submit a yearly shortlist of 5 deserving candidates to the EPO, from which the trainees will be selected, according to each student's profile and considering the Offices' needs. By June 30, 2020 the EPO will communicate the results to the university.

The internships will start beginning of October 2020 and last for a period of 12 months.
Requirements for science and engineering students:
Candidates must
be a national of one of the EPO member states
hold a bachelor's/master's degree (or have completed university studies at an equivalent level) in a technical field (i.e. chemical/mechanical/computer engineering, telecom, materials science, electronics, statistics or data analysis) obtained no more than two years prior to the date of application or currently be enrolled at a university for a further degree
have a very good level of technical English; knowledge of technical German and/or technical French may be required for some technical fields
indicate on their CV or in their motivation letter three to five CPC classes or sub-classes in their field of competence (see Espacenet Patent Search)
have completed the required online EPO e-learning course(s) with certificate (Comment: you have to register on the EPO Platform and to complete the following self-paced courses:

Participation in international programmes such as Erasmus will be considered an advantage.
Please send us your expression of interest until February 27, 2020 per E-mail (to: rt@tuwien.ac.at) indicating your field of competence (e.g. chemistry, engineering, IT, economics, law etc.). Then we will inform you about the next steps. Full applications have to be submitted by March 16, 2020.