This page examines gender relations from a female perspective and presents their realities in various areas of life.
Inequality is a fundamental organisational principle of our society. Inequality of salaries and income, inequality of educational opportunities, inequality between the sexes.
Compared with other EU member states, Austria is one of the countries with a very high gender pay gap. Women in particular continue to face the challenge of reconciling family and career. In contrast, the professional commitment of men is barely affected by the birth of a child.
A key prerequisite for equal participation in the labour market, as well cultural and social participation, is education. In the wake of the expansion in education, women have significantly overtaken men in higher education. However, not only is it important to enable women to enjoy equivalent educational paths and subsequently career paths, it is also necessary to eliminate subject-specific differences in choices about education to overcome the female-specific qualification structure.

The employment of women has increased significantly in recent decades. The increase in the employment of women can be attributed primarily to an increase in part-time work. Compared with men, women are significantly under-represented in management positions in business, politics and public life and earn much less than men.
Spheres in which problem areas for women are visible:
The Gender Pay Gap Indicator is available to enable comparison of the gender-specific salary differences across the EU. The calculation for this is standard for all member states across the entire EU and, according to the definition by Eurostat, refers to the average gross hourly earnings of men and women. The use of hourly earnings compared with annual earnings has the advantage of enabling a comparison of full-time and part-time employees with each other, regardless of their respective working hours. The disadvantage is that this does not reflect actual income received; it just provides a comparison of hourly rates.
Source: Eurostat, can be accessed from Statistics Austria, Gender statistics, Income
Quelle: Eurostat. Geschlechtsspezifischer Lohnunterschied (ohne Anpassungen). Erstellt am 1.3.2020. - Unterschied zwischen den durchschnittlichen Bruttostundenverdiensten von Frauen und Männern in Unternehmen mit zehn und mehr Beschäftigten in der Privatwirtschaft. EU-Werte: 2008-2009 EU-27; ab 2010 EU-28 - *) provisorisch. - Grafik: STATISTIK AUSTRIA.
Gender Pay Gap in den EU-Mitgliedsstaaten 2018
Detailed analyses on gender-specific pay gaps and information regarding different calculation options can be found at: Gender Pay Gap_Berechnungsmöglichkeiten, opens an external URL in a new window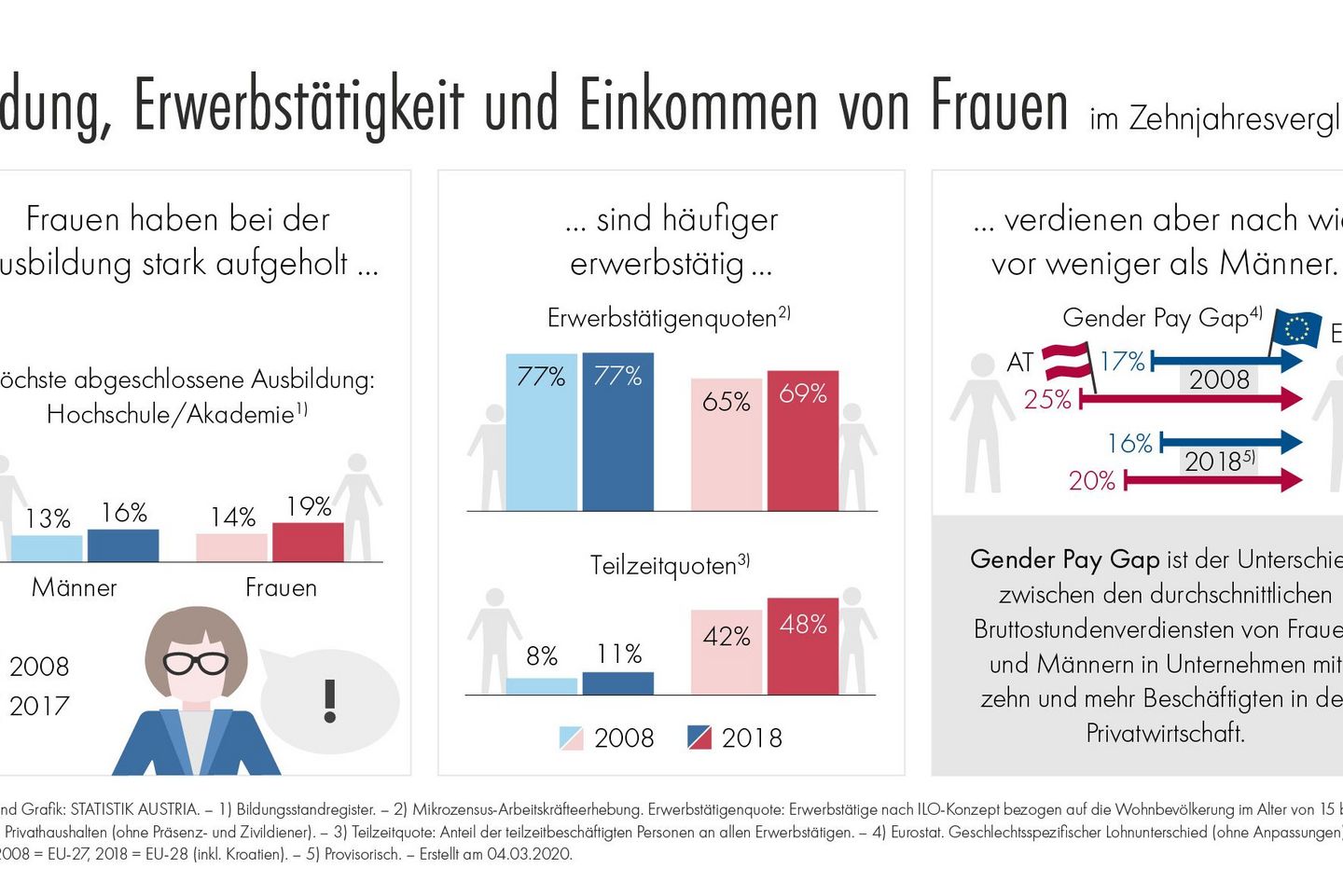 There continue to be major gender-specific differences regarding subject choices. The disciplines of technology and mining have the lowest numbers of female graduates. In vocational colleges, girls are significantly under-represented in technical/commercial colleges. Gender-specific inequality is also very marked in the teaching profession.
Quelle: STATISTIK AUSTRIA, Schulstatistik 2018/19. Erstellt am 30.01.2020. - 1) Inkl. sonstige berufsbildende Statutschulen.
Quelle: STATISTIK AUSTRIA, Schulstatistik 2017/18. Erstellt am 30.01.2020.
In comparison with Europe, Austria is a country where the employment rate amongst women is high, as is the rate of part-time working.
Source: Eurostat, accessed from Statistics Austria
In fact, the employment rate amongst women is increasing; however, this is almost solely a consequence of the increase in part-time work. Part-time work and small-scale employment are the hallmarks of the employment of many women, particularly those with a need for childcare.
However, the trend in part-time work does not only affect women who require childcare. Between 1998 and 2018, an increase in the rate of part-time working amongst men and women with no children was observed.
Source: Statistics Austria, Gender statistics: Reconciliation of family and career.
Aktive Teilzeitquote der 25- bis 49-Jährigen
Quelle: STATISTIK AUSTRIA, Mikrozensus-Arbeitskräfteerhebung 1998-2018. Erstellt am 27.05.2019.
The employment of women is a crucial means of enabling women and their families to earn an income that keeps them above the risk-of-poverty threshold. In all types of household considered, excluding single-parent households and multi-person households with at least three children, the risk of poverty lies significantly below the average for the overall population if the women are employed.
Source: Statistics Austria, Gender statistics, Risk of poverty or exclusion
Erwerbstätigkeit von Frauen und Armutsgefährdung
Studies of the use of time and poverty statistics show that single parents generally do more on a day-to-day basis, but nevertheless have less.
Forty-seven percent of single parents continue to be affected above the average by poverty and the risk of exclusion, despite working
15 hours a day (9 of which are unpaid)
around 1 hour more than mothers who are part of a couple, so 14.25 hours (9.5 of which are unpaid) and
1.25 hours a day more than fathers who are part of a couple, so 13.75 hours (6.75 of which are unpaid)
Source: https://www.alleinerziehende.org/images/Aktuelles/Presseaussendungen/PAEqualPayDay.pdf, opens an external URL in a new window on 05/02/2021
In the time use survey conducted in 2008/09 – no more recent surveys have so far been conducted – around 8200 people over the age of 10 were asked to keep a diary for a whole day, recording any activities that lasted longer than 15 minutes.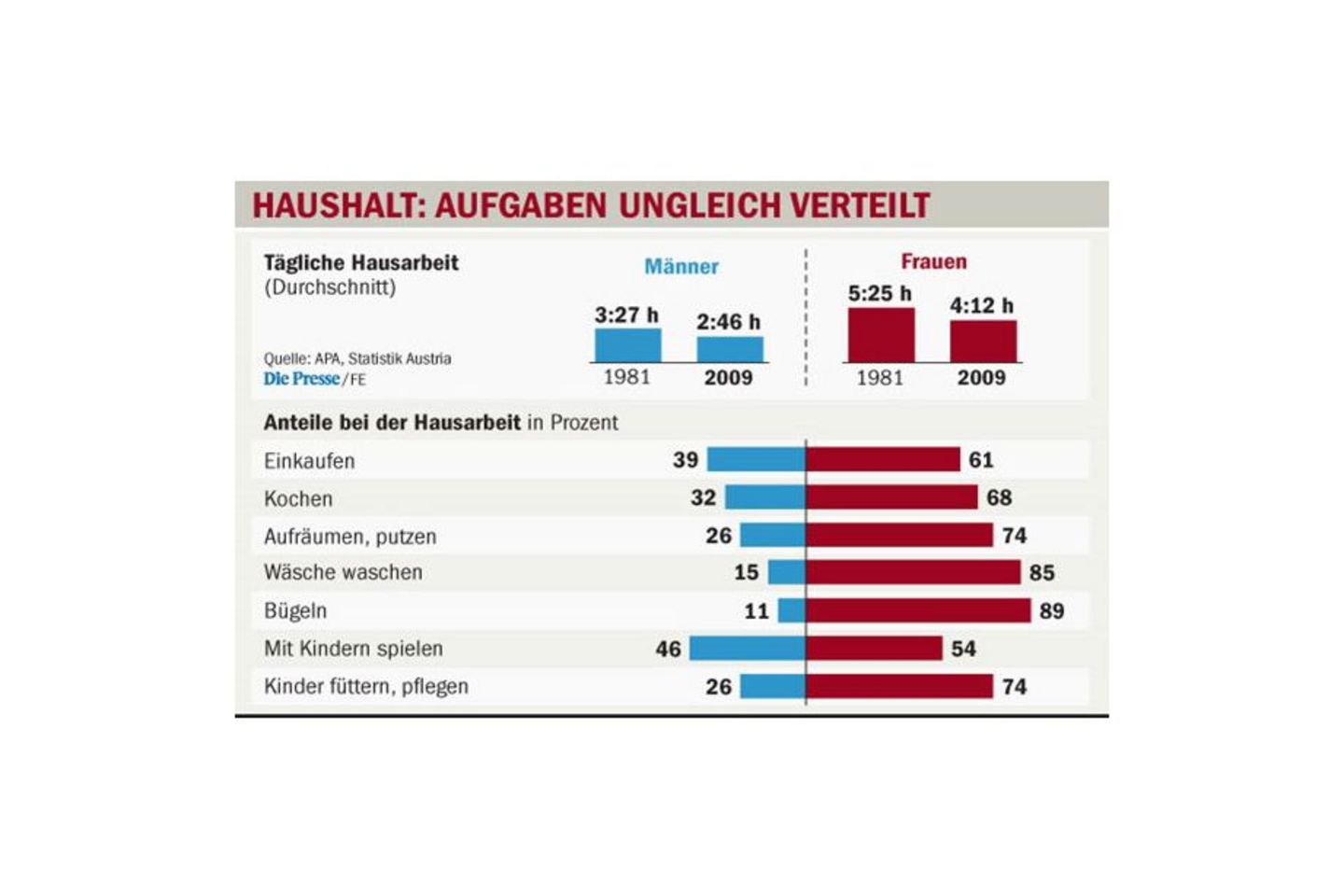 Quelle: Statistik Austria, Zeitverwendungserhebung 2008/09
Within the EU, female leaders are significantly under-represented. The higher the positions, the fewer the women in post. Compared with the EU, the proportion of women in leadership positions in Austria is in the lower range. When it comes to the proportion of female board members in the largest listed companies, Austria is slightly above the EU average, having maintained the applicable quota for some years. It is also generally evident in other European countries: mandatory quotas for women have ensured the rise in the proportion of women within a very short space of time.
Die Wirkung der Frauenquote ist in den folgenden Grafiken ersichtlich:
Quelle: Arbeiterkammer
Detailed information on this subject can be found in the FRAUEN.MANAGEMENT.REPORT.2020., opens an external URL in a new window The board quota is working – what next?
Proportion of women in the National Council
2020 Administration: the National Council has 183 members, 72 of whom are currently women (39.34%).
Quelle: www.parlaemnt.gv.at, opens an external URL in a new window, (am 24.07.2020)
Entwicklung bei Bürgermeisterinnenzahl
In den letzten 20 Jahren hat sich die Zahl der Bürgermeisterinnen fast vervierfacht, liegt aber immer noch unter zehn Prozent.
Quelle: Gemeindebund