The EU whistleblower directive
Overview
"Whistleblowing" is the term used to describe the reporting of maladministration or malpractice by whistleblowers within an organisation or outside the organisation. The reported incident usually implies a breach of compliance and/or the law.
The term "whistleblowing" became well known around the world through the revelations of Edward Snowden, WikiLeaks and the Panama Papers.
Whistleblowing has always been a key element of a compliance management system.
The EU whistleblower directive stipulates, for the first time, the compulsory obligation to set up a reporting system that enables whistleblowers to report breaches of EU law.
Reporting systems offer huge potential for combating corruption while also building greater transparency and trust within the organisation.
Since December 17, 2021, it has been mandatory for the EU whistleblower directive to be implemented as part of national legislation in member states.
Reporting categories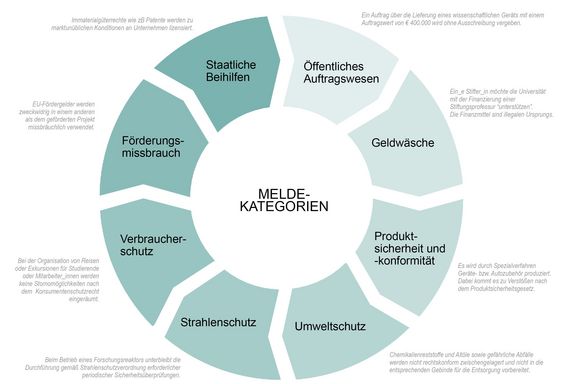 Other reporting categories for the EU whistleblower directive include food and feed safety, animal health and animal welfare, road safety, public health and breaches of corporation tax law. However, these reporting categories are highly unlikely to apply to TU Wien.
The EU whistleblower directive includes the reporting categories of data protection and information security. However, there are separate reporting channels at TU Wien.
People authorised to report incidents
Employees of TU Wien and its holdings
Officials
Interns at TU Wien
Former employees of TU Wien
Applicants to TU Wien
Members of the management or supervisory bodies of TU Wien (e.g. members of the University Council)
Volunteers providing free-of-charge services to TU Wien
Self-employed persons providing services to TU Wien (e.g. consultants, company physicians, psychologists, trainers)
Persons supervised and managed by (sub)contractors and suppliers (e.g. employees of BIG and IBG, temporary employees, security staff)