TU Wien strengthens its role in the global space community
Joining the International Astronautical Federation, TU Wien enables active participation in promoting space activities, innovation, and the exchange of knowledge and information.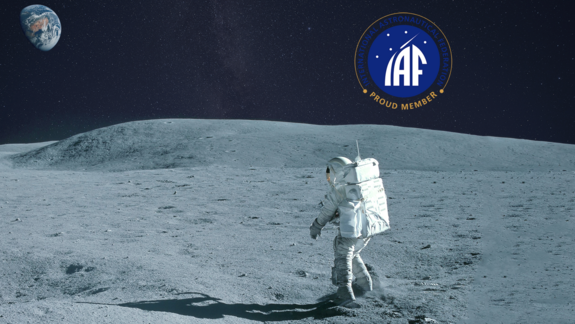 Strengthening Academic Programs and Preparing Students for the Space Industry
As an academic institution, TU Wien is committed to providing its students with access to the benefits that come with Federation membership. By partnering with the International Astronautical Federation (IAF), opens an external URL in a new window, TU Wien can provide its students with unparalleled access to a global network of space professionals. This includes attending high-profile events such as the International Astronautical Congress (IAC), opens an external URL in a new window and collaborating on international projects with other leading institutions. This exposure will prepare TU Wien graduates for success in the competitive and rapidly evolving field of space exploration, positioning them as leaders in the industry.
Executive MBA in Space Architecture
TU Wien offers a range of Bachelor's and Master's programs across multiple faculties. Additionally, we offer a unique interdisciplinary Executive MBA program in Space Architecture that bridges the gap between economics, engineering, architecture, and Technology & Leadership. This program equips students with the knowledge and skills needed to address pressing global issues such as resource management, technology utilization, and climate concerns while also providing training in space technology and planning.
Deep Engagement in Outer Space Activities
TU Wien is heavily involved in outer space activities through research, educational programs, collaborations with space agencies and organizations, and international partnerships. This includes fundamental remote sensing research, ambitious rocket engineering and mission projects, remote sensing and climate research, and aerospace design.
Actively Contributing to IAC Congresses
For many years, TU Wien's researchers and lecturers have participated in IAC Congresses. Now, we're taking it up a notch by becoming a part of the Federation. Our goal is to actively contribute to these events and foster the exchange of information and knowledge in the space industry. With access to conferences, symposia, and workshops, our researchers and students from various faculties will stay up-to-date on the latest developments. We'll even have opportunities to share our own research work through publications and technical reports. We can't wait to propose our own events within the network, too. Join us on this exciting journey!
Expanding TU Wien's Reach Within the Global Space Community
TU Wien aims to join the IAF network to enhance its position within the global community that works together to advance space activities, develop innovative technologies, and create awareness of space among governments and societies. This engagement is intended to highlight the benefits that can be derived from the use of space.
Lastly, TU Wien views Federation membership as a means to strengthen its position within the global space community by actively collaborating with like-minded organizations. We aim to advance space activities, foster innovation, and contribute to the global dialogue on space exploration. In particular, our expertise in Earth science and technologies further bolsters our commitment to addressing pressing global challenges related to climate change, resource management, and technology utilization. By engaging with the Federation, we aspire to bridge the gap between space and Earth, harnessing the potential of space technologies for the betterment of our planet.
Stay up-to-date on TU Wien Academy for Continuing Education's latest news
You'll receive exclusive content straight to your inbox, including interviews with leading professionals, updates on our research projects, and invitations to upcoming events. Don't miss out on this opportunity to stay connected with TU Wien's global community.