Advice day for planning and financing your international mobility studies!
Visit the Exchange Study Fair on 22 November 2022 from 10:15 a.m. to 3:15 p.m. at the Campus Gusshaus!
Are you studying at the TU Wien?
You would like to do a funded exchange study programme or internship at one of the many excellent partner universities of TU Wien? Are you planning an internship in industry or would you like to do parts of your diploma thesis or dissertation at other universities and research institutions?
Get comprehensive advice on Tuesday 22.11.2022 at the Exchange Study Fair on site and through presentations of partner universities, organisations and students!
The overall counseling includes information
about the possibilities to study in an international environment
about excellent partner universities and their exchange study programs
about scholarships and funding opportunities offered by the International Office and other scholarship providers
about questions of recognition of courses
about necessary planning steps and organizational matters
and what else interests you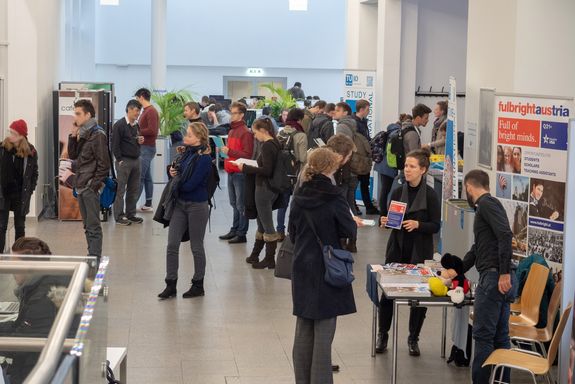 The informative and interesting programme of events consists of two 2 advice pillars (Part A and Part B):
Counselling Part A. Personal counselling by participating exhibitors at exhibition stands on site.

Counselling Part B. Lectures and presentations by international partner universities, organisations and exchange students
Counselling Part A

Personal counselling by participating exhibitors at on-site booths.

Counselling Part B

Presentations by international partner universities, students and funding organisations.

Date / Time

Location Part A

TU Wien, Campus Gußhaus, CA EG, Gußhausstr. 27-29, 1040 Wien

Location Part B

TU Wien, Campus Gußhaus: CD 03 04 Seminarraum EI 11 Geodäsie (Campus Gußhaus, Stiege 1, 3. Stock, Gußhausstr. 27-29, 1040 Wien)
The programme
TU WIEN

Check Point Mobility Advice