Control and Interface Design for Engine and Powertrain Testing
CDL for Innovative Control and Monitoring of Automotive Powertrain Systems is a multiple-year long cooperation between the TU Wien and AVL List GmbH in Graz. It consists of six research topics (including one topic in cooperation with the University of Ljubljana). This topic lies on the Control and Interface Design for Engine Powertrain Testing.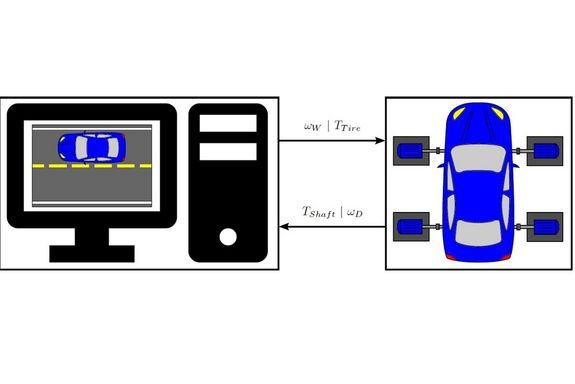 Project description
Due to the large number of possible configurations of advanced powertrains involving batteries, fuel cells, hybrid configura-tions with internal combustion engines, as well as different sizing of all components, powerful and versatile testing solutions are required to support the development process. Therefore, hardware-in-the-loop (HIL) testing environments, or in par-ticular Power HIL (PHIL) setups, play a crucial role. Not yet available parts of a system are substituted by a simulation which enables the testing of entire powertrains in early development stages.
Consequently, the development times can be reduced since a full vehicle is not required for individual component or powertrain tests. Further advantages compared to real-world testing are reduced costs, reproducible tests and easy examina-tion of the impact of different component configurations and dimensions. It is thus highly important that HIL tests reflect the reality as precisely as possible, because the whole development process relies on the correct outcome of these tests. In the CDL we are particularly engaged in the areas of full powertrain testbeds, as well as testbeds for combustion engines and electrical components.
Various controllers and interfaces play a vital role in the framework of HIL testing in order to ensure that the required physical quantities of the simulation are regulated and that the coupling with the virtual world (simulation) is suitable for highly dynamic tests. On the one hand, the focus of our investigations is on modelling and the design of accurate but reliable controllers (especially for fast commissioning). On the other hand, the major challenge for powertrain testbeds is the design of interfaces connecting the real world and the virtual simulation environment (e.g. for so-called road2rig approaches). Here, the dynamics for transient driving manoeuvres but also emissions and consumption are to be reproduced realistically through targeted interventions.
Video Presentation
Interested in more information?
Please visit the project video on this exciting topic!
More similiar projects of our Institute
Duration
February 2017 - January 2024
The CDL Cooperation
The CDL ist a multiple-year long cooperation between the TU Wien and AVL List GmbH in Graz under our laboratory head Dr. Christoph Hametner.