Pilot Factory Industry 4.0
The TU Wien operates the Pilot Factory Industry 4.0 Vienna-Aspern together with an industrial partner network.
The Pilot Factory contains pilot projects and demonstrators concerning applied research in the fields of production, assembly, manufacturing technology and logistics of the future.
Our field of research "Human Centered Cyber Physical Production and Assembly Systems" develops specific demonstrators in the areas of
Custom assembly systems in relation to digitalization/ interconnectivity and automation (Single work station, site assembly, flow production)
Task allocation between human and robot
Research focus points are:
Human-Centered and customizable design of work stations (individual adjustable work station height, climate, acoustics, information,…)
Improvement of ergonomics and human factors
Optimization of business parameters (productivity, efficiency,…)
Acquisition of the work space through 3D-cameras
Intelligent projections
Context based information provision
Demonstrator "Industrial Site Assembly- Fan Cowl Tool"
A winglet tool (Image) of an aircraft component manufacturer is used as a demonstrator for industrial site assembly.
A winglet is an upward or downward pointing extension of an aircraft wing in order to lower fuel consumption. A sub-process of the winglet production is carried out on the winglet tool by laying sheet upon sheet of CFRP-matting (Carbon fibers).
A characteristic for industrial site assembly is that the tooling and assembly employees are stationary and do not change location. A large amount of space is therefor required, since the product can be very large and individual parts or assembly groups have to be accessible from multiple points of access (e.g.: Doors for trains, cowlings for jet engines, winglets of wings, etc.)
Our objective at the example of the demonstrator is:
Customizable possibilities of assembly systems through the aid of digital connectivity and physical assistance systems in order to achieve a load reduction as well as visualizing and implementing an optimization of business parameters.
Demonstrator "Human-Cobot Interaction"
Serving as a demonstrator for our research topics in the field of collaborative robots in manufacturing, see "Research – Human-Robot Interacting in Manufacturing, opens an external URL in a new window", are two Franka Emika Panda robots in the Pilot Factory.
The monitoring of forces in the axis of the robot arms turns these robots into "Cobots", which lets the robot react to any acting forces (e.g. collisions) which have not been programmed, and as such is fundamentally safe for working together with humans.
These research robots are distinguished by their intuitive programming interface, which in the course of different projects and student thesis' is being further developed and refined.
Furthermore, the robots are used for evaluations (usability, etc.) in the sense of physical assistance systems.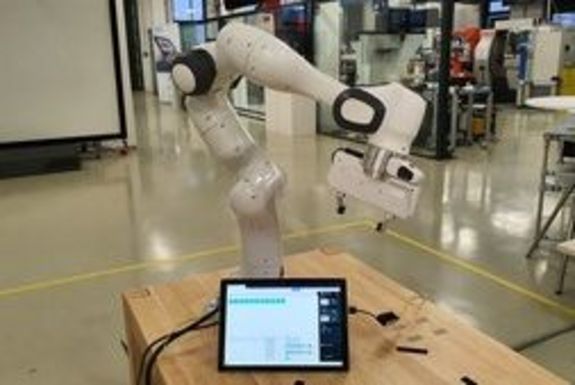 Do you have questions concerning our demonstrators, the Pilot Factory or our research? Please take up contact with: