Throwback to the 15th IFM Congress 2022
The Real Estate Industry in Radical Change - ESG and Workplace Management as Drivers
On November 17 and 18, the time had come once again: the 15th International Facility Management Congress of the IFM took place at TU Wien with over 170 participants. Two topics dominated this congress: ESG and Workplace Management and here especially hybrid working environments.
Environmental Social Governance (ESG), i.e. the EU Taxonomy Regulation, was decided last year, but has been on everyone's lips at least since EXPO Real and was also THE topic at IFMA's World Work Place in the USA. But in Europe it has a completely different significance, as Ulrike Gehmacher, Head of Group ESG at IMMOFINANZ Vienna, explained: because it is a legal necessity. All companies that meet at least two of the three criteria (200 employees, €20 million in total assets, €40 million in revenues) must disclose revenues, investments and costs for green products and services in the non-financial section of their annual reports. This is to reinforce green and sustainable investments. In this regard, IMMOFINANZ has had sustainability on its radar for a number of years, a very important, deep, but also very fast-moving topic, according to Ulrike Gehmacher. IMMOFINANZ, as one of the largest developers in CEE, is an international pioneer and uses the topic to differentiate itself. It does so primarily for two reasons:
Tenant loyalty: on the one hand, to offer their occupants sustainable properties that are not only energy efficient, but also "empower" their employees by promoting their health. In this way, they achieve long-term tenant loyalty.
Investor side: green real estate is a must when it comes to financing. Be it to make an attractive offer to investors, or simply to obtain favorable debt financing.
According to Ulrike Gehmacher, differences in financing costs of up to 40 basis points are already common in the market. In the future, she suspects, it will become difficult to finance and later sell projects that are not sustainable. As she stated in her presentation, ESG will become even more important from 2026, when reports will also have to be fully audited for accuracy by the auditor and greenwashing will fall under severe penalties. Mike Holland painted a similar picture in his talk: "ESG - The international perspective of an investor: green investments, tenant management, portfolio management under new perspectives". He underlined Ulrike Gehmacher's statements and also focused on the investor side and tenant retention. Blackstone and other large investors have already appointed a Head of ESG in 2019, who then assessed all investments for sustainability. This happened much earlier than the EU had issued its regulation. On all continents, but also in India, ESG is playing an increasingly important role. The top companies there are also already reporting on ESG activities. For large companies this would be easier than for SMEs, but it would still show which are the best tenants and landlords. Many of his tenants are also ESG-reporting. So he puts a lot of emphasis as a REIT manager on helping them with their reporting. In doing so, he not only makes their jobs easier, but also identifies which KPIs are relevant to them. By providing this support, he generates a unique selling proposition for his tenants and can thus also retain them in the long term.
In both presentations, the importance of a simple and GoB-compliant recording of the basic data for the calculation of the KPIs was pointed out. In practice, the recording means a considerable effort. Above all, being able to control in time and not only recognizing at the end of the year that a building is no longer "sustainable" poses a considerable effort for some companies. The presentation by Alexander Götz, CFO and Hans-Peter Stubenrauch, Facility Manager of the Theater in der Josefstadt, therefore presents a simple, cost-effective method for this area. According to Alexander Götz, "Theater in der Josefstadt not only wants to offer the highest possible quality art, but also aims to be ecologically, socially and economically sustainable." The Theater in der Josefstadt wants to optimize its energy consumption not only for these reasons, but also because of government requirements. Freely following the motto "What you cannot measure - you cannot manage," energy monitoring was implemented over the past six months. It was important to ensure that the monitoring system could be implemented during operation and without interrupting service, because the theater did not want to and could not afford a standstill day.
The theater found the right solution in the IoT-based software-as-a-service solution "Sustainability Explorer". The IoT measuring devices for measuring energy consumption in the area of electrical energy and district heating, could be retrofitted by the building electrician during operation without any significant structural adjustments. The existing lines were enclosed with coils, and a surface-mounted distribution box provides space for additional devices that subsequently measure power consumption. Via M-Bus, the district heating consumption is read out by the same PLC that handles the electricity measurement. This allows all values to be read out every minute, if desired, and analyzed in the dashboard of the SaaS cloud tool. This not only supports the creation of the KPIs, but also enables the operational business to be monitored and optimized. Hans-Peter Stubenrauch cites the long delivery times of the devices as the only shortcoming. For this reason, other manufacturers are also integrated in the expansion stage, but they can be easily integrated due to the open concept of the solution. Hans-Peter Stubenrauch therefore recommends starting implementation as soon as possible, as delivery times of up to half a year must be expected. As the first year for mandatory ESG reporting is 2024, there is not much time left. The cloud solution makes the project easily scalable and nothing needs to be implemented on site, except for the IoT devices, which consequently minimizes the client's effort.
Andrej Grieb, Deputy Chairman of the Housing and Tenancy Law Section of the Association of Austrian Judges, raised the question of when green is really green and what liabilities are involved. Many companies are primarily concerned with defining their strategies in the area of ESG, the associated KPIs and the data for calculating the KPIs and optimizing the recording. In this context, there is much need for discussion between owners and tenants, thus both are confronted with the question: "Who promises what to whom? And what is in commitments within a contract?", says Andrej Grieb. But with the statement that a sustainable property is sustainable also come warranties. In addition, greenwashing in this context is being punished more and more strictly. Andrej Grieb showed what to look out for in order to avoid claims for damages and the associated bad image. In his presentation, he also referred to the EEC, which is to apply as early as 2023 and prohibits, for example, new gas and oil heating systems. It also obliges a very timely switch to heating systems that use renewable energy. This changeover will pose many challenges for the real estate industry.
The panel discussion by Alexander Redlein with Wolfgang Gleissner, COO of BIG Bundesimmobiliengesellschaft M.B.H. and Géza-Richard Horn, CFM Managing Director of RealFM and himself a lecturer at the University of Stuttgart, underlined the importance of ESG. They agree on the major challenges in 2022: Through Covid-19 we learned that we cannot anticipate the future, through the war in Ukraine we had to learn to deal with the new (in)security situation, because it has come to stay. And last but not least, the issue of climate: a creeping but extremely important issue, as it affects us all. The real estate sector is particularly affected by these issues and their economic and social repercussions, because the availability of energy is no longer guaranteed and thus emergency plans are part of everyday life here. In this context, BIG has long been focusing on renewable energy production in its buildings and on optimized use of its existing buildings, for example through digitalization, as these account for 10 million GFA of BIG's portfolio. In this context, Wolfgang Gleissner also calls for a discussion of "what requirements we really have!". In many places, the requirements have only ever increased, and in the future we will have to ask ourselves where we can sensibly reduce. In Germany, Géza-Richard Horn also sees a discussion about area reductions. Likewise, he points to a great challenge to put workers and employees on the same level, especially when it comes to the discussion about new working environments. The shortage of skilled workers in particular will intensify the focus on needs. These statements were also reinforced by Gregor Grindjan, COO at SAP Austria, in his presentation "The future of the hybrid office - experiences after two years of practical operation?" SAP Austria only converted its Vienna location into an Activity-Based-Working office in 2016 to 2018 in the "Viennovation" project. Great attention was paid to the needs of all employees, but also to the impact on customers. The Customer Experience Center makes technology accessible and tangible for everyone. Design thinking spaces support innovation and collaboration between employees and customers. To encourage people, plenty of open space was created for individual productivity as well as communicative encounters and collaboration. A variety of collaborative spaces support experience sharing and mutual learning. Retreats for informal exchanges allow phone and meeting rooms. The fusion of technology and natural materials (plants/wood/water) provides a pleasant working atmosphere. Modern well-being areas serve as a relaxation zone and wind-down from the digital workday. A cafeteria for internal and external visitors with daily changing healthy cuisine, allows informal exchange and also the training rooms are all state of the art with Skype video room systems for local and virtual participants. However, due to the pandemic, the Flex Location project had to be postponed as early as 2021, and the Flex Workspace optimization of the office environment was implemented in 2022. The pandemic had changed a lot at SAP, but less than one would expect. In conclusion, Gregor Grindjan urges us to "Invest in your office - it will pay off for you!" The presentation not only showed that modern work environments are a must to recruit and retain employees, but also that office environments are changing faster and faster. This statement was also underlined by Pat Turnbull, head of Workplace Evolutionaries at IFMA. Internationally, too, the focus is currently on bringing employees back to the office: "Office locations have to be worth it for employees to come back to the office in the first place," said Pat Turnbull. This is done above all by focusing on the experience character there.
In his presentation "Unexpected often comes: How does it go on with the world economy after Covid-19 and what does that mean for the real estate industry as well as the facility management" Valentin Hofstätter von der Raiffeisen Bank, gave us hope for an early economic recovery. In the USA the peak of inflation seems to be overcome and also in Europe some areas, like gas prices, have already started to decrease again, nevertheless we have to expect some challenges until 2024. On the second congress day, IFM researchers presented their current topics. These ranged from macroeconomic analyses of the importance of the facility service industry as a driver of economic recovery after all previous crises, to workplace management, the enabler of productive and motivated employees, to digital transformation and how best to apply it in your business. The researchers revisited the topics from the previous day and explained why change cannot happen without training. They also showed how to easily and effectively assess the digital maturity level of your company in the field of real estate and facility management.
All in all, the congress provided an innovative and well-founded insight into the challenges of the near future, especially in the area of ESG and workplace management, and showed that change must be actively managed in order to remain among the TOP companies in the future.
Pictures (c) IFM, TU Wien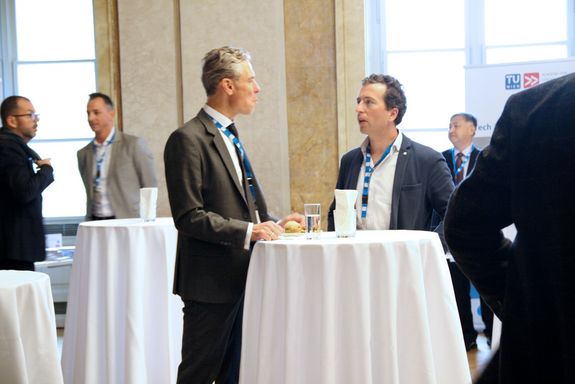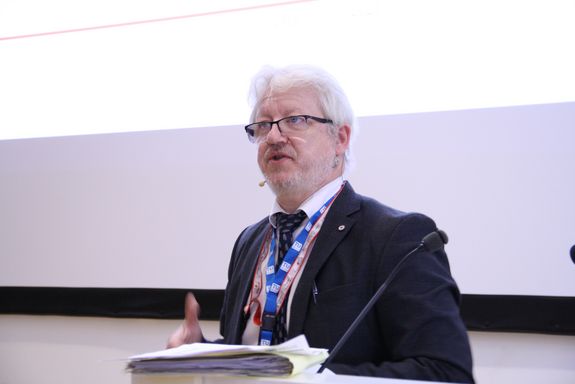 09:00 am Welcome to the 15th International Facility Management Congress
09:30 – 10:30 a.m. Welcome by Prof. Dr. Alexander Redlein, IFM TU Wien
Key Notes:
ESG in practice – How does one of the largest developers in CEE deal with it?
Ulrike Gehmacher, Head of Group ESG at IMMOFINANZ Vienna (AT)
The future of the hybrid office: New ways of working – Experiences of two years of practical use!
Lessons learned and next steps!
Dipl.-Ing.(FH) Gregor Grindjan, MSc, COO at SAP Austria GmbH
10:30 – 11:00 a.m. Coffee break incl. exhibition & networking
11:00 a.m. – 11:30 a.m
ESG – The international perspective of an investor:
Green investments, tenant management, portfolio management under new perspectives
Mike Holland, Former CEO, Embassy Office Parks REIT
11:30 a.m. – 12:00 p.m
Panel discussion 10 years of REUG, 15 years of the congress – Diving into the past and the future!
DI Wolfgang Gleissner, COO at BIG BUNDESIMMOBILIENGESELLSCHAFT M.B.H.
Senator e.h. Dipl.-Ing. (Univ.) Geza Richard Horn, CFM, volunteer Managing Director of RealFM and lecturer
at the University of Stuttgart
12:00 p.m. – 1:30 p.m. Lunch break incl. exhibition & networking
1:30 p.m. – 2:30 p.m
More than just energy monitoring: The Josefstadt: a practical report
Mag. Alexander Götz, CFO of the Theater in der Josefstadt (AT)
What it takes for a property to be green? The legal perspective on ESG
Mag. Andrej Grieb, Judge at the Regional Court for Civil Matters Vienna, Deputy Chairman the specialist group on housing and tenancy law of the Association of Austrian Judges
2:30 p.m. – 3:00 p.m. Coffee break incl. exhibition & networking
3:00 p.m. – 4:00 p.m
Workplace International – What can we expect in the future?
Pat Turnbull, MA, LEED AP, IFMA Fellow, Workplace IQX (USA)
Expect the unexpected: How will the global economy continue after Covid-19 and what does that mean for the real estate and facility management industry
Dr. Valentin Hofstätter, Raiffeisen Bank Int. AG (AT)
4:00 p.m. Presentation of the winner of the Innovation Challenge 2022
Summary of the first day
Prof. Dr. Alexander Redlein, IFM TU Wien
6:00 p.m. Joint departure to the dinner at PwC Vienna
09:00 a.m. Welcome back to the 2nd day of the congress!
09:30 – 10:30 a.m
Hybrid working around the world
WE Leaders provide insight into current trends around the world
11:00 a.m. – 12:30 p.m. Presentation of the scientific papers
Ilyas Kirecci, Paul Schmitter, Stella Gatziu Grivas, Phillip Gachnang and Thomas Hanne
Reifegradmodelle als Grundlage für den digitalen Veränderungsprozess im Facility Management in Healthcare – Eine integrative Literaturrecherche
Dr. Prof. Klaus Homann, Prof. Sergio Vega, Jorma Säteri, David Martinez, Judit Klein-Wiele, Jaqueline Privenau
Digital Transformation of Real Estate & Facility Management – Innovative Technologies require innovative teaching methods
Dirk Boecker, Roland Breves, Zhentian Zhang, Dr. Herth, Clemens Bulitta
Facility Management and its potential new role in active infection control
Summary of the two days of the congress and closing words
Prof. Dr. Alexander Redlein, IFM TU Wien
01:00 – 02:00 p.m. Lunch break
2:00 p.m. – 3:00 p.m. Guided excursion at the living lab of IFM, TU Wien with XAL GmbH
Program 15th IFM Congress
Save the date
16th International Facility Management Congress: 23rd - 24th of November 2023