Ice-Bar Hotel Alpina - Obergurgl 2010/11
In front of the Hotel Alpina in Obergurgl, Tyrol, an ice was built in the winter season 2010/11.
The ice dome was assembled by means of a newly developed construction method that has never been used before. The ice dome is now used as an ice bar.
The key element of this method is distorting individual ice segments of the shell which are subsequently lifted into their final position.
In the first step, plane segments made of ice were produced. In order to obtain such elements, an ice plate was made by spraying water on a previously levelled and sealed working surface. Afterwards superfluous parts of the ice, which are unnecessary for the development of the shell, were removed.
In the next step, the elements were distorted uniaxially - this curvature was being produced both by elastic deformation and creep deformation. These deformations generate tensile forces; therefore steel ropes had been placed inside the ice elements during their production.
In order to distort the ice elements they were lifted and placed on two stacks of wood. These stacks of wood were situated in the middle part of every segment therefore the end parts of every element were bent down. By maintaining this condition creep deformations were added to these instant deformations caused by dead load. Eventually, this distorted state was fastened with temporary tension chains.
After the distortion the elements were lifted and assembled to form a shell. Therefore a temporary timber tower was created.
Afterwards the ice elements were lifted individually and fixed to the timber tower. In the next step the gaps between the elements were filled with snow and water. Additionally, a tension cable carrying the horizontal forces was attached. Thus, these individual elements constitute as a shell structure and at this stage the mounting tower and the temporary tension chains could be removed.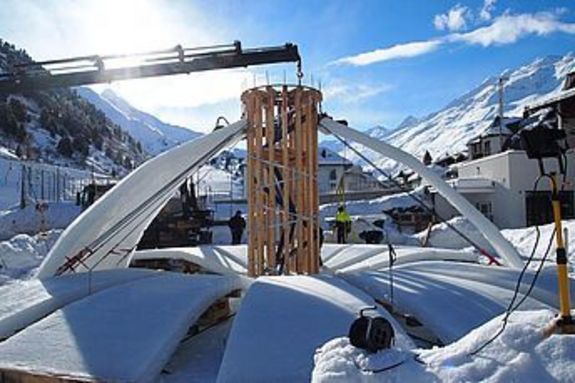 The finished ice shell has a diameter of about 10m and a height of 3.8 m.After creating an entrance for the ice cupola, the ice bar was ready to be opened!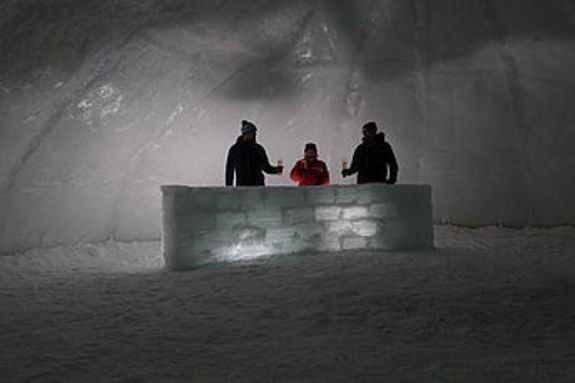 Our project partners:
building ground and infrastructure: Hotel Alpina deluxe
construction site: Institute for Structural Engineering
steelwork: Stemeseder GmbH, Stahlbau Pruckner GmbH
timber work: Zimmerei Raab, Emil Kuprian Sägewerk - Holzhandel