Research projects at IFOER
2/3 - Voyages (acrylic on paper 29,7x21)
The conditions and emergence of complex environments requires pedagogical approaches and methodologies especially those delivering international competences and creative thinking towards building learning mobility more systematically into curricula.
This #project request for a networked syllabus as an academic approach welcomes and tackles such fluctuating state of the context by engagement of high education institutions with local authorities based on a collaborative work in an international setting. Structured this way the project is likely to produce results that will be innovative for its field and for the geographical context in which the project is implemented.
The #methodology for sustainable cities is proposed using multidisciplinary approach tested in a form of a networked syllabus for the course Studio implemented on the three project partners high educational institutions in the fall semester, year 2020. This strategic approach will take in consideration the field of sustainable city planning education through the topics of urban and economic growth, social inclusiveness, history, innovation, heritage and tourism.
The #process contains two (2) years of international and interdisciplinary collaboration between entities from North Macedonia together with other EU based entities (Austria, Italy and Czech Republic) which will complete this international consortium of higher education institutions and private research institutes. Faculties at the three higher education institutions (School of Architecture and Design at UACS, Institute of Spatial Planning at TU Wien and Department of Architecture and Territory at Mediterranean University Reggio di Calabria) will engage with the syllabus in a form of a regular or a selective courses in their master programs, fall semester 2020 which will be complemented by the practical experience transmitted by two other partner institutes (IECE Skopje and Czech Environmental Partnership Foundation Brno).
The #project timeline will be structured through three (3) main activities representing the objectives of the project, developed in time frame of 24 months:
Research and development of syllabus / Methodology
Course studios implementation / Syllabus for course studio, fall semester 2020
Synthesis of the course production / Concept for sustainable cities using multidisciplinary
approach
The #target group for the ENABLE networked syllabus are master students of architecture who are interested and willing to improve their competences in the field of sustainable city planning education. Mostly of the participants will be recruited within the students of the project consortium high educational institutions with aim to increase the competences of the students within the faculties. Additionally, this networked syllabus will also be promoted outside the project consortium to attract additional participants and disseminate the ENABLE project idea to other institutions and individuals already during project lifetime. For this course the students will be ECTS accredited by their university accordingly, furthermore they will achieve a certificate for completed Erasmus plus high educational program.
Successful realization of the project activities are important for the current and future generations and will provide multidisciplinary educational approach in the field of urban planning which will impact their better performance and lead to better performance of the organisations they will work in or will establish. More awareness will be raised about the importance of the topic, as well as the need of new knowledge and skills for architects. Also, specially designed learning environment will meet the needs of the students, providing flexibility and innovative approaches of delivery of the subject.
We also believe that this #project outcome in a form of a methodological analyse and strategic concepts for sustainable cities will create a desire in new European cities representatives to test this methodology in order to generate the guidelines for their future development.
instagram: erasmus.enable, opens an external URL in a new window
fb group: https://www.facebook.com/groups/erasmus.enable, opens an external URL in a new window
This project has been funded with support from the European Commission.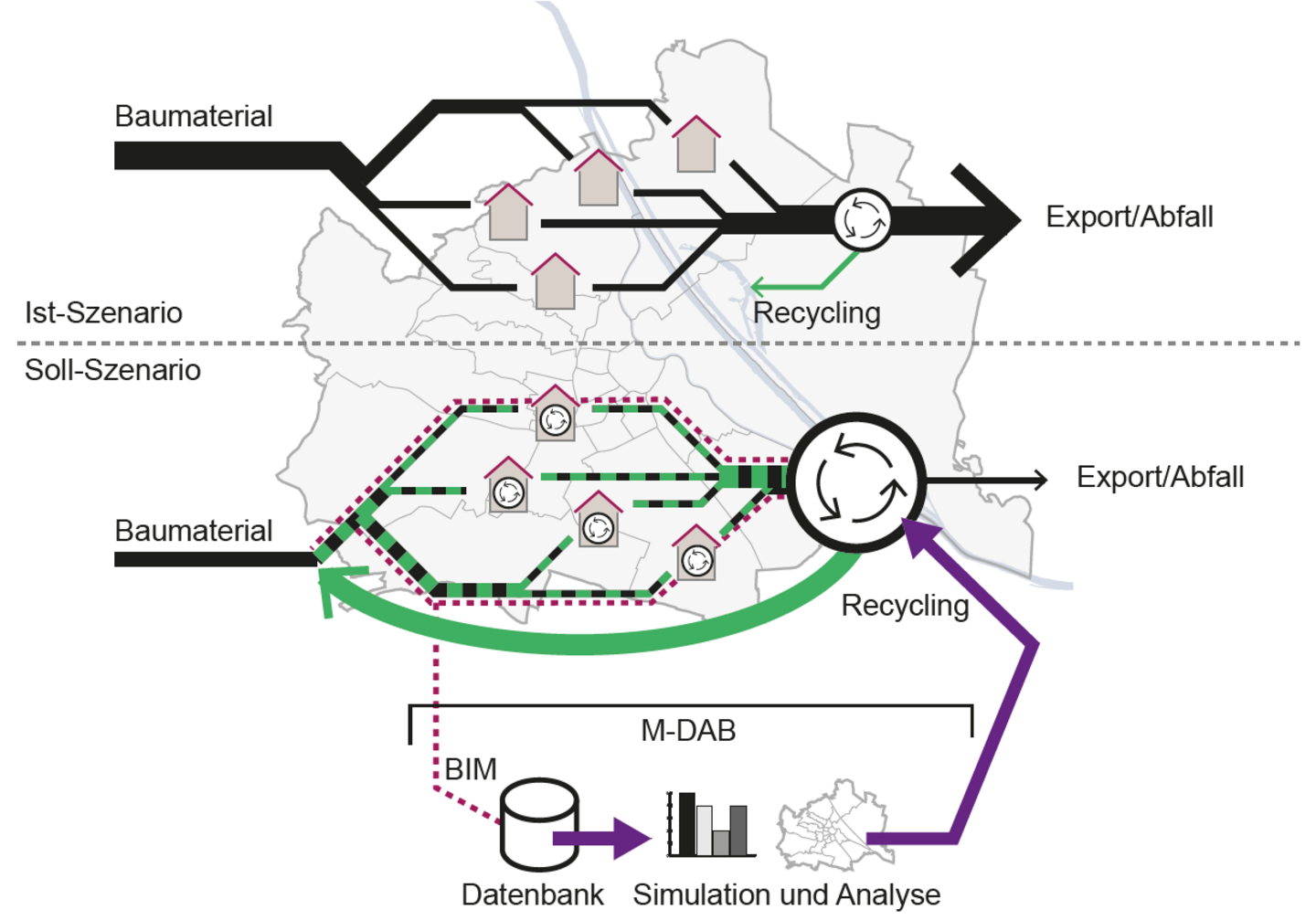 Starting situation, problems and motivation
Vienna is a growing metropolitan region in Austria. Hence, politics and authorities need to draft paths for sustainable and affordable building developments leading to an increased quality of life. Building materials and the way of building construction define the building stock within one urban development phase. Moreover, this also affects the waste we have to deal with in future. Current knowledge about quantities and qualities of bound resources or waste materials is insufficient. 70% (about 44 million tons) of Austria's annual waste volume originates from the building industry. In addition to environmental interests, waste management tackles also economic interests to implement practicable processes in order to better utilize these resources.
Desired results and findings
In this research project we investigate how digital technologies can support the determination of existing and future material resources in the construction industry qualitatively (building materials and their recycling) and quantitatively (building material quantities). This allows calculating economic parameters of waste disposal and resource recovery on material- and component-specific levels. Based on this, a prediction of their future availability becomes accessible. As a result, higher transparency of follow-up costs in waste removal and material recovery arises. The results of the research project can be used to determine material resources and disposal costs in terms of time and space. Within planning scenarios, it will be simulated how resources can be used in a more sustainable way, how a better recycling balance can be achieved and how the future built environment can be made resource-efficient in terms of economic and environmental aspects. A planning tool is developed, which visually prepares the automated calculation and simulation results. This provides a basis for communication and decision making for different stakeholder groups of the executive planning disciplines as well as the administration and politics (in particular in the areas of waste management, urban development and environmental protection).
Goals and innovative content compared to the state of the art / state of knowledge
Quality and quantities of dormant resources and therefore possible costs and revenues are visualized through calculations and evaluations in the project. Stakeholders involved in executive planning disciplines, their clients, as well as for persons involved in the real estate industry (owners and administrators) will benefit. Furthermore, a process is designed, which enables a practical input/collection of component- and building-specific raw material resources. This enables the determination of construction-specific disposal and recycling costs at planning stage of the building for the first time. Practically this is realized by an extension of the BIM interface IFC. The process designed in the project leads to a constant increase of the level of detail in the database and enables automated simulation and thus precise forecasts over the entire lifecycle process of the building stock. This improves the communication and provides a better decision basis for all stakeholders and the implementation of efficient (on-site) recycling processes.
This project is implemented under the "Stadt der Zukunft" program (6th call) within a proposal of the Austrian Research Promotion Agency (FFG). See also FFG 873569, opens an external URL in a new window
The goal of MICADO is to offer an easy-to-use ICT-based assistance tool to help migrants in the first weeks and months upon arrival in European cities. This tool consists of a mobile application guiding newcomers within the topics of housing, labour, education and health. In addition, the project is developing a common migrant data and user management platform for public authorities that facilitates the coordination of processes between migrants, public authorities and civil society organisations.

By bringing together data and information from different sources, the MICADO platform provides insight into key challenges and tasks in an interactive dashboard. This approach helps to identify specific needs of users, leading to improvement of the quality of public services and better management of the resources of cities, authorities, and civil society ogranisations.

The project applies the competence of 15 organisations from five European countries working in the domains of research, administration, and social assistance. Testing of MICADO is being carried out in four European cities – Hamburg, Bologna, Madrid, and Antwerp – but the final product will provide a flexibility to enable a successful application in many other places in Europe.
During the course of the project, Simlab is focussing on spatial data processing and visualisation options and providing input on technical questions, taking account of the specific challenges resulting from complex urban and social processes.
Project duration: 01/2019 - 06/2022
Funded by: H2020-Programme of the European Commission
Lead partner: HCU Hamburg
Project website: micadoproject.eu, opens an external URL in a new window
© Ekaterina Winter
A project of the initiative "Bildungslandschaften in Bewegung, opens an external URL in a new window" (Arbeitsraum Bildung, TU Wien and AUVA - Allgemeine Unfallversicherungsanstalt)
The research project analyzes municipal educational landscapes using the example of the development area Nordbahnviertel in Vienna.
Based on the experiences and findings on the development of local educational landscapes and the networking of formal, non-formal and informal learning places and learning processes in urban districts, the research project aims to identify, visualize and contextualize exemplary innovation potentials. These are to show different possibilities, models and variants of "learning in the urban district Nordbahnviertel". In the context of this, interfaces between the different educational opportunities (especially school/primary level and district) will be located on a practical-concrete level and the associated potentials and qualities for future urban educational spaces will be explored and made visible.
In terms of research-guided teaching, the concept module "Bildungsraum Stadt" served as a student engagement with the topic in the summer semester 2018.
Contact:
Christian Peer, Emanuela Semlitsch
Industrial change in Europe is also accompanied by the decline of traditional heavy and manufacturing industries in peripheral and less urbanized regions, such as the Alpine Space. This results in huge disused industrial sites: Alpine Industrial Landscapes (AILs).
trAILs - Alpine Industrial Landscapes Transformation - was launched in April 2018 as part of the Alpine Space INTERREG programme with 10 project partners from five different Alpine Space countries.

The aim of the project is to generate significant knowledge about AILs (Alpine Industrial Landscapes) and to develop and test sustainable transformation strategies that are applicable and replicable throughout the Alpine Space. To ensure a multidisciplinary and transnational approach, the project combines the disciplines of spatial and landscape planning, socio-economic sciences and ecological regeneration. In addition, there is direct cooperation with local communities at four pilot sites in Austria (Eisenerz), Italy (Borgo San Dalmazzo), France (L'Argentière-la-Bessée and La Roche-de-Rame) and Slovenia (Tržič).

The main tasks of TU Wien are on the one hand to provide the spatial planning expertise, and on the other hand to set up a database, which collects not only the data on the pilot sites but also information about other brownfields in Austria, Italy, France and Slovenia. The collected data will be presented in the form of a homepage, which also contains an interactive web map.
Development of demand-oriented, socially inclusive educational spaces - to be continued at the place of importance
funded by the EXCITE initiative 2016/17 at the Faculty of Architecture and Planning at TU Wien
The PLACE OF IMPORTANCE project aims to drive innovation in research and teaching at TU Wien by strategically strengthening socially inclusive, informal educational spaces. The focus is on the initial care and longer-term integration of immigrants and, in particular, of those seeking protection from crisis areas. Current "ad hoc" initiatives of TU Wien and other partner organizations will be conceptually located as need-oriented educational spaces and examined with regard to their development as emergency quarters and their transformation into longer-term mobile, informal integration facilities (experiences, requirements, etc.). An organizational link to these initiatives has been and is being established through university teaching, which brings with it sustainable effectiveness and continuous development. The accompanying socio-spatial innovations in the context of building and planning culture are to be investigated. At the same time, a strategic networking of activities in the field of research and teaching at TU Wien will be pursued in order to strengthen the socio-political relevance of the university curriculum and also to elaborate the manifold interfaces to technological innovation.
The innovative educational landscapes resulting from the educational spaces are urgently needed in view of social fragility and the challenges in urban and regional development.
Contact:
TU Wien, IFOER: Christian Peer, Emanuela Semlitsch
TU Wien, Institute of Art and Design 1: Karin Harather, Renate Stuefer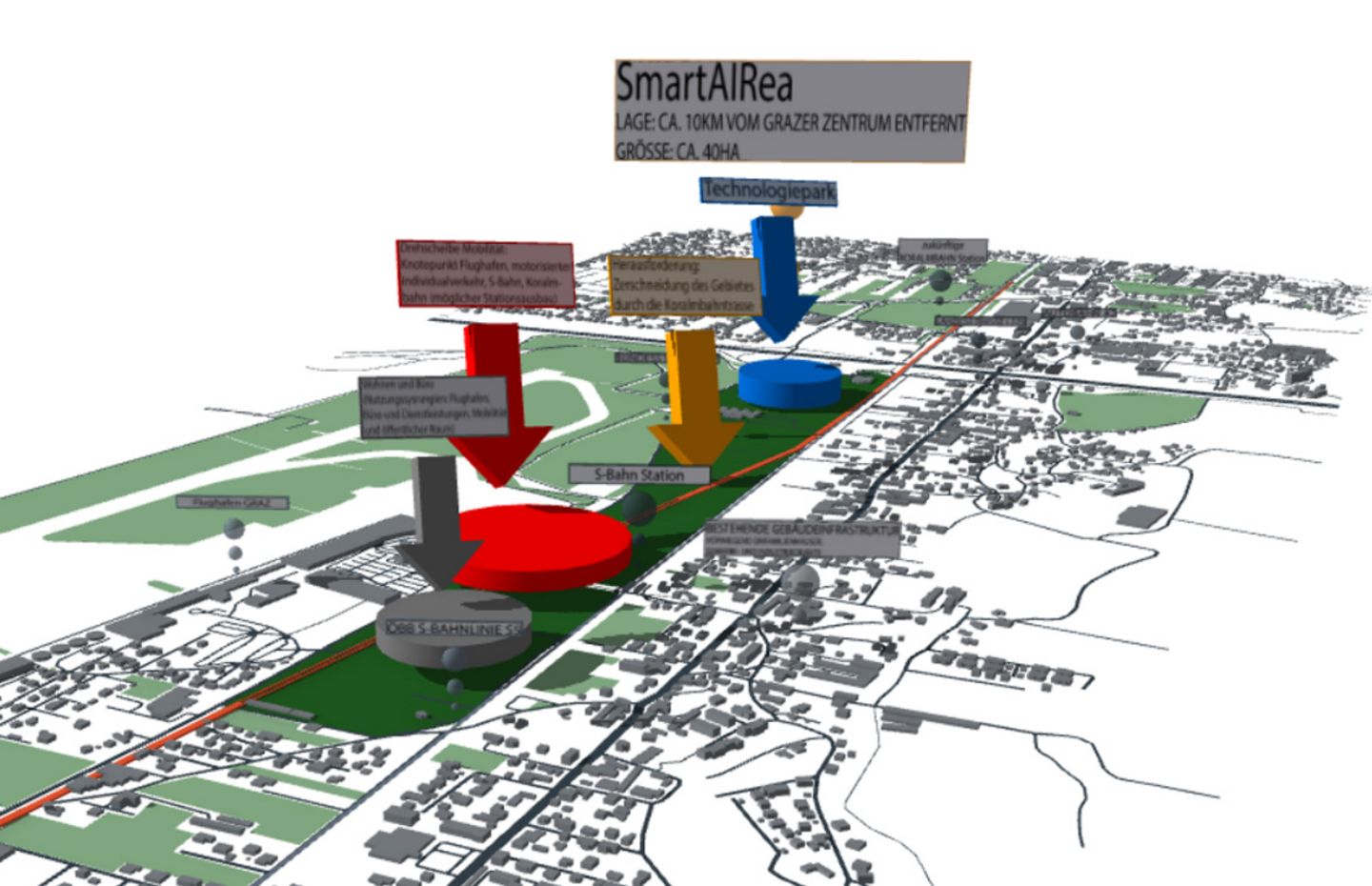 As a road/rail/air transport hub, Graz Airport and it surroundings offer an ideal opportunity to embed thematic principles of sustainable development such as building and spatial organisation, conservation of resources, sustainable energy supply, quality of life, noise reduction, economic balance and good governance into the planning process and test them out for the first time for potential further application in other projects.

The airport environment is thus transformed into a transparent, interconnected, controllable and resilient location – the so-called SmartAIRea, where the key emphasis is on sustainable design and a space planned around people and their needs. Modelling and simulation are essential tools for the planning of a resilient location of this kind, providing a basis for communication that allows all the necessary stakeholders to be brought together around one table. For this research project both an analogue and a digital model were developed at the Simlab.
This project was elaborated with Joanneum Research Graz LIFE - Centre for Climate, Energy and Society, opens an external URL in a new window and Energie Steiermark, opens an external URL in a new window.
Project duration: 10/2016 - 12/2017
Funded by: Climate and Energy Fund, implemented under the SMART CITIES - FIT for SET program of the Austrian Research Promotion Agency (FFG)
Lead partner: Joanneum Research Graz | LIFE
Project website: smartairea.project.tuwien.ac.at, opens an external URL in a new window
© Stefan Bindreiter
The aim of the project is to develop innovative, sustainable cultural and tourism strategies to generate valuable economic and social impetus for the Danube region and preserve its cultural heritage. The principal task of TU Wien is to present suitable spatial and regional planning and research methods and show how these can be implemented in practice. A key factor here is the potential transferability of these planning processes and potential solutions to other regions on the Danube. The results are structured, processed and stored in digital form in a GIS database to ensure knowledge transfer and facilitate further use of the findings. On this basis, a web platform is also being developed to connect stakeholders and project partners along the Danube.
Project duration: 2017-2019
Funded by: Interreg Danube Transnational Programme
Lead Partner: BME Budapest
Project Website: interreg-danube.eu, opens an external URL in a new window
2014-2016
On behalf of the City of Vienna, MA18
Every city has its centers. Intense, spatially and culturally condensed places where urban life is concentrated, places of diversity and liveliness. City centers are vital centers of urban life and crystallization points of everyday social situations.
But the one universal city center exists less and less. Over the past centuries, city centers have repeatedly been subjected to major changes that have influenced their significance, image and orientation. For a long time now, it has no longer been just the areas within the city walls where central functions are concentrated. The multifunctional structure that has grown up in the centers - with the quite natural selective concentration of stores, administration, and social and cultural institutions in urban and specially designed squares - has also become increasingly thinned out and specialized in the individual functions.
Based on the fundamental experiences regarding center development in STEP 2025 and at the same time as preparatory work for the specialized concept centers of MA 18, the workshop report "Vienna: polycentral" developped by IFOER opens the discussion on a general understanding of urban centers and in particular the special Viennese situation. For this purpose, the study examines the different building blocks of Vienna's center landscape, their development and specific features, their qualities and the potentials of these spaces. It identifies current trends and future challenges and provides recommendations for further discussion and promotion of Vienna's centers.
Contact:
Rudolf Scheuvens, Stefan Groh, Daniela Allmeier, Mario Weisböck
TU Wien, IFOER
Complex development processes require special platforms of open and quality-related dialogues. The introduction of ideas and experiences from outside, the discussion about strategies, methods and instruments or the debate about the design of communicative and participative processes create an enormous procedural and technical wealth.
In close cooperation between the municipal administration responsible for urban development issues, scientists of TU Wien together with experts, the "Knowledge Platform Urban Development" established and moderated by IFOER takes these demands into account, especially in questions of a theoretical penetration and subject-specific debate of urban development-relevant questions, challenges, processes, strategies and instruments.
The dialogue between university and city administration, between science and practice is to be promoted. University research is to be more strongly oriented towards issues and challenges of international metropolitan development and at the same time provide suggestions for solving problems in Vienna.
Strategic and urban development-relevant questions and fields of action in coping with upcoming challenges will be discussed, such as the design of urban development processes, regional governance and urban-rural cooperation, knowledge and education, social change, mobility and transport, trade and center development, housing, public space, etc.
Contact:
Rudolf Scheuvens, René Ziegler, Philip Krassnitzer in cooperation with the City of Vienna, 2011/2012
On behalf of the City of Vienna, MA21B
Starting from a rather village-like structure, Donaustadt is one of the fastest growing districts in Vienna. Since 1961, the number of inhabitants has almost tripled from about 57,000 to more than 163,000 today. A forecast for the year 2030 predicts a further increase in the population to up to 225,000. Despite the size and population figures, the structure of the district resembles a patchwork of very different settlement and open spaces, and it is noticeable how the strong development dynamics have gradually but profoundly taken hold of the evolved structures, reshaped them, changed them and will continue to change them.
It is striking that existing plans and concepts usually address only spatial subareas or sectoral subconcepts. Different competencies and responsibilities, also related to the interaction of public and private development interests, add to the fact that coordinated and networked action, based on a common spatial vision, is not a natural reality.
The task of the strategic plan will be to bundle and network these subspatial and sectoral concepts as well as the interests of the participating actors and stakeholders in the sense of a sustainable overall perspective and to create a basis for further developments in this area. On the basis of a presentation of the status quo and the city-wide development intentions, goals must be defined and agreed upon, existing land and development potentials must be localized and prioritized, and instruments for their activation must be developed and implemented. Within the framework of a platform, the various demands and interests for the development of the area are to be recorded, recorded and bundled. Only on such a basis can future scenarios and models, as well as coherent concepts, be created.
Project duration: 2012-2013
Contact:
Rudolf Scheuvens, René Ziegler, Philip Krassnitzer, Bernhard Siquans, Patrick Klein
TU Wien, IFOER
Client: Federal Chancellery of Austria
Immigration has become a decisive factor in demographic change and population growth in Austria. However, for a variety of reasons, the integration policy challenges associated with it have so far mostly been insufficiently addressed. If immigration and quality of life in municipalities are to be combined, integration policy as an instrument for economic and social development strategies becomes the focus of spatial action.
Integration processes always have a spatial reference. They happen on the ground, are sometimes significantly influenced by municipal and regional policy measures and interventions, and take place under the regulatory framework of higher-level regional authorities. From the point of view of spatial policy, the ÖREK Partnership Diversity and Integration in Spatial Areas is therefore intended to contribute to expanding the knowledge base for successful integration processes on the ground, to prepare the findings in a practical and implementation-oriented manner for actors in spatial development, regional and location policy, and to improve the structural conditions for policy coordination between regional authorities and between spatial and integration policy.
In close cooperation between the staff members of the core team of the ÖREK partnership responsible for spatial development issues, scientists and planners of TU Wien and the University of Innsbruck, the International Network for Spatial Research Studies (YEAN), the Intercultural Center (IZ) as well as other (local) experts in integration and spatial issues, a series of workshops will address these complex and multi-layered demands and challenges in the field of diversity and integration in space.
The professional accompaniment takes place under the premise of the further qualification of all participants. The results of this collaboration will be bundled in annual events and a final publication.
Project duration: 2012-2014
Contact:
Rudolf Scheuvens (IFOER), Jens Dangschat, Wencke Hertzsch (ISRA), TU Wien
Wolfgang Andexlinger, Stefan Mayr (Universität Innsbruck/YEAN)
Franjo Steiner (Interkulturelles Zentrum)
on behalf of the Ruhr Regional Association (RVR), 2010
What is the future of the development of the Emscher Landscape Park in the Ruhr region? This question is the focus of the memorandum on the Emscher Landscape Park entitled "The Productive Park" edited by Rudolf Scheuvens and Marion Taube at the Department of Spatial Development, Infrastructure and Environmental Planning. The book with numerous expert contributions was presented at the end of the European Future Congress on the Emscher Landscape Park on October 1, 2010 in Essen. The memorandum advocates involving the various users and the people of the region more than before in the active development, use and appropriation of Europe's largest regional park.
Rudolf Scheuvens, Marion Taube (Hrsg.): Der Produktive Park. Denkschrift zum Emscher Landschaftspark; Regionalverband Ruhr, Essen/Wien/Dorsten, 2010, ISBN: 978-3-902707-06-2; 216 S.
on behalf of and in cooperation with Magistratsabteilung 18 - Stadtentwicklung und Stadtplanung, Vienna 2011/12
Like the public life of a city, public spaces are characterized by diverse possibilities of use and stay. In a city like Vienna, urban planning and urban development must make it their task to preserve as much of this as possible, to restore lost diversity, and to create the conditions for continuously renewing existing qualities and stimulating new ones. In this context, the examination of the city's ground floors, in neighborhoods shaped by the Gründerzeit as well as in new urban districts, becomes an important field of action. It is the relation of the ground floors to the public space, their quality as a membrane between the inside and the outside, between the private and the public, that constitutes their significance as a zone of interaction and as a "means of production of urbanity" (Franz Pesch).
The importance of dealing with the ground floors for the city of Vienna can be seen in the multitude of initiatives, studies and model projects that have been carried out in recent years. Each project, each location, each constellation of actors requires specific approaches and solutions. But: it also becomes clear that such processes need a stable legal framework and a policy of enabling. The ground floors are parts of the highly dynamic structure of the city.
The "PLATTFORM EG-ZONE" established by IFOER in cooperation with MA 18 takes this understanding into account. Based on existing initiatives, studies and model projects for the revitalization and use of the ground floor zone, a multi-layered working and discussion process was started as a basis for the examination of future perspectives of the ground floor zones. The focus of interest was on utilization models and activation strategies as well as the interplay between the inside and the outside, between politics and the market, between civil society responsibility and state control.
Rudolf Scheuvens, Theresa Schütz u.a.: Perspektive Erdgeschoß [=Werkstattbericht Nr. 121]; in Buchreihe "Werkstattberichte", Herausgeber: Stadt Wien; MA 18, Stadtentwicklung und Stadtplanung, Wien, 2011, ISBN: 978-3-902576-56-9, 298 S.
on behalf of the municipality of Bad Vöslau, 2011/12
Based on the objectives of an extensive planning and participation process for urban renewal and the results of the urban design ideas competition "Bad Vöslau City Center", a strategic and implementation-oriented development concept, a master plan for Bad Vöslau City Center, was developed. The master plan elaborated by IFOER is understood as a coordination instrument to strive for jointly and mutually coordinated goals of economic development and retail development, urban form and utilization structure.
It was therefore crucial to develop and maintain new forms of cooperation between politics, administration, business, retail and citizens from the very beginning. The entire planning process became a demanding communication and design task, a social and cultural learning and qualification process.
Usual information processes were supplemented by new, creative formats of participation and active involvement. The focus was on open dialog, debate, the struggle for quality and an idea of what the city center of Bad Vöslau should be in the future.
An empty industrial hall became an unusual and inspiring place for creative cooperation between citizens and planners, business, politics and administration. Open project communication created the necessary transparency and established the necessary equal eye level and the ability of the participants to speak.
Rudolf Scheuvens, René Ziegler, Philip Krassnitzer: Perspektive Innenstadt: Masterplan zur räumlichen und strategischen Entwicklung der Innenstadt von Bad Vöslau; Wien/Bad Vöslau 2012
in cooperation with Magistratsabteilung 21 B- Stadtteilplanung und Flächennutzungsplanung Süd-Nordost, Vienna 2010
The image of the city's future knows no fixed lines. Working on the future begins with a careful reading of its structures and qualitative moments. The work requires dialogue and agreement on goals and values. It is designed to become a reliable and equally motivating guide for future activities. All this characterizes the requirements for the establishment of a PLATTFORM MASTERPLAN, in which dialogue becomes the method.
The publication "Planung als Prozess - Gestaltung dialogorientierter Planungs- und Umsetzungsprozesse" (Planning as a Process - Designing Dialog-Oriented Planning and Implementation Processes), which was developed by IFOER, is primarily concerned with providing assistance in structuring and programming complex urban master plan processes.
Rudolf Scheuvens, Werner Tschirk, Philip Krassnitzer: Planung als Prozess. Gestaltung dialogorientierter Planungs- und Umsetzungsprozesse [= Werkstattbericht Nr. 109]"; MA 18, Stadtentwicklung und Stadtplanung, Wien, 2010, ISBN: 978-3-902576-42-2; 75 S.
With the master plan "Wiener Neustadt 2020", a strategic planning instrument for the future structural-spatial development of Wiener Neustadt was created for the first time. It is a "guideline" for urban development in the next 10 to 15 years.
Special attention was paid to the broad participation of politics, administration and external actors. Over a period of more than two years, the know-how of numerous experts was incorporated both in internal administrative meetings and through the specially founded advisory council for "Urban Development and Business Settlements".
Further information: Press folder (PDF), opens an external URL in a new window
Based on the processing of three Graz study areas and sub-areas, a spatial model was developed for the city of Graz in the period 1998/99. In this model, based on an analysis of the existing situation, the general conditions for the structural-spatial development of the urban area are to be worked out and guidelines for this development are to be drawn up in relation to the area. As a preparatory step, the possibilities of transferring original data of the city of Graz and the IT support possibilities within the scope of the inventory, analysis and structure of the model were examined on the basis of selected digital data stocks.
The further development of the settlement system, its infrastructural subsystems, its settlement and development structures is currently facing major challenges, which are rooted in a multifaceted, partly dynamic change in the framework conditions (e.g. demographic change, climate change) and a shortage of available resources (land, energy). This problem is exacerbated by the unchecked growth in settlement and traffic areas.
The demands for energy savings, life cycle assessments and material flow management in the building sector have been taken into account at the property level for some time. Concepts for the construction of low-energy houses, passive houses and energy-autonomous houses are available and are being implemented in practice as individual examples. The potential for saving energy and resources at the level of building and settlement structures is enormous, but is virtually untapped. Suitable concepts at the scale of settlement and development structures, which aim to limit energy and resource consumption through reproduction, substitution and regeneration, and to take balanced account of user demands, urban ecology, urban design and public space, are lacking or are insufficiently considered in planning practice.
What is required are settlement systems that must meet the quality requirements of landscape and urban form as well as resource efficiency at the level of settlement structure.
Link to the executive summary (pdf), opens an external URL in a new window
Long version: www.arge-projekte.at, opens an external URL in a new window
In the context of a contemporary nature conservation legislation for the state of Vienna, the differentiation of the urban area according to "urban ecological function types" created the basis for an ecologically oriented urban planning and thus contributed to a dynamic, spatially integrated nature conservation
In this project, a usable, i.e. operationalizable "model of space" is developed for the methodology of spatial impact assessment. For this purpose, a differentiated view of the space understood as a system is taken as a starting point: "shape", "household" and "image" of the space are presented. For this purpose, the present work offers a "basket" of characteristics / evaluation criteria and possible indicators for the systematic recording of inventory (actual) and planning (target), which can be accessed as needed in a problem- and project-oriented manner.
On the one hand, living conditions in villages have improved; on the other hand, many functions have been lost due to structural change. Since the beginning of the 1970s, numerous initiatives have been launched to deal with rural areas. A critical examination of these measures and initiatives as well as the identification of new, dynamic planning processes for rural areas with the involvement of the population are the contents of this work.
The demands for energy savings, life cycle assessments and material flow management in the building sector have been taken into account for some time. However, appropriate frameworks of urban development planning, land-use planning and transportation planning aimed at limiting resource consumption are still too little known. This work deals with the development of energy-efficient building structures including the energy optimization of the individual object.
This project discusses the possible scope of an "(urban) space laboratory", understood as a space-related simulation environment, which should enable an experimental handling of space. This laboratory should be a central working tool for a "space-related quality management", support planning and design processes with its possibilities and contribute to raising awareness among all actors involved in the planning process by illustrating planning measures.
For the spatially-strategically important development areas of Ratzersdorf and St. Georgen, which are of significance beyond the municipal boundaries of the provincial capital of St. Pölten, various development scenarios were elaborated using a combined "bottom-up" and "top-down" approach.
The project dealt with the evaluation of selected local development concepts of the province of Upper Austria by means of a catalog of qualities and test criteria. A structured analysis of the text parts and functional plans form the basis for a summarized evaluation and elaboration of recommendations.