Real estate managers help shape the entire scope of a real estate project from the very beginning. They plan, build, advise and manage as a team and offer their clients the best possible support based on their profound professional training. Whether condominiums, apartment buildings or commercial properties - essential for successful real estate management are the recognition of the characteristics of the respective project, understanding of market requirements and the competent implementation of all related business processes.
Real estate valuation occupies a particularly important place in international real estate business. In addition to domestic valuation practice, it is necessary to be familiar with European and international valuation methods and guidelines.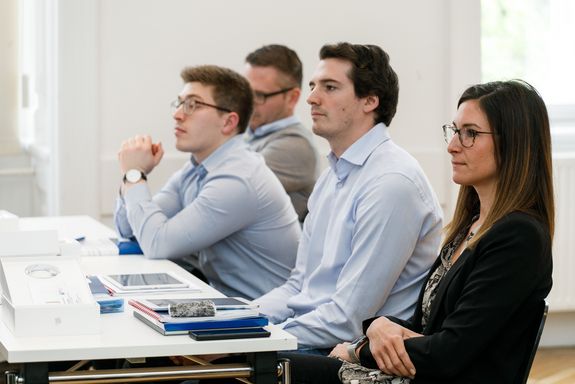 Seven good reasons for the Master's Programme "Real Estate Management & Valuation"
The real estate industry has grown steadily in recent years. The professionalization of the industry requires a great demand for well-trained employees. The MSc Real Estate Management & Valuation offers an excellent continuing education which is based on the experience of 30 years in real estate business at TU Wien.
Upon embarking on the MSc Real Estate Management & Valuation, participants receive ongoing theoretical and practical knowledge that can be immediately applied in professional practice. After completing their studies, the alumni will have a solid expertise in the real estate industry.
This Master's Programme is ideally tailored to the needs of working participants due to the participant structure, scheduling, network and 30 years of experience. The students receive the necessary knowledge and network to be able to take the intended career steps.
The expertise acquired in combination with the network opens up a wide range of career opportunities. Depending on motivation, the studies are used as an opportunity for advancement, changing employers or expanding the network.
The maximum of 30 students per course group have a first degree and one third each have an economic, legal or technical background. The existing professional experience of at least 1-2 years in the real estate industry guarantees an exciting exchange of knowledge during their studies and during their further professional career.
The high reputation of the TU Wien and the pioneering role of the Academy for Continuing Education with 30 years of experience in real estate education clearly speak for the MSc Real Estate Management & Valuation. Many employers have themselves completed a course in the field of real estate at the TU Wien or have employees who are alumni of the TU Wien. This is why they really value the alumni of our university.
The master's programme was developed by the TU Wien in cooperation with the real estate industry. The experts from science and business created the first university education in the German-speaking area for real estate. In consultation with our partners from the real estate industry, the curriculum has been repeatedly adapted to current requirements over the years.
Dates
Next Program Start
September 27, 2022
Application Deadline
July 31, 2022