Win free tickets for the IMMO FutureLab 20: Flexibility – The future sustainability of real estate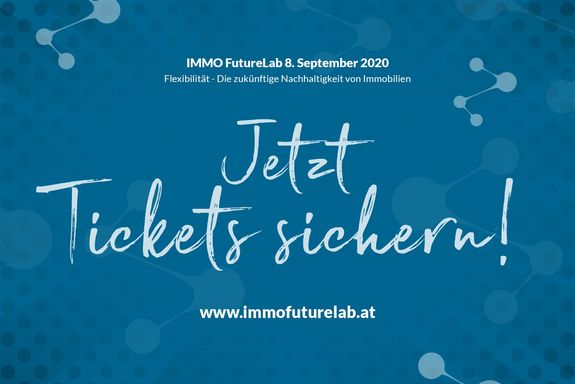 The IMMO FutureLab enters its third round: The one-day innovation congress on September 8, 2020 at the Reaktor Wien focuses on innovative, flexible solutions that secure and optimize future sustainability of buildings.
Living and working of the future: How flexible must real estate be?
The areas of living and working are becoming increasingly blurred due to the rapid progress of digitalization. New jobs need flexibility and networking, new forms of living are appearing on the market, and new needs of younger generations are increasingly influencing future construction. Now, economically and ecologically sensible solutions to these challenges are being discussed at this year's IMMO FutureLab. Many exciting keynotes on the subject of flexibility as well as a panel discussion with established personalities from the Austrian real estate industry await you. Further information on the event, which will be held in German, can be found here, opens an external URL in a new window.
Win two free tickets
Exclusively for CEC Alumni, we are giving away two tickets for the IMMO FutureLab 20. To win a ticket write an e-mail with the subject "IMMO FutureLab 20" to alumni@cec.tuwien.ac.at. The closing date for entries is August 6, 2020. The winners will be determined randomly and notified by e-mail. The judges' decision is final.
Sensational discount for CEC Alumni
For all those who unfortunately did not win a ticket, there is still a very attractive offer: Alumni of the CEC get a ticket for EUR 199.00 instead of EUR 299.00. To request the discount code, please send an e-mail to alumni@cec.tuwien.ac.at.
We hope that many of you will take advantage of this attractive offer and wish you an exciting event!