Raphael Thurn-Valsassina, Caritas Austria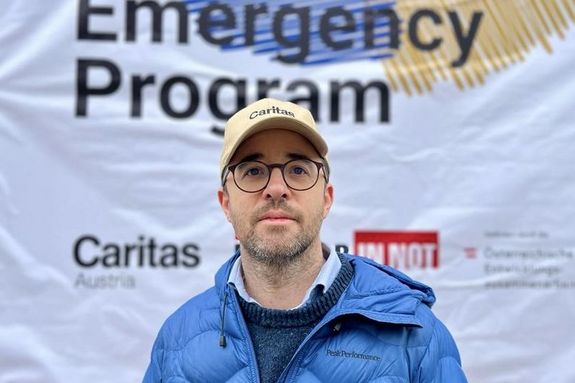 Raphael Thurn-Valsassina, M.A. M.A., MSc is a graduate of the MSc Renewable Energy Systems, opens in new window program and currently works as Coordinator in International Project Management for Caritas Austria, opens an external URL in a new window. As the 750th member of our LinkedIn group, he gave us an interview providing some interesting insights into his challenging work.

You coordinate international humanitarian aid projects for Caritas. What appeals to you about this task which many people would find overwhelming and never-ending?
In moments of existential crisis, such as armed conflicts or natural disasters, it's not just deep despair and an unbearable sense of powerlessness that are revealed, but also the innate potential we have as human beings. During my assignments, I have met people who have given me hope that things could be different.
What has been your greatest professional success so far?
This question makes me think of my mother, who liked to quote the religious philosopher Martin Buber. He said, "Success is not one of the names of God." For me, success means being on top of difficult situations at least to the point where, in critical hindsight, the majority of the decisions made stood the test of time and the objectives were largely met. I am currently responsible for coordinating Caritas refugee aid in the Republic of Moldova. The humanitarian aid provided in Moldova, especially in the first few months of the Ukraine war, was exceptionally good in terms of its speed and effectiveness. This was also because the whole of Moldovan society came together to support those who had fled. The aid provided by non-governmental organizations was thus embedded in one of humanity's finest hours, and in one of the poorest countries in Europe. This broad solidarity on the ground made it easier to successfully implement the emergency aid in the spirit of what I was just talking about.
How did completing the MSc Renewable Energy Systems degree help you achieve your career goals? What has been the biggest benefit?
The degree has given me a new perspective on the world. During my work in the East Africa drought in 2017 for the first time I experienced the serious impacts changing climatic conditions are having on the populations affected. My degree showed me that there are technical solutions for a sustainable and climate-friendly energy supply. They just need to be rolled out consistently. The question is whether in our societies we can find the strength to make this necessary change. Social transformation processes generally take time and are rarely linear. But time is a very scarce resource in this context.
And what has been the greatest challenge you have faced in your career so far?
Human suffering caused by war is the most difficult thing to bear, because it is suffering that could, in principle, be avoided. So the humanitarian mission in response to the Ukraine war is very close to my heart.
In what ways have the skills you acquired during the MSc program helped you face this challenge?
Since completing my degree, I have tried to view the humanitarian and development projects for which I have responsibility from the perspective of potential CO2 emissions savings as well. Promoting renewable energies is something that is very important to me here. For example, seven offices and social facilities of our local partner organizations in the Republic of Moldova are currently being equipped with photovoltaic systems, allowing our civil society partners to emerge as local agents of change, and at the same time making a small contribution to overcoming the region's strong dependence on fossil fuels.
In your opinion, what makes a good leader?
Good leaders or managers are one step ahead, have an impressive clarity of argumentation, lead by example and have a genuine interest in the advancement of their employees. Ideally, they also have an interest in the issue they are working on.
What future topics should managers definitely have on their radar?
I believe that the emergence of a multipolar world order is becoming increasingly apparent. Being open towards this development will be a major challenge for Western societies, for policymakers and the business community alike. As well as a critical view, taking an interested and sometimes even understanding look at other societies and continents will be increasingly important in the years to come. A global system conflict based on competition alone cannot be in our interests and should be avoided at all costs. Stepping up the search for common interests and cross-cultural values will become an important topic for the future.
How do you manage to keep your work and private life in balance?
Unfortunately, that's not my strong point. Any advice is always welcome.
Which person would you like to meet? Why?
Tough question. But hitting a few tennis balls with Dominic Thiem would definitely be a great experience.

What links do you still have to the TU Wien Academy for Continuing Education today? Are you still in contact with other students or lecturers?
I am still in contact with my fellow students and hope that the friendships that developed will continue for a long time.

What (professional and/or private) goals have you set yourself for the next ten years?
I will continue to strive to make a contribution to the global energy transition in one form or another.